Welcome to the Pocket Change Gourmet September Menu Plan! The kids are back to school, Fall and the holidays are around the corner and schedules are busy. Let us take care of dinner planning!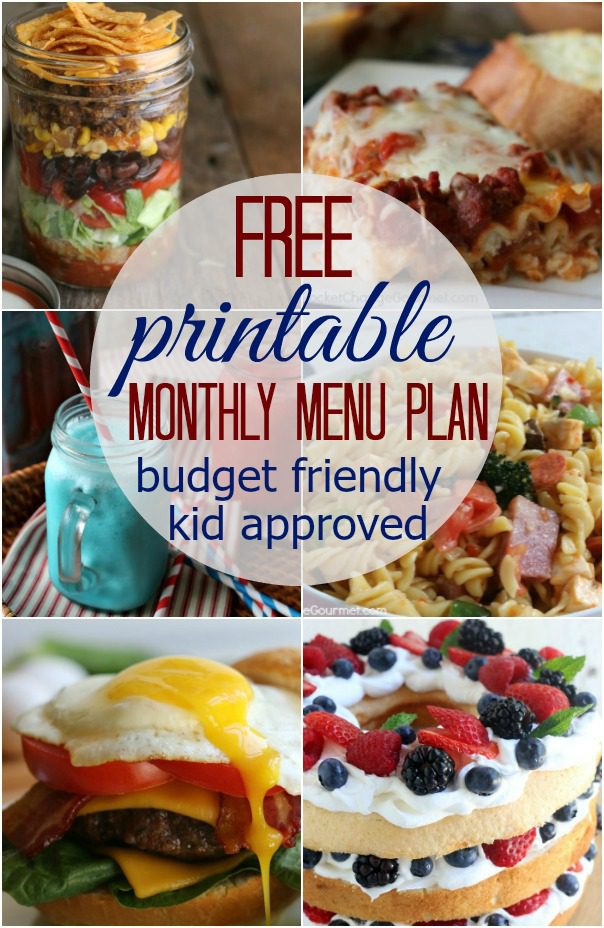 Our budget friendly, kid approved meals will give you more time to spend with your family, instead of wondering what is for dinner!
September Menu Plan
1 – Fiesta Skillet Dinner and Salad
2 – Ultimate Royal Burger and Crispy Potatoes
3 – Beef Roast, Carrots and Potatoes
5 – Spaghetti and Meatballs, Garlic Bread and Salad
6 – Quick and Easy Cheesy Chicken Enchiladas, Chips and Pico de Gallo
7 – Baked Ziti, Garlic Bread, Salad
8 – Tuna Macaroni Casserole and Salad
9 – Chicken Philly Sandwiches and Broccoli Grape Salad
10 – Shrimp Scampi with Linguine
11 – Naked Wings, Potato Skins, Roasted Corn Salsa
12 – Breakfast for Dinner – Blueberry Pancakes, Fried Potatoes and Fruit
13 – Taco Soup
14 – Slow Cooker Rotisserie Chicken, Potatoes and Green Beans
15 – Four Cheddar Garden Burgers, Fried Zucchini Sticks
16 – Chicken Strips with White Barbecue Sauce and Oven Fries
17 – Slow Cooker Beef and Noodles
18 – Homemade Pizza Pockets and Salad
19 – Baked Potato Bar and Open Face Ham Sandwiches
20 – Honey Ginger Glazed Chicken and Rice
21 – Mini Taco Cups, Rice and Refried Beans
22 – Cheesy Chicken Divan Casserole, Salad and Rolls
23 – Pulled Pork Sandwiches with Root Beer Barbecue Sauce and Salad
24 – Steak Dinner, Baked Potatoes and Salad
25 – Meatloaf, Mashed Potatoes and Corn
26 – Breakfast for Dinner – Oatmeal Buttermilk Pancakes and Fruit Smoothies
27 – Cheeseburger Sliders, Fresh Corn on the Cob, Green Beans
28 – Grilled Chicken Fajitas and Rice
29 – Easy French Dip Sandwiches and Tomato Salad
30 – Pizza Casserole
Desserts for the Month
Join Us!
Simple Easy Creative Facebook Group
Simple Recipes and Projects for Busy Moms
Brandon Dott is a chef who focuses on authentic American comfort food, from fried chicken to rich chocolate cake. He believes in the power of food to bring people together, and that food with soul can make the world a better place.