Using your Slow Cooker is one of the easiest and quickest ways to have dinner ready in a snap. I don't use my Slow Cooker nearly enough. So, when I do, I'm constantly reminded of how super easy it is. The same situation is with the slow cooker beef and noodles recipe from today!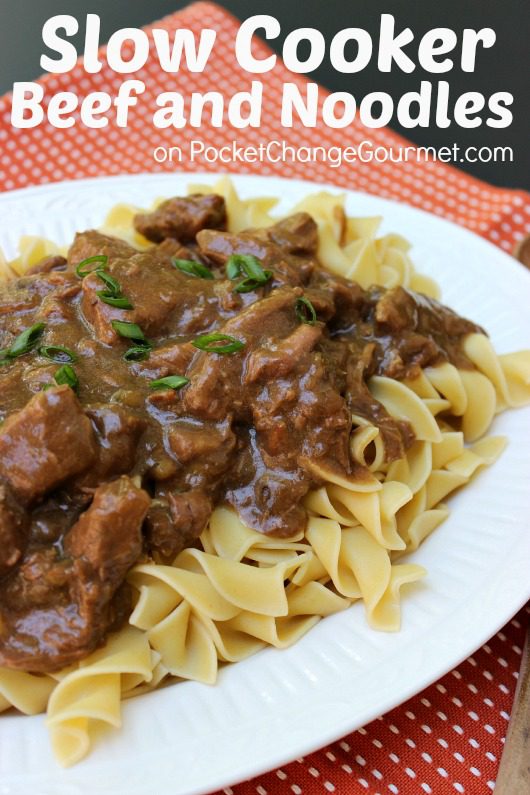 What to Know About the Recipe?
In various Asian countries, noodles are a popular food. Noodles are a favorite food item all around the world, and their intake is at a record high. Noodles are popular because of their attributes like nutrition, flavor, safety, convenience, affordable pricing, and prolonged shelf life. The egg noodles and soft shredded beef in this Crock Pot beef and noodles are covered in a thick, creamy sauce. It's simple comfort food for the summer. Any night of the week, you can easily prepare this slow cooker Beef and Noodles recipe.
It's like a cross between a rich, creamy, flavorful, soft pot roast—heaven in a slow cooker! To complete the dinner, serve with some grated cheese and crusty bread. The greatest recipes to make in a slow cooker. Putting all of your ingredients in early in the day and watching them work their magic is simply so rewarding. You become more eager for dinner as the aroma of wonderful food enters the house. These Crock Pot Beef and Noodles are incredibly easy to cook, provide the most incredible taste and smell, and are, in all honestly, the ideal comfort food to have to wait for you when you get home.
It's quite simple, works well for feeding a crowd, and yields fantastic leftovers. As the dish sets overnight, the flavors soften out, making it even more delicious than you recall! It's a present that keeps on giving, to put it simply. Meat & Noodles in the Crockpot is one of those warm meals that has lasted the test of time. It features soft, buttery noodles & chunks of beef that have been slowly cooked until they just fall apart. It only needs a short amount of prep time and gently cooks to the ideal tenderness in your Crock Pot.
4-Ingredient Slow Cooker Beef and Noodles Recipe
You will love today's recipe to help with your Back to School routine. This Slow Cooker Beef and Noodles Recipe have only 4 ingredients – you heard that right! It takes less than 5 minutes to toss together in the Slow Cooker. It will be about 10 minutes to boil the noodles to serve with it.
This recipe is so simple you won't believe it. Stew Meat is combined with French Onion Soup and Cream of Celery Soup, that's it, my friends! You can also make this meal ahead, and store it in the fridge overnight or freeze up to 1 month. It is that easy to work with it! It does not require cooking skills. So, just time and a desire to cook the best Beef and Noodles recipe that there is.
Slow Cooker Recipes We Love
It will be an easy and quick recipe to make like any other Slow Cooker recipe. So, as is the case with the Slow Cooker Jambalaya   Slow Cooker Apple Cider Beef Stew, and Slow Cooker Pulled Barbecue Chicken Sandwiches.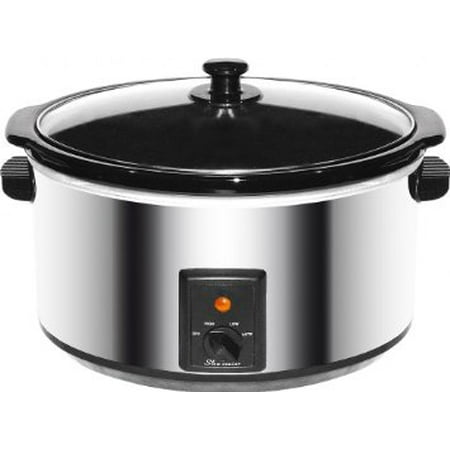 Buy at Walmart.com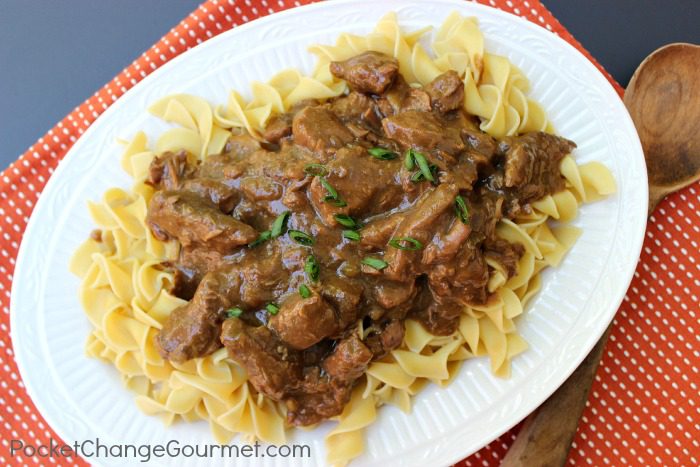 How to Make Creamy Slow-Cooker Beef and Noodles
The Beef can be served with noodles, rice, or mashed potatoes to complete the dish. Toss a bag of vegetables in the microwave. While the noodles are cooking and you have dinner on the table in about 15 minutes. It is that simple and easy! Just perfect if you are looking for a dish to remind you of home. You can easily prepare this beef and noodles recipe, especially in this old-fashioned way. It will give you a journey back in time.
We simply love Gooseberry Patch Cookbooks, and this recipe comes from one of our favorites – Simple Shortcut Recipes.
Follow along as we share Back to School Recipes to make your life easier!
What do you love about the Recipe?
A delicious comfort food recipe that everyone in the family will enjoy is Crock Pot Beef and Noodles.
This flavorful dish of egg noodles and ground beef is buttery.
Soon after you go home from work, dinner will be ready.
Low preparation time
the amazing taste of home-cooked food
hearty and filling
Easily accessible ingredients
a single pot that requires little cleanup
Variations:
If you enjoy the flavor of onions, replace the beef broth with a condensed French onion soup.
You can just add a package of onion soup mix; no additional changes are required.
Sautéed mushrooms can be added.
Worcestershire sauce, one tbsp, will enhance the flavor.
Rather than noodles, serve over mashed potatoes.
Health Benefits
Low Calorie:
The ingredients for noodles are salt, wheat flour, and water. According to several types of noodles, the nutrients differ. Moreover, noodles are low in calories and high in protein, fiber, vitamins, and minerals.
Muscle Growth:
Beef is naturally filled with protein, which supports and promotes muscle development. Niacin, riboflavin, vitamins B6 and B12, as well as iron, are four vital vitamins found in beef that help fight tiredness. Other vital vitamins and minerals are present in beef, supporting overall health and well-being. Protein supplies the amino acids required for muscle building, muscle growth, and the repair of tissue.
Essential for Fertility:
Zinc helps maintain sex hormone levels in the blood, supports healthy reproductive and fertility processes, and supports normal cognitive function. Zinc promotes healthy hair, nails, and skin.
Great Dietary Source:
Iron, which helps your red blood cells transfer oxygen to the cells throughout your body, is an excellent dietary source found in beef. Adolescent girls, pregnant women, women who are bleeding, and endurance athletes need iron in particular since it is necessary for energy, cognitive function, and normal development and growth.
Boost Immunity:
The body can more readily absorb zinc from red meat than it does from plant-based diets. Your body's cellular metabolism depends heavily on zinc, which also supports a robust immune system that is essential for warding off infections. Additionally, zinc supports your hormonal and cognitive processes and promotes healthy skin and hair.
Reduce Heart Attack:
Noodles take time to digest; therefore one bowl keeps one full for longer periods. Because there is less fat accumulating along blood vessels, the blood may flow through them more easily and without blockage, which lowers the risk of heart attacks. Aids in gene control is crucial for the development and creation of new body cells.
How to Store?
Store: Creamy Beef and Noodles can be kept in the refrigerator for up to 4 days after it has cooled.
Freeze: Cooled leftovers can be frozen for up to 6 months in an airtight plastic bag or freezer-safe container. To prevent the noodles from falling apart when defrosting, you can alternatively skip the noodles and freeze the other ingredients.
Reheat: Reheat beef and noodles that have been frozen or thawed in the microwave or a pot over the stove until thoroughly heated and simmering.
Nutrition Information
Per serving:
| | | | |
| --- | --- | --- | --- |
| Calories | 547 kcal | Carbohydrates | 57 g |
| Calcium | 72 mg | Fat | 24 g |
| Saturated Fat | 1 g | Cholesterol | 143 mg |
| Sugar | 2 g | Potassium | 502 mg |
| Vitamin A | 368IU | Protein | 26 g |
| Iron | 3 mg | Sodium | 113 mg |
In addition to being a skilled and passionate chef, Caroline is an awesome mother of two. In her spare time, Caroline pursues her passion for cooking by experimenting with new dishes and developing some of her very own. Her expertise and research are then condensed into comprehensive, easy-to-read guides and resources for readers who are looking for budget-friendly recipes for the whole family.