With a few simple ingredients you can have this fast and easy Meatloaf just like Mom used to make!

Nothing says comfort food like a meatloaf. And not just any meatloaf. I'm talking about the meatloaf like your mom made when you were a kid. The kind that with one whiff, you are transported back to your childhood. Memories of running in the door, STARVING after a long day of school and being enveloped in not only the warmth of mom's kitchen, but of all the incredible smells coming from the oven. Nothing else matters at that point, only wondering when dinner is and if you can possibly survive until then.
Mom smiles and offers you a glass of milk to curb your appetite while you wait. But you can only wait so long.
That is the way meatloaf makes me feel, like I am in mom's cozy kitchen. The recipe isn't fancy. It doesn't need to be. Whatever struggles and stresses the day might have brought, melt away with one smell and all of those childhood memories come flooding back. And now you can pass down this amazing memory to the next generation, who in turn can pass it on to theirs.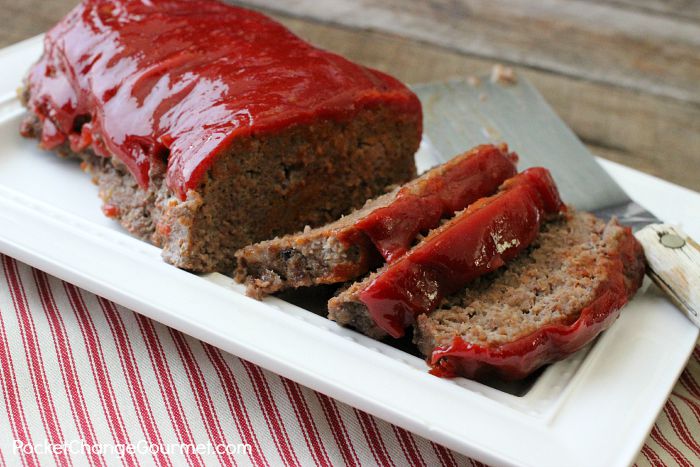 Of course meatloaf would be amazing by itself, but everyone knows mom wouldn't make just that. Creamy mashed potatoes with homemade gravy are a favorite or macaroni and cheese with those little French fried onion rings on top are a couple of sides she loved to serve along with it.
Many times green beans cooked with bacon and onions or broiled asparagus spears were added into the mix. And of course rolls served hot or a big crusty piece of bread and butter goes fantastic with it, as well.
A warm fruit cobbler or baked apples make for a lovely and lighter dessert after this wonderfully fulfilling meal.
Nothing says "Made with love" like this delicious, incredibly fast and easy meatloaf.
Be sure to make plenty of this fast and easy Meatloaf, you may want leftovers so you can enjoy this Meatloaf Sandwich – another classic childhood favorite!

Fast and Easy Meatloaf
With a few simple ingredients you can have Meatloaf just like Mom used to make.
Author:
PocketChangeGourmet.com
Ingredients
2 pounds Ground Beef
½ cup bread crumbs
1 egg, beaten
1 teaspoon onion powder
½ teaspoon garlic powder
½ teaspoon black pepper
½ teaspoon salt
1 cup ketchup
Instructions
Preheat oven to 350 degrees
Mix all ingredients except ketchup together in a large bowl until well combined
Shape into loaf pan
Pour ketchup over top
Bake at 350 degrees for 45-60 minutes or until cooked through
Let stand 5 minutes before serving