With a few simple ingredients, you can have this Traditional Fast and Easy Meatloaf Recipe just like Mom used to make!

Nothing says comfort food like a meatloaf. And not just any meatloaf. I'm talking about the meatloaf your mom made when you were a kid. The kind that with one whiff, you are transported back to your childhood. Memories of running in the door, STARVING after a long day of school, and being enveloped in not only the warmth of mom's kitchen but of all the incredible smells coming from the oven. Nothing else matters at that point, only wondering when dinner is and if you can possibly survive until then.
Mom smiles and offers you a glass of milk to curb your appetite while you wait. But you can only wait so long.
That is the way meatloaf makes me feel like I am in mom's cozy kitchen. The recipe isn't fancy. It doesn't need to be. Whatever struggles and stresses the day might have brought, melt away with one smell, and all of those childhood memories come flooding back. And now you can pass down this amazing memory to the next generation, who in turn can pass it on to theirs.
Fast and Easy Meatloaf Recipe
This easy meatloaf dish is perfect for a midweek meal as well as a Sunday dinner. Serve the meatloaf with homemade mashed potatoes, peas, carrots, or your preferred steamed or roasted vegetables for a delicious meal. Moreover, meatloaf goes nicely with macaroni & cheese, rice pilaf, or scalloped potatoes. This amazing homemade meatloaf recipe has a tangy and sweet garnish and is juicy and soft on the inside. This seasoning is wonderfully balanced. Ketchup-based toppings have a fantastic flavor boost. You could scoff at the idea of comfort food, but meatloaf is unquestionably on the list. This recipe for traditional homemade meatloaf is flavorful, moist, and tender.
Everyone has their recipe for this dish, which is commonly handed down through generations, whether it is cooked with ground beef or ground turkey, ketchup, or sauce. A hearty, dense dish called meatloaf is created with meat, vegetables, and sometimes a stabilizing ingredient like breadcrumbs. You have complete control over the ingredient mix! Make a meatloaf that the entire family will eat and appreciate. As mouthwatering as meatloaf is, it's hardly a stand-alone dish.  Many sides pair well with meatloaf. Pair it with a starchy side like mash or boiled potatoes for a robust supper filling.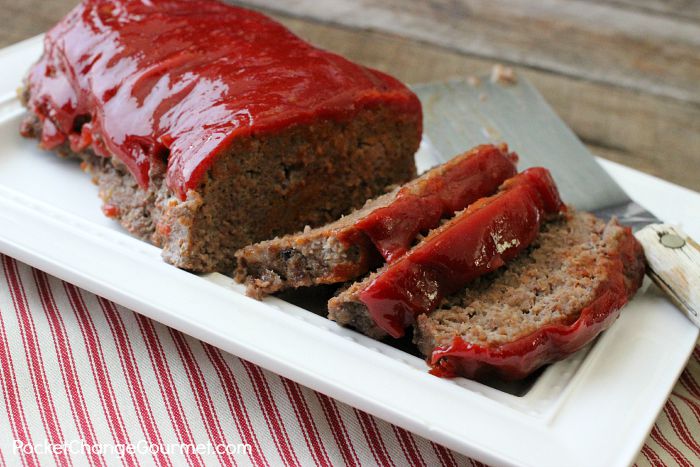 Other Recipes
Of course, meatloaf would be amazing by itself, but everyone knows mom wouldn't make just that. Creamy mashed potatoes with homemade gravy are a favorite or macaroni and cheese with those little French fried onion rings on top are a couple of sides she loved to serve along with it.
Many times green beans cooked with bacon and onions or broiled asparagus spears were added into the mix. And of course, rolls served hot or a big crusty piece of bread and butter goes fantastic with it, as well.
A warm fruit cobbler or baked apples make for a lovely and lighter dessert after this wonderfully fulfilling meal.
Nothing says "Made with love" like this delicious, incredibly fast, and easy meatloaf.
Be sure to make plenty of this fast and easy Meatloaf, you may want leftovers so you can enjoy this Meatloaf Sandwich – another classic childhood favorite!
Print
Fast and Easy Meatloaf
With a few simple ingredients you can have Meatloaf just like Mom used to make.
Total Time:

1 hour 10 mins

Yield:

6

–

8

servings

1

x
2

pounds of Ground Beef

1/2 cup

bread crumbs

1

egg, beaten

1 teaspoon

onion powder

1/2 teaspoon

garlic powder

1/2 teaspoon

black pepper

1/2 teaspoon

salt

1 cup

ketchup
Instructions
Preheat the oven to 350 degrees
Mix all ingredients except ketchup together in a large bowl until well combined
Shape into loaf pan
Pour ketchup over top
Bake at 350 degrees for 45-60 minutes or until cooked through
Let stand 5 minutes before serving
Author:

Prep Time:

10 mins

Cook Time:

1 hour

Category:

Main Dish
Why You'll Love this Fast and Easy Meatloaf Recipe?
A no-fuss recipe: There are only a few simple ingredients needed to make this meatloaf. It is very simple to prepare, making it ideal for hectic evenings.
It slices beautifully: meatloaf is simple to portion, and it's excellent for leftovers, lunches, and dinner preparation.
Super hearty: The meatloaf is made tender and incredibly hearty, nourishing, especially during the winter.
Some Tips and Tricks
By preventing the proteins from binding too soon, adding baking soda to the beef keeps it wet (which dries out the meat).
The meatloaf is kept soft and moist by soaked breadcrumbs.
Both the glaze and the ketchup in the meatloaf mixture give the dish richness and added depth of flavor
Health Benefits of Fast and Easy Meatloaf
1. Source of Protein
High sources of protein are found in meat. As a result, it is a typical dietary plan for those who want to gain muscle or exercise for a better body type. The protein also helps in many other body systems that perform diverse growth and health functions.
2. Brain Development
Due to its high protein content, the dish is also beneficial for brain development. The protein can aid to increase the brain's capacity and keep the brain nerves in peak operating condition. Thus, it is beneficial for both children and the elderly to continue eating this food daily in sufficient amounts. It will enable effective brain growth control.
3. Improve Muscle
An additional benefit is that it helps to build muscles. The meat will assist in both the development of the muscle and the addition of muscular mass. Regular exercise will help you get good abdominal and a well-shaped body. The same benefits of glutamine can aid to increase muscle strength.
4. Fully Stomach
One food that can assist to speed up stomach fullness is meat. It makes sense that this cuisine should be a staple of any diet or fast. This is crucial for people who are on a diet or fasting to keep their stomachs full for an extended amount of time. As a result, hunger will be reduced and weight control will improve.
5. Improve Memory
Homemade meatloaf has many beneficial properties, including enhancing memory. This food's protein, vitamins, and minerals can help to strengthen the brain's memory-related nerves. This helps to maintain a healthy brain and memory.
 6. Avoid Dementia
The food's protein content is beneficial for enhancing aged people's mental capacity. Therefore, it is a fantastic strategy to decrease your risk of developing dementia as well. The capacity of the brain and memory will decline with advancing age. This food's mineral content will aid in maintaining mental stability and preventing dementia's early symptoms.
7. Avoid Anemia
Furthermore, meatloaf contains iron, which helps control the production of red blood cells. This is one of the crucial components to help reduce the risk of developing anemia. Additionally, it can optimize much oxygen is delivered to each blood cell. The same health advantages of guava for anemia also help prevent anemia.
8. Better Bone Development
The meatloaf contains calcium, which is beneficial for managing better bone. It aids in increasing bone mass and promotes healthy bone growth.
9. Source of Energy
A considerable source of energy can be found in meat. It is a terrific dish to prepare for breakfast or lunch because it will help you the most in maintaining daily activities. Furthermore, it will ensure that athletes have enough energy to practice.
10. Improve Metabolic Rate
Meat helps the metabolic system function better since it can conserve energy needs. As a result, it converts food into essential energy with a stronger metabolism and an even greater metabolic rate.
Storage Tips
After combining the ingredients and shaping the loaf, cover it tightly in plastic wrap before putting it in an airtight freezer bag. In the freezer, raw meatloaf should remain edible for up to six months. It is important to take into account whether the meat was frozen before being used to make the meatloaf.
Nutrition Information
Per serving:
| | | | |
| --- | --- | --- | --- |
| Calories | 289 kcal | Carbohydrates | 26 g |
| Protein | 28 g | Fat | 8 g |
| Saturated Fat | 4 g | Potassium | 539 mg |
| Iron | 5 mg | Sodium | 860 mg |
| Vitamin A | 180IU | Fiber | 1 g |
| Sugar | 12 g | Vitamin C | 2 mg |
| Cholesterol | 110 mg | Calcium | 55 mg |
Mark is a self-taught cook specializing in Asian cuisine. Mark's passion for food began at a young age when his parents finally allowed him to attempt cooking. Since then, he's found himself experimenting in the kitchen, watching cooking shows, and reading food blogs. Mark lives in Toronto, Canada, where he works as a restaurant chef.