Part of the Back to School season means schedules. Whether the kids have after school activities or the parents have meetings, dinnertime always seems to be hurried. All this week we are helping you get your dinner on the table fast with quick, easy and delicious dinner recipes that your family with love and you will love the time it saves you.
These Chicken Strips with White BBQ Sauce are a combination of two different recipes, one that we have made several times and love – and the other a new recipe from Hellmann's.
Let's chat first about the chicken strips. Similar to the Parmesan Crusted Chicken and the Chicken Nuggets that we have enjoyed many times, this batch is coated in Hellmann's Mayonnaise and then covered with seasoned bread crumbs.
We have used a variety of bread crumbs in the past including store bought. But this time we used the spices and seasonings that were used on the Chicken Wings – chili powder, sweet paprika, garlic salt, cayenne pepper and ground cumin – giving them an amazing flavor with just a little kick.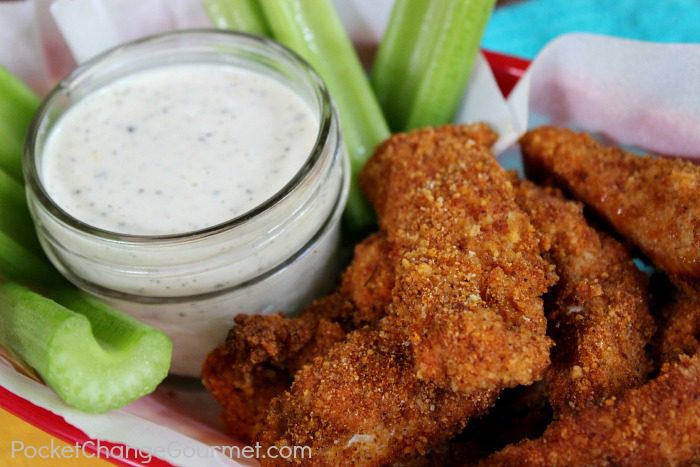 And then the White BBQ Sauce – I've made many different sauces over the years, but never a White BBQ Sauce. This recipe, made with Hellmann's Mayonnaise, horseradish, vinegar, lemon and seasonings gives the Chicken Strips the authentic flavor with Southern Barbecue Sauce.
Baking time was only 15 minutes, making this a quick recipe. Here are a few tips to make the process easier…
Mix the White BBQ Sauce the day before (store in fridge up to 1 week)
Cut boneless skinless chicken breasts while they are partially frozen, making it easier to cut
Butterfly the chicken breast to 1) get more chicken from each breast and 2) make the chicken more tender
Cut each piece of chicken into small strips and then each strip in half, making them cook faster
Cutting the chicken can be done ahead, stored in the fridge or frozen
We like buying a large package of chicken, preparing it, then freezing it. Just be sure the chicken is fresh not frozen, re-freezing is not always a good idea.
Print
Chicken Strips with White BBQ Sauce
Kids will love these chicken strips and Moms will love how easy they are to make. Recipe from PocketChangeGourmet.com
White BBQ Sauce
1 cup

Hellmann's Mayonnaise

1/2 cup

white vinegar

2 tablespoons

sugar

1 tablespoon

prepared horseradish
Zest and juice of 1 lemon

1 teaspoon

salt

1 tablespoon

ground pepper
Chicken Strips – you will have leftover bread crumbs, cut recipe in half if you like
2 cups

bread crumbs

2 tablespoons

chili powder

2 tablespoons

sweet paprika

1 tablespoon

garlic salt

1 teaspoon

cayenne pepper

1 teaspoon

ground cumin

4

skinless boneless chicken breast

1/2 cup

Hellmann's Mayonnaise
Instructions
Sauce
Whisk together all ingredients and place in fridge to chill
Chicken
Preheat oven to 400 degrees, line a cookie sheet with foil and spray with cooking spray
Butterfly each chicken breast in half, then cut into strips, place in medium bowl
Add 1/2 cup Hellmann's and toss to coat
Combine bread crumbs with seasonings in large bowl
Add chicken to bread crumb mixture and coat
Place chicken on prepared cookie sheet
Bake at 400 degrees for about 15 minutes or until chicken is white and tender
Serve with White BBQ Sauce and celery sticks
Notes
Sauce can be kept in fridge for up to 1 week, store in airtight container or glass jar
Prep Time:

10 minutes

Cook Time:

15 minutes
Recipe adapted from Hellmann's Chicken Wings with White BBQ Sauce
Mark is a self-taught cook specializing in Asian cuisine. Mark's passion for food began at a young age when his parents finally allowed him to attempt cooking. Since then, he's found himself experimenting in the kitchen, watching cooking shows, and reading food blogs. Mark lives in Toronto, Canada, where he works as a restaurant chef.