I can hear it now…t o u c h d o w n! Football season and tailgating are upon us, and it's time to up our game! Whether you're spending a Saturday rooting for your college alma matter or getting together with buddies to support your cities professional football team serve these Steak Bites using this Grilled Steak Marinade Recipe and I guarantee you'll be the go to place.
There are plenty of ways to grill steak, however, nothing beats the flavor of charcoal. It's just a natural way of cooking and the flavor of everything you cook is better. Doug is the grill master in our house and is continually looking for new ways to use his grill for everything from meats to vegetables, we have even done a cobbler or two.
He typically just seasons the steaks with salt and pepper, which is a great way to prepare it to let the natural flavor shine through. But this time we decided to give marinading the steaks a try. I can here the steak aficionado out there screaming "WHAT ARE YOU DOIN!" and I'm pretty sure Doug would have been right along with them before he tried this steak marinade.
But it was Doug's idea to marinade the steak, let me try to explain his reasoning… "I've got two hands, and when I'm tailgating all I required is a beer in one hand and steak in the other, I don't want to mess with any steak sauce so let's cram as much flavor as we can into the steak before we grill it."
Not only is the Grilled Steak Marinade super flavorful, if you add beer to the marinade the carbonation helps the flavors infuse into the meat.
Doug fired up the grill with Kingsford Charcoal, his old standby. It's priced at just $13.38 for a twin pack of 13.9 pound bags at Walmart.
After letting the briquettes get white hot we grilled the steaks. I've recently become very attached to my instant read thermometer to help me know when the steaks are done just the way my family likes them.
The USDA Premium Steak at Walmart is 100% beef and 100% guaranteed. We grilled a Strip and Ribeye Steak.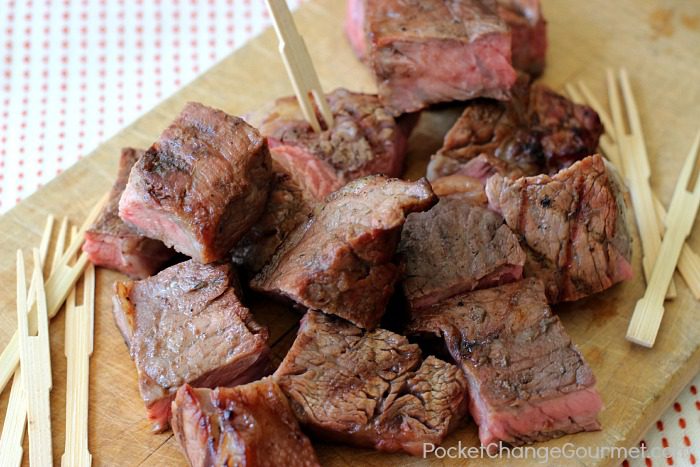 Print
Grilled Steak Marinade
Perfect marinade to add flavor and tenderize your steak. Recipe on PocketChangeGourmet.com
Total Time:

4 hours 5 minutes
Steak, any cut works. We love Strip and Ribeye Steak cuts

1/2 cup

Barbecue Sauce

1/4 cup

Worcestershire Sauce

1 cup

Beer – we used a light lager style

4

Garlic cloves, smashed

1/2

red onion, sliced thinly
Kosher Salt and Black Pepper to taste
Instructions
Place steaks in 13×9 pan
Combine Barbecue Sauce, Worcestershire Sauce, and Beer
Sprinkle steaks with salt and pepper
Add onions and garlic on top
Pour sauce mixture over steaks
Cover with plastic wrap and place in fridge to chill 4 -24 hours
Remove steaks from marinade and discard the marinade. Pat dry before grilling.
Grill steaks over medium high heat to your desired doneness.
Check out more information and learn how to "Up Your Game"
Mark is a self-taught cook specializing in Asian cuisine. Mark's passion for food began at a young age when his parents finally allowed him to attempt cooking. Since then, he's found himself experimenting in the kitchen, watching cooking shows, and reading food blogs. Mark lives in Toronto, Canada, where he works as a restaurant chef.