Surprisingly using pickle juice as a marinade works well. Not only does it impart the zing of the dill pickle into the chicken, but it also works amazingly well as a tenderizer. And since we don't get to one of our favorite restaurants too often, we decided to bring the great taste of the Copycat Chick-fil-A Sandwich home.
Easy Copycat Chick-fil-A Sandwich
Sandwiches are a popular food that many people eat regularly. It has even become a main dish or staple cuisine in several nations. Typically, a sandwich consists of a meat slice (commonly beef), cheese, green veggies, and two slices of bread. The sandwich can also be filled with chicken or ham. To enhance the flavor, you can add mayonnaise. In the US, it is a highly popular meal. Regular sandwiches, on the other hand, are unhealthy and, if consumed in excess, may result in weight gain. Thus, a standard sandwich can be changed to include more snapper fish and thus boost its health advantages.
Many people rank Chick-fil-A high on their "favorite restaurants" lists, but sometimes you just want to eat well without having to stand in a big drive-thru line. This recipe is fantastic for making quickly for supper, but it's also a delicious recipe to bring to get-togethers with friends and family, as well as potlucks and picnics! Furthermore, many sides can be offered with this Chick-Fil-A dish. This sandwich's basic ingredients are ideal for flavoring herbs, spices, and veggies to create a unique sandwich filling.
This spread comes together quickly with chicken that has already been cooked or chicken that has been purchased in a store; canned chicken is another option and is a real convenience for busy days. Poaching boneless chicken breasts is simple and has a fresh flavor if you do have a few additional minutes. Cut the chicken and any veggies you add into larger pieces if you prefer a chunkier spread for sandwiches or to serve on salad greens. They usually skimp on pickles, greens, and tomatoes, but this burger is extremely crisp, juicy, and tender, and you can pile it high with all three of those toppings.
15-Minute Recipe
I love Southern Style food seeing as how I grew up with this type of food being the staple of our family meal plan. I still love it today, I don't know whether it's because the flavors bring back memories or if it's simply how they find ways to use everything they have available in their recipes.
So, when I was clicking around a few places and came across this Copycat Chick-fil-A sandwich recipe I had to try it. I managed to cook in under 15 minutes, which was pretty easy.
How I Make Chick-Fil-A Sandwiches
The recipe called for the chicken breast to be tenderized by smacking it with a mallet. I've never found that to be effective and it's just another time-consuming step. Let me share with you the best way I've found to tenderize chicken breast lay the breast on the cutting board and slice the breast horizontally midway through the thickness of the breast. This has always worked well for me and is super quick.
I didn't change the recipe much, actually, aside from the way I tenderize the chicken the only other deviance from the original was I used celery seed in place of the celery salt. Mainly because I only had the celery seed but after making this I would leave the celery salt out from now on anyway.
Aside from that the only other piece of advice is to cook this in a cast-iron skillet…it just works the best.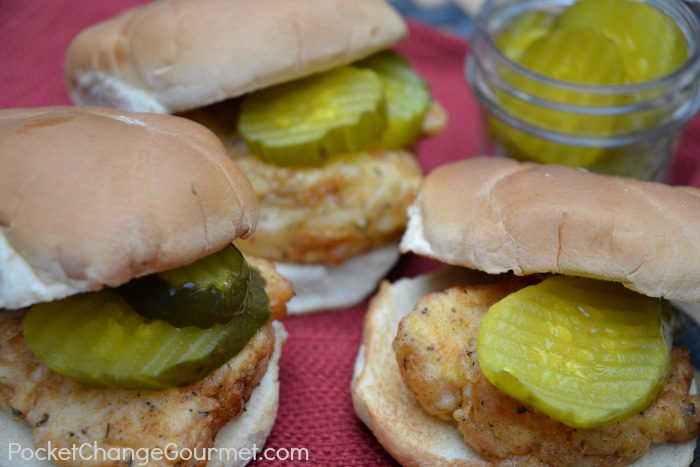 Reactions to My Copycat Chick-Fil-A Sandwich
I even got a thumbs up from my sons who are chicken aficionados and Liz even commented on how tender the chicken was, though she was so/so on the marinating chicken in pickle juice marinade. I'm still working with her on that one.
I think that this one is the best out of all my chicken sandwich recipes. It comes to exceeding even my famous buffalo chicken sandwich.
Copycat Chick-Fil-A Sandwich Recipe
If you want to make a chicken sandwich, try combining chicken, Mayo, pickles, and other ingredients. This sandwich is the best way to learn about frying chicken. You must choose a good oil for frying chicken, such as peanut or canola. These two oils will not brown the chicken too fast, but they will reduce smoke while frying. Avoid using olive oil, because it has a low smoke point and is unable to withstand heat.
Why you'll love the recipe
Easy: This dish just calls for a few basic ingredients, and it takes about 20 minutes to prepare.
Crowd Favorite: it can easily be doubled or cut in half. Simply make as many as your need.
Easy Lunch or Dinner: These sandwiches are great for a flavorful lunch or a weeknight meal; end up serving them with salad or fries.
Health Benefits
It is extremely healthful and ideal for those enjoying healthy lifestyles. Along with other nutrients obtained from the meal, its nutritive value is also extremely rich. This cuisine can help those who want to maintain a healthy weight. The advantages of a chicken sandwich for health are given below.
1. Chicken salad sandwich is an excellent source of energy
That chicken sandwich can offer sufficient calories (kcal) in each meal to serve as a primary source of energy (staple food). Sandwiches are typically an option for lunch or breakfast.
2. It is easy to get or make
Sandwiches with chicken have even another fantastic health benefit. If you don't have time to cook something yummy and healthy to eat. You only need to grab a chicken sandwich to get begun. It's much better when combined with the advantages of regularly eating omelets. It can also be made with reasonably priced components.
3. Its low sugar composition prevents obesity
The ingredients of a chicken sandwich have minimal sugar. Use freshly baked whole wheat slices of bread if you want to avoid using sugar at all. Although sugar in food has both advantages and drawbacks, it shouldn't be consumed in excess. However, a chicken sandwich will make your chocolate and other high-sugar items.
4. Its low-fat ingredients are good for weight loss
The potential health advantages of chicken sandwiches. its energy is sufficient to meet daily caloric needs, its low-fat contents can help you lose weight. According to the benefits of dragon fruit for weight loss, you can lose weight quickly when combined with regular activities (such as aerobic sports, weightlifting, etc.) and other low-carb, low-fat foods (such as fish, tuna, fruits, etc.).
5. Chicken sandwich is very versatile
It is portable and available at all times. However, some sources claim that it is a very common lunchtime dish. Sandwiches with chicken salad are also a tasty addition to a picnic. It can be made quickly, and the size can be changed to suit the preferences of the customer.
6. Packs a high amount of essential nutrition
The chicken sandwich has another incredible health benefit. The body needs nutrients to keep its metabolism running smoothly and prevent disease. Sandwiches include a significant quantity of nourishment. You are protected from hunger and malnutrition, and it offers the same health advantages as Mexican rice.
7. A rich source of dietary fiber
The high fiber content of sandwiches is one of their many health benefits. Foods with a lunchtime theme, such as sandwiches, often include fiber. They are essential for preserving and enhancing body metabolism. Health professionals claim that eating enough fiber can enhance overall health (for example, preventing constipation) and prolong the sense of fullness.
8. It is rich in green vegetable nutrition
Because it has green vegetables as part of the sandwich, the chicken sandwich provides you with nutrients and photochemical only obtainable from them, such as Vitamins, beta-carotene, iron, etc. The chicken sandwich may make of various green vegetables, to add benefits and nutrition. It also can be tasty when added with mayonnaise or sauce health benefits of cassava starch.
9. Sandwich is very rich in protein
It is excellent for growing muscle since it contains chicken flesh, one of the main sources of protein (along with beef, eggs, butter, etc.). Moreover, some studies suggest that its high protein content helps enhance bodily chemical processes and prevent various disorders brought on by a lack of protein. To preserve its protein, chicken used in salad sandwiches is typically not overdone.
How to Store?
Store: Sandwiches should be wrapped tightly in plastic wrap and kept for 3 to 4 days.
Freeze: Sandwiches should be cut in half, then carefully wrapped in plastic wrap. Freeze sandwiches for up to three months.
If you layer the sandwich fillings properly and stay away from condiments like tomato, pickles, and sauces, frozen sandwiches won't become soggy.
Nutrition Information
Per serving:
| | | | |
| --- | --- | --- | --- |
| Calories | 862 kcal | Carbohydrates | 46 g |
| Calcium | 114mg | Fat | 52g |
| Saturated Fat | 27 g | Cholesterol | 181mg |
| Sugar | 3 g | Fiber | 2 g |
| Sodium | 1248mg | Protein | 54 g |
| Vitamin A | 613IU | Vitamin C | 4 mg |
In addition to being a skilled and passionate chef, Caroline is an awesome mother of two. In her spare time, Caroline pursues her passion for cooking by experimenting with new dishes and developing some of her very own. Her expertise and research are then condensed into comprehensive, easy-to-read guides and resources for readers who are looking for budget-friendly recipes for the whole family.