Surprisingly using pickle juice as a marinade works really well. Not only does it impart the zing of the dill pickle into the chicken, it works amazingly well as a tenderizer. And since we don't get to one of our favorite restaurants too often, we decided to bring the great taste of these Chick-fil-A Sandwiches home. 
I love Southern Style food seeing as how I grew up with this type of food being the staple of our family meals plan. I still love it today, I don't know whether it's because the flavors bring back memories or if it's simply how they find ways to use everything they have available in their recipes. So when I was clicking around a few places and came across this Copycat Chick-fil-A Recipe I had to try it. I've managed to cook in under 15 minutes, which was pretty easy.
The recipe called for the chicken breast to be tenderized by smacking it with a mallet. Personally I've never found that to be effective and it's just another time consuming step. Let me share with you the best way I've found to tenderize chicken breast lay the breast upon the cutting board and slice the breast horizontally midway through the thickness of the breast. This has always worked well for me and is super quick.
I didn't change the recipe much, actually aside from the way I tenderize the chicken the only other deviance from the original was I used celery seed in place of the celery salt. Mainly because I only had the celery seed but after making this I would leave the celery salt out from now on anyway.
Aside from that the only other piece of advice is to cook this in a cast iron skillet…it just works the best.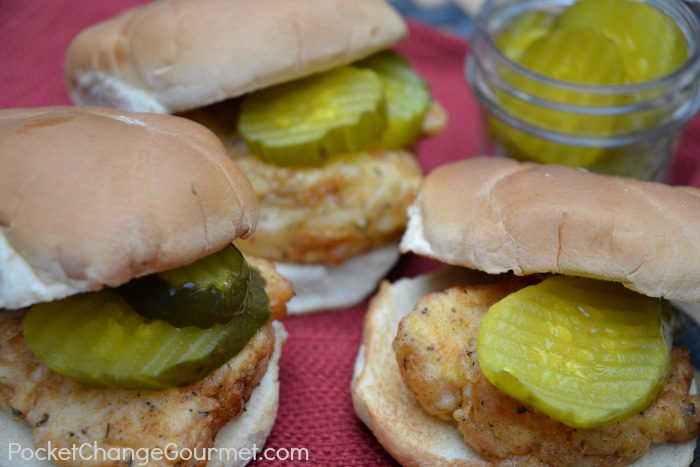 I even got a thumbs up from my sons who are chicken aficionados and Liz even commented how tender the chicken was, though she was so/so on the marinating chicken in pickle juice marinade. I'm still working with her on that one.
I think that this one is the best out of all my chicken sandwich recipes. It comes so close to beat even my famous buffalo chicken sandwich.
Copycat Chick-fil-A Recipe
A Copycat recipe that really does taste like the original...cross my heart. Recipe by PocketChangeGourmet.com.
Ingredients
2 boneless, skinless chicken breast
¼ cup (or enough to cover chicken) dill pickle juice
1 egg
¼ cup milk
½ cup flour
1 tablespoon powdered sugar
½ teaspoon paprika
½ teaspoon salt
¼ teaspoon black pepper
¼ teaspoon garlic powder
¼ teaspoon celery seed
¼ teaspoon dried basil
Oil for frying (about a cup)
Instructions
Pour pickle juice over chicken and marinate in the refrigerator for 1 hour, take the chicken out of the refrigerator the last 15 minutes to allow the breasts to come up to room temperature.
Beat the egg with the milk in a bowl. Combine the flour, sugar, and spices in another bowl.
Blot the breasts dry with a paper towel and dip the chicken pieces into the egg mixture coating both sides, then coat in flour.
Heat enough oil (somewhere around a cup depending on the size of your skillet) in a skillet until it's 345 to 350 degrees. Fry the chicken for about two minutes on each side, or until golden and cooked through. Serve on toasted buns with pickle slices.
Notes
To quickly tenderize your chicken breast slice the breast horizontally midway through the breast.

For a spicy sandwich add up to a teaspoon of tabasco sauce in the marinade and ¼ teaspoon cayenne pepper in the flour mixture.