There once was a grilled cheese sandwich that longed to be exciting, to be full of flavor and added crunch. And then along came the Bacon, Lettuce and Tomato Grilled Cheese Sandwich. 
Grilled Cheese Sandwiches are one of those very versatile sandwiches, pair it with a bowl of soup for a hearty lunch or add a salad for a great dinner. Raising 3 boys, I have made my share of Grilled Cheese, but I will have to admit, probably 99% of them have been the classic Grilled Cheese Sandwich made with Kraft American Cheese Singles and white bread.
A few years back, we started experimenting with different flavor combinations to jazz up the classic Grilled Cheese. We have added tomatoes, made them open face, and even grilled the sandwiches.
This time around though, we combined two classic sandwiches – Bacon, Lettuce and Tomato and Grilled Cheese into one very special sandwich!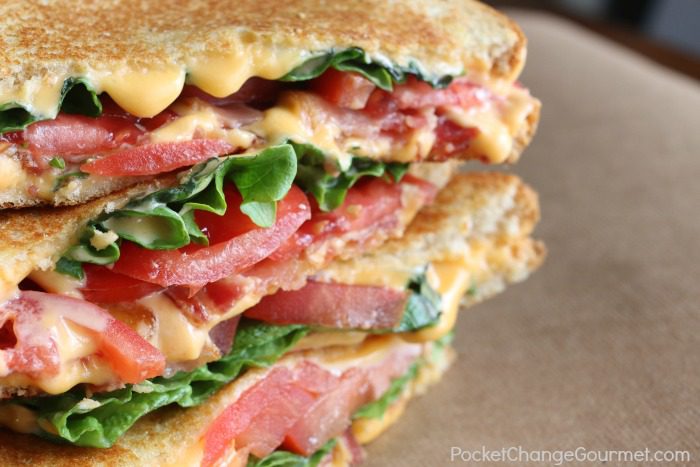 Creating the perfect Grilled Cheese Sandwich is somewhat of an art. Too much butter and it tastes greasy, too little filling ingredients and it's not flavorful. Here are my best tips for you –
3 Tips for making the perfect Grilled Cheese Sandwich
Soften the butter and brush it on the bread. This way it coats more evenly.
Cheese on both sides. I stack my sandwich like this – bread (buttered), 2 slices of cheese, fillings (bacon, lettuce, tomato), 2 slices of cheese and top with another slice of buttered bread.
Place on griddle or in a pan, then set another saucepan on top of the sandwich to blend the ingredients while it's cooking. Alternatively, you can use a sandwich press.
For this sandwich, I used whole grain white. Kraft American Singles, margarine spread, and of course the added bacon, lettuce and tomatoes complete this delicious sandwich. We always cook our bacon in the oven, less mess to clean up.

Bacon, Lettuce and Tomato Grilled Cheese Sandwich
The Classic Grilled Cheese and the classic Bacon, Lettuce and Tomato Sandwich are combined for a whole new flavorful sandwich.
Author:
PocketChangeGourmet.com
Ingredients
2 slices white bread
2 - 3 tablespoons butter or margarine
4 slices American Cheese Singles
4 slices bacon, cooked
2 pieces of lettuce
4-5 thinly sliced pieces of tomato
Instructions
Cook bacon in oven
Soften butter in microwave about 10 seconds
Brush butter on 2 sides of bread
Add 2 slices of cheese
Add filling ingredients - bacon, lettuce and tomato
Top with 2 more slices of cheese
Top with bread, buttered side up
Heat skillet or griddle, place sandwich buttered side down
Butter top piece of bread
Place saucepan on top of sandwich to add a little weight so the sandwiches ingredients combine and the cheese melts
Cook until brown, flip and cook until brown
Serve immediately