There once was a grilled cheese sandwich that longed to be exciting, to be full of flavor and added crunch. And then along came the Bacon, Lettuce and Tomato Grilled Cheese Sandwich. 
Grilled Cheese Sandwiches are one of those very versatile sandwiches, pair it with a bowl of soup for a hearty lunch or add a salad for a great dinner. Raising 3 boys, I have made my share of Grilled Cheese, but I will have to admit, probably 99% of them have been the classic Grilled Cheese Sandwich made with Kraft American Cheese Singles and white bread.
A few years back, we started experimenting with different flavor combinations to jazz up the classic Grilled Cheese. We have added tomatoes, made them open face, and even grilled the sandwiches.
This time around though, we combined two classic sandwiches – Bacon, Lettuce and Tomato and Grilled Cheese into one very special sandwich!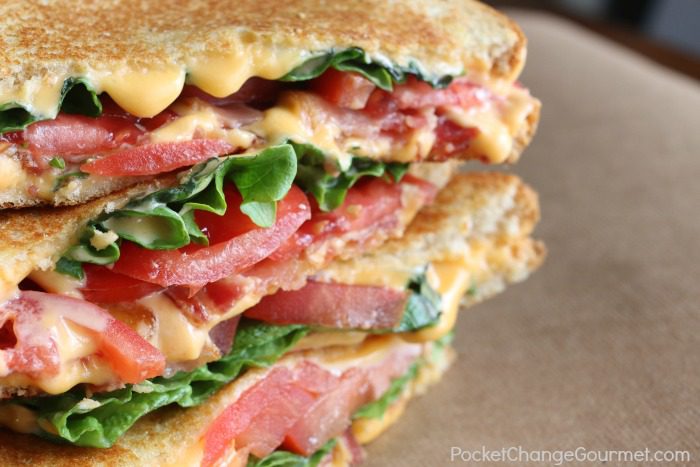 Creating the perfect Grilled Cheese Sandwich is somewhat of an art. Too much butter and it tastes greasy, too little filling ingredients and it's not flavorful. Here are my best tips for you –
3 Tips for Making the Perfect Grilled Cheese Sandwich 
Soften the butter and brush it on the bread. This way it coats more evenly.
Cheese on both sides. I stack my sandwich like this – bread (buttered), 2 slices of cheese, fillings (bacon, lettuce, tomato), 2 slices of cheese and top with another slice of buttered bread.
Place on griddle or in a pan, then set another saucepan on top of the sandwich to blend the ingredients while it's cooking. Alternatively, you can use a sandwich press.
For this sandwich, I used whole grain white. Kraft American Singles, margarine spread, and of course the added bacon, lettuce and tomatoes complete this delicious sandwich. We always cook our bacon in the oven, less mess to clean up.
Print
Bacon, Lettuce and Tomato Grilled Cheese Sandwich
The Classic Grilled Cheese and the classic Bacon, Lettuce and Tomato Sandwich are combined for a whole new flavorful sandwich.
Total Time:

7 mins

Yield:

1

sandwich

1

x
2

slices white bread

2

–

3

tablespoons butter or margarine

4

slices American Cheese Singles

4

slices bacon, cooked

2

pieces of lettuce

4

–

5

thinly sliced pieces of tomato
Instructions
Cook bacon in oven
Soften butter in microwave about 10 seconds
Brush butter on 2 sides of bread
Add 2 slices of cheese
Add filling ingredients – bacon, lettuce and tomato
Top with 2 more slices of cheese
Top with bread, buttered side up
Heat skillet or griddle, place sandwich buttered side down
Butter top piece of bread
Place saucepan on top of sandwich to add a little weight so the sandwiches ingredients combine and the cheese melts
Cook until brown, flip and cook until brown
Serve immediately
Author:

Prep Time:

2 mins

Cook Time:

5 mins

Category:

Sandwich
Bacon, Lettuce, And Tomato Grilled Cheese Sandwich FAQs
What Two Cheeses Will Go Well For A Grilled Cheese Sandwich?
The best cheeses that will pair well with this include American cheese, white cheddar, and yellow cheddar. Also, you can select the combination you think tastes best. 
What Type Of Bread Is Best For This Sandwich?
You have other options if you don't want to use white bread. So, these include sourdough, pumpernickel, deli rye, multigrain, and many others. You can also opt for Pullman loaf. 
Do I Use Butter Or Mayonnaise For BLT Grilled Cheese?
You can use any, as it is a personal preference. However, mayonnaise has a higher smoke point, which will help you brown your grilled cheese the best way, as it contains egg yolks. 
How Do I Know When To Flip My BLT Grilled Cheese?
As you cook the sandwich on one side, you need to flip it as soon as it starts turning golden brown. After that, you can let it grill and then flip it again to the first side to let it fully cook.
What Temperature Is Ideal For Grilled Cheese Sandwich?
If you are cooking on an electric griddle, you can set the temperature to 275 degrees Fahrenheit. Of course, if you are using a pan, we recommend that you keep the heat between low and medium for the best results.
How Long Should I Let Each Side Of The BLT Grilled Cheese Sandwich Cook?
As a general rule of thumb, you should let each side of the grilled cheese sandwich cook for three to four minutes. You can also let it cook until one side is golden brown and the cheese is completely melted.
Why Is My BLT Grilled Cheese Sandwich Soggy?
The bread has to be at least one inch thick to ensure that the sandwich does not get soggy. Classic thick-cut white bread will work great, but you must avoid any delicate and squishy bread, as it will turn out to be soggy.
What Can I Substitute With Butter Or Margarine For Grilled Cheese?
The best and most healthy alternative for margarine or butter is olive oil. You can spray the pan with olive oil before you add your grilled cheese. It has less saturated fat and cholesterol than butter and margarine.
How Many Calories Are Generally In A Grilled Cheese Sandwich?
A standard grilled cheese sandwich can easily come to seven-hundred calories per serving. The calories will increase even further if you use more butter and cheese. So, be sure to keep the ingredients light and healthy.
Which Lettuce Is Best For BLT Grilled Cheese Sandwich?
Romaine lettuce is the best for BLT grilled cheese sandwiches. This variety has a mild flavor and is crispy. If you want a crispier texture, you can also opt for a crispy iceberg, but romaine lettuce will work best in terms of texture and flavor for your sandwich.
In addition to being a skilled and passionate chef, Caroline is an awesome mother of two. In her spare time, Caroline pursues her passion for cooking by experimenting with new dishes and developing some of her very own. Her expertise and research are then condensed into comprehensive, easy-to-read guides and resources for readers who are looking for budget-friendly recipes for the whole family.