One of our families favorite holidays is Thanksgiving, of course we love spending time with the family but we also look forward to enjoying Turkey and all the fixins'. I typically only think of cooking turkey just on Thanksgiving, but with this easy recipe for Oven Roasted Turkey Breast you can have turkey anytime!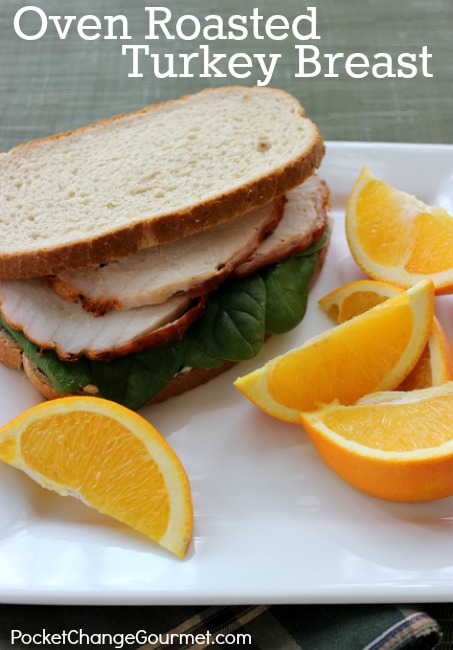 While we love Turkey at dinner time, we are always looking for a delicious, healthy lunch option as well. Not only is this Oven Roasted Turkey Breast super easy, but also stretches your budget.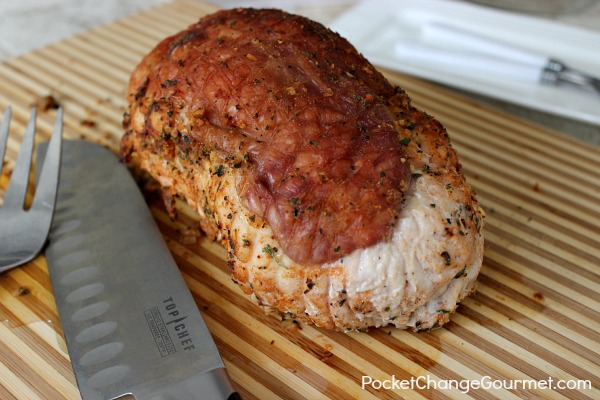 A simple sprinkle of seasonings that you probably already have in your cupboard, and into the oven it goes. We bought the boneless Turkey Breast at Walmart, they have several different brands to choose from as well as some that are already seasoned.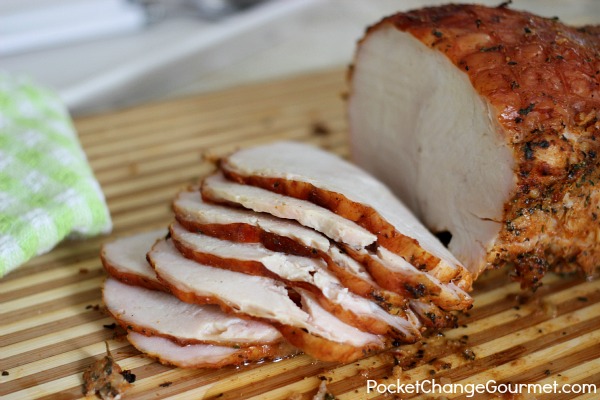 We let the turkey rest about 20 minutes, and then Doug sliced it thinly. Of course, he had to remind me that the meat slicer we saw at Sam's Club would have been perfect for slicing this Turkey Breast, had I let him buy it. You can cook this Turkey Breast right along with your other dinner, or roast it in the evening, place in the fridge overnight and slice in the morning.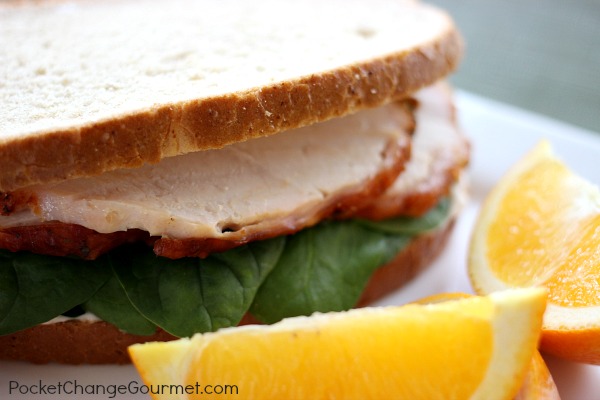 Then it was time to build the sandwich, a layer of Hellmann's with Olive Oil, Baby Spinach leaves and Oven Roasted Turkey Breast piled high on good Rye Bread. Add some orange slices and you have a great, healthy lunch to enjoy at home or pack in your lunchbox for the office.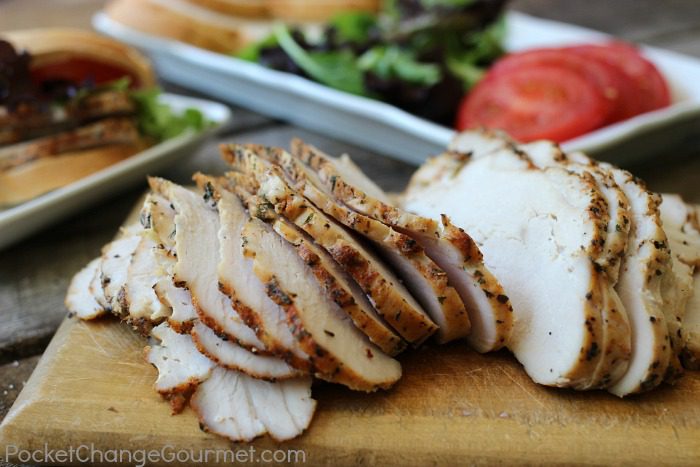 Oven Roasted Turkey Breast
Perfect for dinner or slice and serve on sandwiches. This Oven Roasted Turkey Breast will be a hit with your family. Recipe from PocketChangeGourmet.com
Ingredients
1 boneless turkey breast 2-3 pounds
1-2 tablespoons olive oil
½ teaspoon garlic powder
1 teaspoon minced dry onion
1 teaspoon seasoned salt
1 teaspoon smoked paprika
½ teaspoon pepper
½ teaspoon parsley flakes
½ teaspoon basil
Instructions
Thaw turkey breast completely in the fridge
Preheat oven to 350 and set out roasting pan or heavy deep oven proof dish
Combine all seasonings in a small bowl and mix well
Coat turkey with olive oil and rub in the spice mixture
Place in baking pan on top of 3 or 4 aluminum foil balls
Cook at 350 degrees for 90 minutes until internal temperature is 165-170 degrees
Remove from oven and cover with foil, allow to rest 20-30 minutes before slicing
Notes
You can also cook in the evening, place in the fridge and slice in the morning for your lunch.

Linking to…Gooseberry Patch