Our May Menu Plan is full of delicious budget friendly meals that your family is sure to love! Well it's finally here…Spring is upon us! And then before we turn around, it will be Summer! There are a few fun holidays this month, on May 5th is Cinco de Mayo, and on the 14th we celebrate Mom and all of the things she does for us! And we finish the month with the official start to Summer, Memorial Day.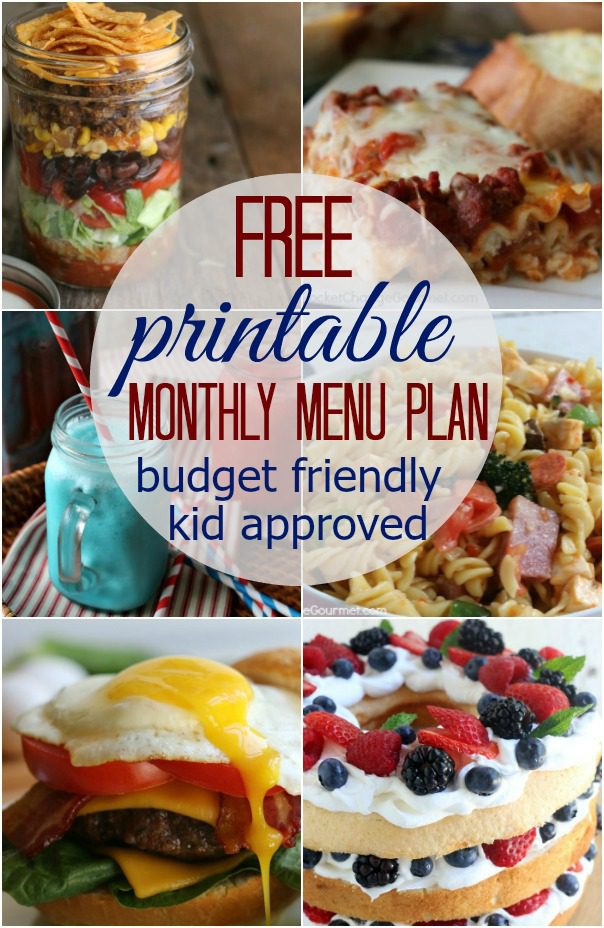 We have many readers asking for all of the Monthly Menu Plans and the Printable pages to be in one location. So, we put them all together on a special page for everyone. Grab over 3 years worth of Budget Friendly Recipes and Menu Planning Tips too!
May Menu Plan
1 – Slow Cooker Beef Roast, Mashed Potatoes
2 – Easy French Dip Sandwiches, Chips, Veggies and Dip
3 – Grilled Chicken Fajitas, Homemade Pico de Gallo and Chips
4 – Beefy Noodle Casserole and Salad
5 – Happy Cinco de Mayo! Grab one of our 35 Mexican Recipe to serve
6 – Ham and Cheese Pockets, Fried Smashed Potatoes and Green Beans
7 – Chicken n' Noodles, Mashed Potatoes, Corn
8 – Tater Tot Breakfast Casserole and Smoothies
9 – Grilled Peppers and Sausage, Pasta Salad
10 – Quick & Easy Cheesy Chicken Enchiladas, Chips and Salsa
11 – Slow Cooker Meatball Stew, Corn Bread
12 – Make Ahead Sloppy Joes, Chips, Veggies and Dip
13 – Pepperoni Pizza Ring
14 – Happy Mother's Day! Treat Mom to a special meal! Mother's Day Recipes
15 – Southwest Grilled Chicken and Taco Pasta Salad
16 – Vegetable Country Skillet and Fruit Salad
17 – Healthy Taco Salad served in Taco Bowls
18 – Slow Cooker Barbecue Chicken Sandwiches, Pasta Salad
19 – Pizza Sliders
20 – Classic Spaghetti with Meatballs, Herb Garlic Bread and Salad
21 – Hot Dog Bar, Potato Salad

22 – Cowboy Burgers with Homemade Onion Rings
23 – Grilled Italian Chicken Sandwich and Salad

24 – Taco Ring, Homemade Pico de Gallo and Chips
25 – Honey Hoisin Chicken and Oven Fries
26 – Appetizers and Baked Potato Bar
27 – Lasagna, Salad and Garlic Bread
28 – Grilled Barbecue Bacon Pork Chops, Baked Beans and Salad
29 – Memorial Day Cookout – Grab a new recipe
30 – Barbecue Chicken and Rice
31 – Pizza Pasta Salad, Homemade Bread Sticks
Desserts for the Month
We have a new Facebook group that we would LOVE for you to join! We are sharing simple recipes and projects for busy Moms!