Full of meatballs, fresh vegetables, and loads of flavor, this rich and thick Meatball Stew can be made on the stovetop or slow cooker. Serve with cornbread for the perfect hearty dinner your family will love! Try this healthy meatball stew recipe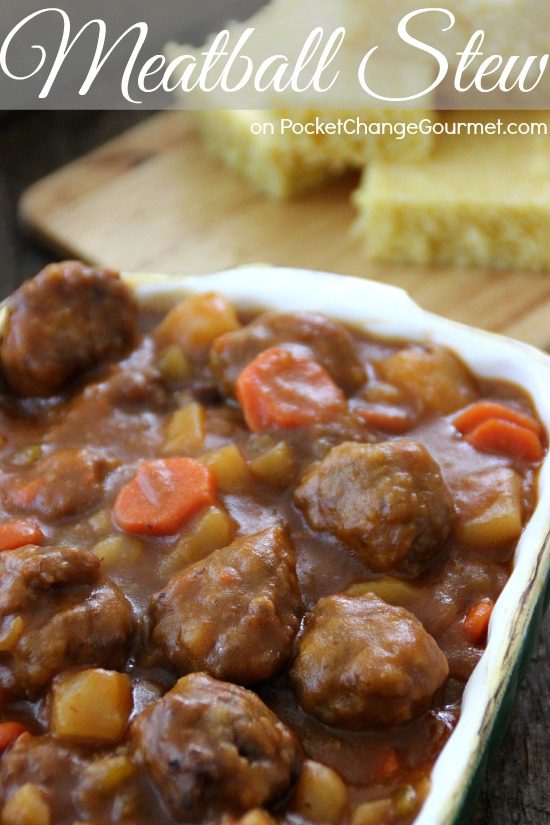 Old Fashioned Meatball Stew
Meatballs are known as kofta in Arabic, meatballs have a Persian origin. It is widely used in many different cuisines, including Turkish, Albanian, Greek, and Indian. The latter comes in more than 200 different types. The least tender portions of beef that become juicy and tender with slow moist heat are perfect for stewing. It is generally well-liked in affordable cooking. Lean meat can easily become dry, but cuts with a certain degree of marbling and gelatinous connective tissue produce moist, flavorful stews. This stew with meatballs is filling and bursting with flavor.
It's one of the best foods ever and has a sufficient amount of protein and vegetables. A hearty, traditional meatball stew is a wonderful way to stay warm on a chilly winter evening. After a long day of tobogganing, skating, or snowboarding, come home to this feast. No concerns if you don't have a slow cooker! Simply get the vegetables and meatballs ready, and then cook the stew on the burner. The stew is versatile. Make the meatballs with finely diced onion instead of dry onion mince. Excellent alternatives include tomato, carrot, or potato because they enhance the flavor of the meat mixture.
Delicious Meatballs Stew
Meatballs, diced potatoes, and carrots are combined into a basic tomato sauce in this dish and cooked until soft. This hearty meatball stew is not only obscenely tasty but also healthy. Tender steak chunks, potatoes, and carrots are all packed into this dish that is deliciously flavorful and comforting. Everything in this stew is delicious and stewing in that hearty, rich sauce just so. It is filled with protein from the meatballs and is nutrient-dense due to the number of vegetables.
A pleasant and savory thick stew is the result. One of the traditional Italian recipes is Italian meatballs. It is a wonderful and mouthwatering recipe. The low-carb meatballs differ from classic meatballs in various ways since modern consumers prefer to maintain healthy body weight and shape. As a result, beef lovers don't need to skip any meals to get in shape or lose weight. Even with reduced carbohydrates, you can eat meatballs.
Why We Love the Meatball Stew?
It seems like our Winter is never-ending. We currently have at least two feet of snow on the ground. We continue to hit records for low temperatures, similar to much of the country. Thank goodness for warm – stick to your bones – comfort food! There just isn't anything like a good hearty soup or stew to warm you up.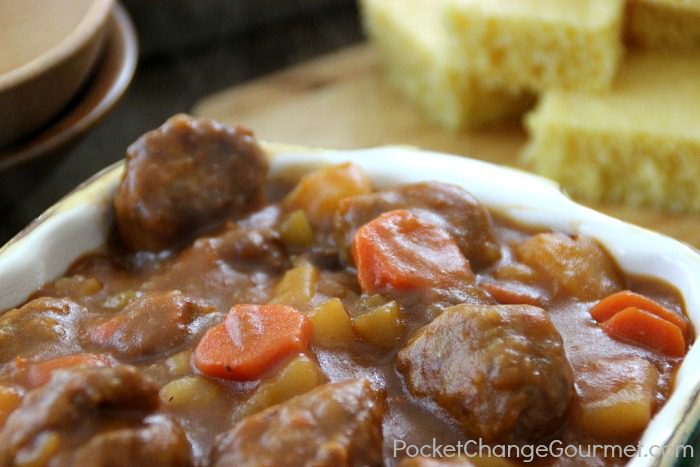 I have made plenty of stews during my many years in the kitchen. I had never thought to add Meatballs…this was definitely a new adventure. And I am happy to say, it was a grand adventure!
The Best Meatball Stew Is with Fresh Vegetables!
Fresh vegetables definitely make all the difference, the flavors from "real" food are unmatched.  Along with a match of Homemade Meatballs, this Stew was a favorite with our family! They said that this is the best Meatball Stew recipe they`ve ever had.
Walmart offers a 100% freshness guarantee. If you're not completely satisfied with their products, just bring back your receipt and they will give you a full refund no questions asked, and no need to bring back the purchase.  I'm pretty sure you are going to be satisfied. It's also really nice to know that if you aren't, Walmart offers a guarantee.
Meatball Stew
Hearty, rich and flavorful stew. Recipe from PocketChangeGourmet.com
Ingredients
18-20 Meatballs (Recipe for Homemade) or 12 oz pkg frozen
3 potatoes, peeled and cubed
2 cups (about 4 large) carrots, cleaned and sliced
1 medium onion, chopped finely
3 stalks celery, cleaned and sliced
1 (10¾ oz) can tomato soup
1 (10½ oz) can beef gravy
1 cup water
1 envelope onion soup mix
2 beef bouillon cubes or 2 teaspoons granules
Instructions
Combine and cook meatballs
Chop vegetables and place in large pot or slow cooker
Add remaining ingredients and stir to combine
Stir in meatballs
Stovetop: Bring to a boil and cook for 10 minutes, reduce heat to low and simmer 1 hour or until vegetables are tender
Slow Cooker: Cover and cook on low for 4-5 hours or until vegetables are tender
Notes
If you use frozen meatballs, time should be added.
 Recipe adapted from Simple Shortcut Recipes Cookbook from Gooseberry Patch
Why You'll love the Recipe?
It makes a healthy and calorie-efficient lunch or snack.
They are good enough to be eaten on their own as an appetizer. For a substantial dinner, serve them with white rice and vegetables and bread.
The dish's flavor profile is smoky, meaty, tangy, and just a touch sweet.
Health Benefits
Meat is used to make meatballs. The vast majority of the meatballs are made with ground beef. Meat offers several vital nutrients that are beneficial for body systems and brain development. Meat supplies protein, vitamins, iron, and other minerals when eaten three to four times per week. When prepared and stored appropriately, meatballs can be consumed as a replacement and an immediate snack. Because of their flavor, meatballs are incredibly healthy and a favorite of many people. The potential for the culinary sector is more profitable.
Here are the health advantages of eating meatballs.
Body growth:
Meatballs contain protein, which supports the structure of the human body. Animal protein similarly helps digestion to vegetable protein. Proteins have a significant role in the development of the skin, muscles, lungs, and heart in living things like humans.
Brain intelligence:
The intelligence of habitual meatball eaters is greater than that of non-meatball eaters. Meatballs have several advantages for the health of the brain.
Power booster:
Meatballs' high-fat content provides quick energy. In the body of a person, it serves as a reliable supply of energy. The body's extended feelings of fullness are also a result of the fat content.
Beef Provides L-Carnitine:
L-carnitine, a crucial substance for supporting health, is found in beef. It is a step in the digestion of meat. L-Carnitine facilitates the movement of fat into cells for burning.
Heart Health:
A meta-analysis of randomized clinical trials reveals that L-carnitine helps in improving outcomes. In particular, it protects against the effects of nitric oxide, inflammation, hypotension, and oxidative stress.
Diabetes:
Beef consumption also helps in the control of diabetes. Patients with type-2 diabetes that consume more L-carnitine have higher fasting blood glucose levels and better cholesterol levels.
How to Store?
Serve:  this stew is so hearty; the only thing you need to serve with it is cornbread to mop up any sauce that falls to the bottom of the bowl.
Store: Any stew that is left over should be refrigerated and stored in an airtight container. It can last for up to 3 to 4 days. On the burner or in the microwave, it can be heated again.
Freeze: Thaw the stew in the fridge overnight, and then add the cooked potatoes to the pot while reheating. It will keep for up to 3 months in the freezer.
Uncooked meatballs should be arranged in a single layer, not touching, on a baking sheet. After 20 to 30 minutes of freezing, until they are solid, place them in a freezer-safe bag. Don't forget to include a "Cook By" date; they can be frozen for up to two months. To prepare, defrost in the refrigerator overnight and then prepare according to the recipe.
Nutrition Information
Per serving:
| | | | |
| --- | --- | --- | --- |
| Calories | 674 kcal | Carbohydrates | 64 g |
| Calcium | 287 mg | Fat | 41 g |
| Saturated Fat | 15 g | Cholesterol | 187 mg |
| Sugar | 14 g | Fiber | 11g |
| Sodium | 897 mg | Protein | 37 g |
| Vitamin A | 6115IU | Vitamin C | 61 mg |
 Eliot Martin is a book lover and a public relations graduate. He currently lives in the Phoenix area, where he spends most of his time playing video games or reading a good book. He enjoys going to comic cons and spending time with his friends and family, and when he is not writing for his own cooking blog, he keeps our readers hooked with his articles.