Full of meatballs, fresh vegetables, and loads of flavor, this rich and thick Meatball Stew can be made on the stovetop or slow cooker. Serve with cornbread for the perfect hearty dinner your family will love! Try this healthy meatball stew recipe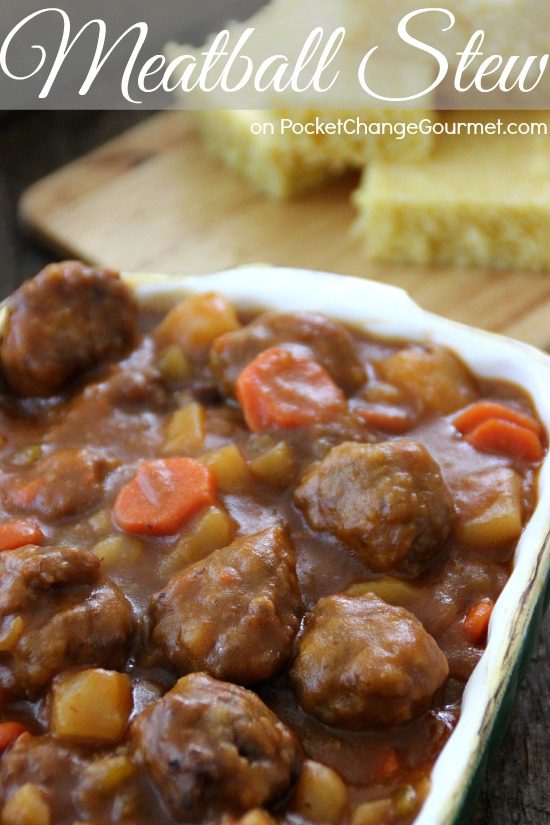 Why We Love the Meatball Stew
It seems like our Winter is never-ending. We currently have at least two feet of snow on the ground, and we continue to hit records for low temperatures, similar to much of the country. Thank goodness for warm – stick to your bones – comfort food! There just isn't anything like a good hearty soup or stew to warm you up.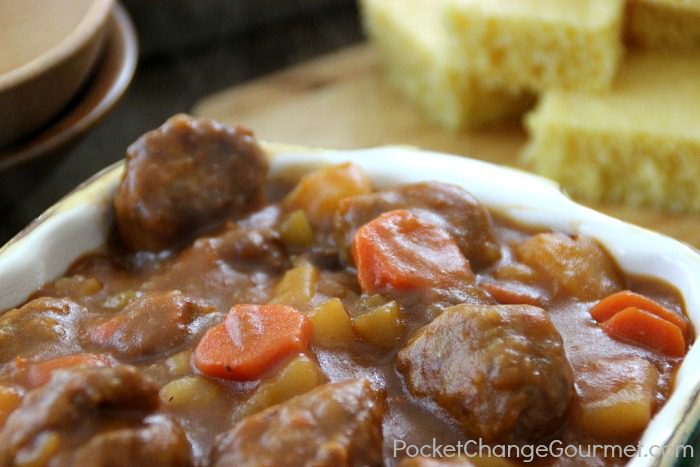 I have made plenty of stews during my many years in the kitchen, but had never thought to add Meatballs…this was definitely a new adventure. And I am happy to say, it was a grand adventure!
The Best Meatball Stew Is with Fresh Vegetables!
Fresh vegetables definitely make all the difference, the flavors from "real" food are unmatched.  Along with a match of Homemade Meatballs, this Stew was a favorite with our family! They said that this is the best Meatball Stew recipe they`ve ever had.
Walmart offers a 100% freshness guarantee – if you're not completely satisfied with their products, just bring back your receipt and they will give you a full refund no questions asked, and no need to bring back the purchase.  I'm pretty sure you are going to be satisfied, but it's also really nice to know that if you aren't, Walmart offers a guarantee.
Meatball Stew
Hearty, rich and flavorful stew. Recipe from PocketChangeGourmet.com
Ingredients
18-20 Meatballs (Recipe for Homemade) or 12 oz pkg frozen
3 potatoes, peeled and cubed
2 cups (about 4 large) carrots, cleaned and sliced
1 medium onion, chopped finely
3 stalks celery, cleaned and sliced
1 (10¾ oz) can tomato soup
1 (10½ oz) can beef gravy
1 cup water
1 envelope onion soup mix
2 beef bouillon cubes or 2 teaspoons granules
Instructions
Combine and cook meatballs
Chop vegetables and place in large pot or slow cooker
Add remaining ingredients and stir to combine
Stir in meatballs
Stovetop: Bring to a boil and cook for 10 minutes, reduce heat to low and simmer 1 hour or until vegetables are tender
Slow Cooker: Cover and cook on low for 4-5 hours or until vegetables are tender
Notes
If you use frozen meatballs, time should be added.
 Recipe adapted from Simple Shortcut Recipes Cookbook from Gooseberry Patch