Get dinner on the table fast with these super easy Slow Cooker Pulled Barbecue Chicken Sandwiches that have only 3 ingredients: Chicken, Barbecue Sauce and Buns.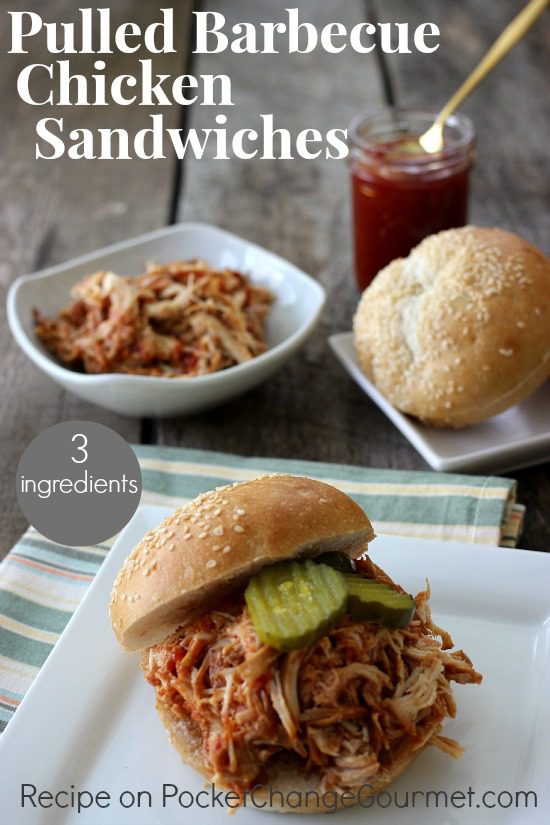 We all know that using our Slow Cooker is a huge time saver, add the ingredients, turn it on and let it do the work for you. But what about keeping the cost down too? With just 3 ingredients, these Pulled Barbecue Chicken Sandwiches are perfect!
I have been making these Chicken Sandwiches for years, and never really thought about sharing the recipe because they are super simple, until last week when I shared the Barbecue Sauce recipe. We all love simple, right?
Slow Cooker Pulled Barbecue Chicken Sandwiches
Perfect recipe for a weeknight meal or to serve a crowd. Recipe on PocketChangeGourmet.com
Ingredients
3 Chicken Breasts, boneless, skinless
1 cup Barbecue Sauce - Recipe Here
Buns
Instructions
Place Chicken Breasts in Slow Cooker
Add Barbecue Sauce
Cook on Low for 4-6 hours or High for 2-3 hours
Remove from Slow Cooker and let rest about 10 minutes
Using 2 forks, pull chicken into small pieces
Add Barbecue Chicken to buns and serve
Notes
After cooking, the chicken can also be frozen. Make a double batch and freeze part for another meal.