August is such a crazy time of year! The summer is ending, kids are heading back to school and your calendar is more full than ever. Let us do the menu planning for you with our August Menu Plan!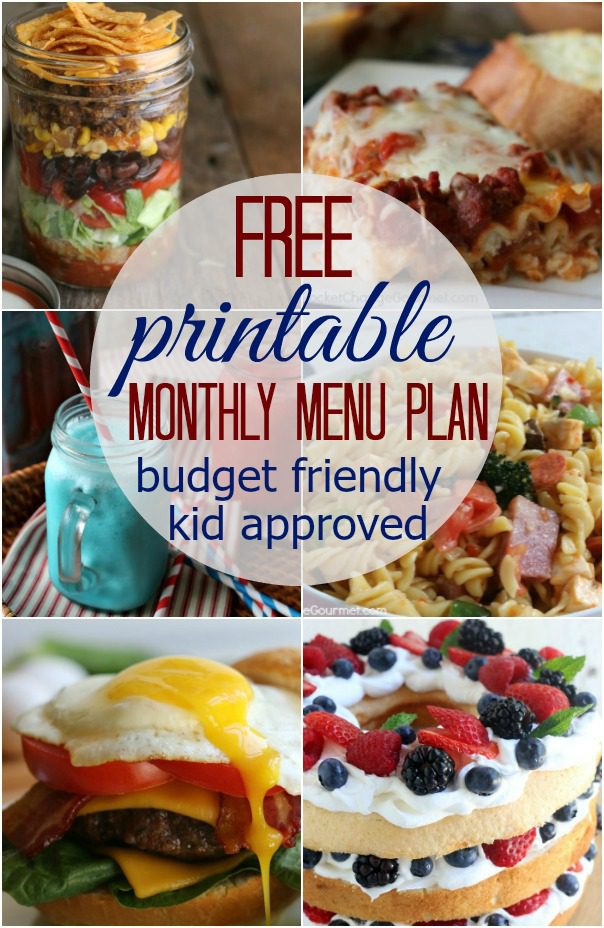 We can't wait to share these great budget friendly, kid approved meals with you!
Want the meal plan PDF delivered to your mailbox? Fill out the form below!
August Menu Plan
1 – Breakfast – Homemade Pancakes with Blueberry Syrup and Fruit Salad
2 – Taco Ring and Homemade Salsa
4 – Grilled Chicken Philly Sandwiches and Loaded Baked Potato Salad
5 – Stir Fry Beef Lo Mein and Rice
6 – Burgers, Sweet & Spicy Baked Beans and Sweet Corn
7 – Grilled Southwestern Pork Kabobs, Mexican Pasta Salad
8 – Honey Hoisin Chicken Sandwiches in the Slow Cooker with Veggies and Dip

9 – Seven Layer Southwest Salad
10 – Sausage Potato Packets, Salad
11 – BLT Grilled Cheese, Green Beans and Corn
12 – Hot Dog Bar, Classic Seven Layer Salad
13 – Classic Spaghetti with Meatballs, Salad and Garlic Bread
14 –Ham and Cheese Pockets and Deli Style Pasta Salad
15 – Breakfast – French Toast filled with Strawberries and Fried Potatoes
16 – Slow Cooker Enchiladas and Mexican Rice
17 – Pulled Pork Sandwiches with Root Beer Barbecue Sauce with Veggies and Dip
18 – Make Ahead Sloppy Joes and Chips
19 – Appetizer Bar

20 – Royal Burgers, Grilled Veggies and Pasta Salad

21 – Meatless Monday Veggie Night – Fried Zucchini Sticks, Sweet Corn, Slow Cooker Green Beans, Cucumber Salad
22 – Slow Cooker Pulled Barbecue Chicken Sandwiches and Slow Cooker Green Beans (leftovers)
23 – Taco Bar and Homemade Pico de Gallo
24 – Grilled Southwest Chicken Wraps, Chips and Dip
25 – Grilled Barbecue Bacon Pork Chops and Rice
26 – Homemade Pizza Pockets and Salad
27 – Beefy Noodle Casserole (make 2/freeze 1) and Salad
28 – Slow Cooker Roast Beef, Mashed Potatoes and Corn
29 – Slow Cooker Beef and Noodles, Salad

30 – Sweet and Sour Shrimp Tacos and Rice
31 – Taco Salad
Want the meal plan PDF delivered to your mailbox? Fill out the form below!
Desserts for the Month
Join Us!
Simple Easy Creative Facebook Group
Simple Recipes and Projects for Busy Moms
 Eliot Martin is a book lover and a public relations graduate. He currently lives in the Phoenix area, where he spends most of his time playing video games or reading a good book. He enjoys going to comic cons and spending time with his friends and family, and when he is not writing for his own cooking blog, he keeps our readers hooked with his articles.