There's nothing quite like a big bowl of chilled fresh fruit salad! And this Honey Lime Fruit Salad is the best I have had in a very long time. Filled with a variety of fresh fruit – watermelon, cantaloupe, pineapple, kiwi, strawberries, blueberries, black raspberries, grapes and peaches with a fresh lime and honey dressing and sprinkled with almonds, it's sure to be a hit at your house too!
The nice thing about fruit salad is it's super versatile. You can add as many fruits that you like, prepare a big bowl and take it to a potluck, pack some in a jar for a picnic, enjoy it as a side dish, or add it to vanilla yogurt for a delicious start to your day!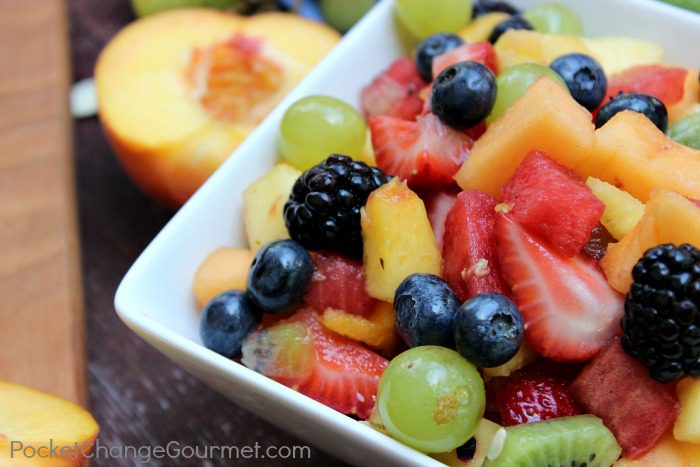 I don't know about you, but it seems like when the fruit is all cut and prepared ahead of time, I eat more of it. If I have to stop and clean it first, it just doesn't get eaten as well. And it's that way for my kids too, if they can just grab and go, the fruit gets eaten.
Check out the fun video we made while making the Honey Lime Fruit Salad…
Serving the fruit salad in a pineapple adds some fun, just slice the pineapple in half and scoop out the fruit.
Honey Lime Fruit Salad
Delicious and refreshing Fresh Fruit Salad with a touch of sweet honey and tang of limes. Recipe from PocketChangeGourmet.com
Ingredients
8 cups of fresh fruit - we used watermelon, cantaloupe, pineapple, kiwi, strawberries, blueberries, black raspberries, grapes and peaches
½ cup fresh lime juice + zest of 2 limes
½ cup honey
Almonds, optional
Instructions
Clean and cut fruit, place in a large bowl
Zest limes into bowl
Juice limes and combine with honey, pour over fruit
Chill for at least 1 hour before serving
Sprinkle with almonds if desired