While there are literally thousands of apple varieties grown throughout the world, your average grocer will normally have only a handful of varieties on hand at any one time. And even during Fall the local orchards will average around a dozen varieties suited to the local climate. So while it would be impractical and incredibly unreasonable to list all the varieties and their uses, I thought I would try to highlight the varieties most common to the United States and their uses. Here is The Definitive Guide to Apples and their Uses…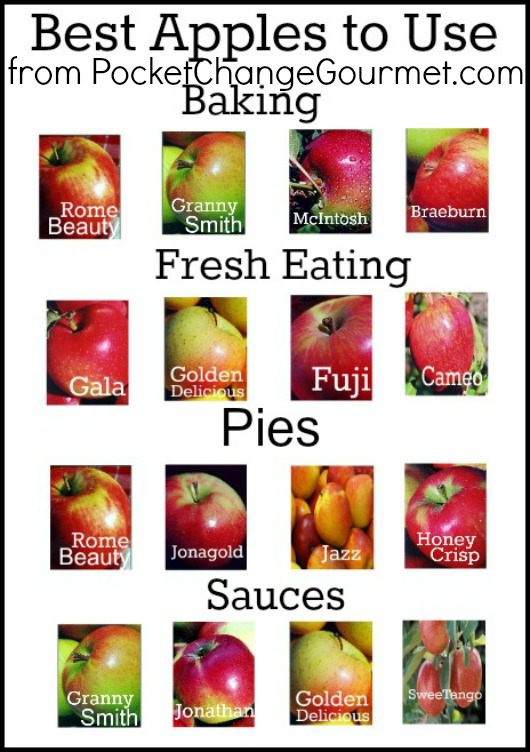 Eighty percent of the world's population enjoys a delicious tart and crisp apple making it the most popular fruit in the world. And while the apple comes as close as possible to the perfect fruit, easy to grow, simple to harvest and store, making it readily available during every season. The question remains… what variety of apple is the best suited for what I need.
Each apple variety is uniquely suited to specific uses because of its' flavor profile and characteristics of the apple its' self, firmness of flesh and how the sugars in the fruit convert when it is used in cooking. We also need to keep in mind that like all produce the apple's shelf life can impact the quality greatly.
I've listed below a guide to some of the most common varieties of apples we can find at your local markets…
Characteristics and Uses
Red Delicious
Sweet, well known apple. Best for fresh eating. Uses, fresh-eating, salad
Golden Delicious
Crisp, sweet, great for everything apple! My Favorite. Uses, fresh-eating, dessert, processing (sauce, pies, baking), freezing
Gala
Sweet and crisp apple best used for fresh eating. Great for kids lunches. Uses, fresh-eating
Rome Beauty
Good keeper, fair for fresh-eating and great for baking whole. Uses, fresh-eating, sauce, pies, baking
Jazz
A cross between Gala and Braeburn apples, crunchy and full of sweet juice. Uses: excellent for fresh-eating and it's dense, flesh makes it a very good choice for pies and baking
Granny Smith
Tart and firm apple. An old time, baking favorite. Uses, baking, sauce, juice
Jonagold
Sweet with hint of tartness. Great for fresh eating or baking. Wonderful pie apple. Uses, fresh-eating, pies
McIntosh
Crispy, juicy and tangy, firm, are all descriptions of this popular variety. McIntosh is a good all-around apple, although it doesn't hold shape when cooked. Uses, fresh-eating, salads, sauce, pies, baking
Fuji
Crisp, juicy and sweet. Great for fresh-eating. Uses, salad and fresh-eating apple
Braeburn
Very hard, tart apple. Great for baking as it stays firm. Uses, processing for sauce, pies and baking
Winesap
Strong sweet and sour contrast, wine-like flavor and aroma. Uses, fresh-eating, culinary use, cider
Honeycrisp
Crisp, sweet with a bit of tartness. Amazing Apple! Great fresh or for baking. Uses, fresh-eating, salad, cooking
Cameo
Sweet and Crisp! Great for eating or baking! Uses, fresh-eating is best but is good for cooking if used shortly after picking.
Jonathan
Slightly tart. Great all purpose apple, favorite for apple slices. Uses, fresh-eating, cider, sauce
Cortland
Tart & Juicy. Great Pie Apple. Uses, fresh-eating, salads, pies
SweeTango
SweeTango is a cross between the Honeycrisp and Zestar! varieties. Uses: fresh-eating, salad, cooking
Selection
A good-quality apple will be firm with smooth, clean skin and have good color for the variety. Test the firmness of the apple by holding it in the palm of your hand. It should feel solid and heavy, not soft and light.
Storage
Store apples in your refrigerator when possible, this will ensure they maintain their flavor and texture as long as possible. If you don't have room then find the coolest area in your house to store them. Avoid storing apples with dark spots or soft areas,   use these as soon as possible to prevent waste. And remember, one bad apple will ruin the entire bunch so when in doubt remove any that you suspect may be bad.

If you desire more information on additional varieties here are some great resources to keep handy.
Linking to…Ingredient Spotlight, Show and Tell Friday, Made By You Monday