Putting your Slow Cooker to use during the week is one of the best ways to get dinner on the table fast. Each and every time I use my Slow Cooker, I'm reminded just how easy it is to prepare dinner, especially during a busy weeknight.
This Slow Cooker Pork Roast with the addition of Apples and Onions brings together flavors of Fall.
The original recipe is from one of your favorite blogs (and ours too), Pioneer Woman. We changed it a bit and adapted the recipe for the Slow Cooker.
After browning the Pork Roast on all sides, into the Slow Cooker it went along with Apple Cider, Apples, Onions, Beef Stock and a Bay Leaf. Then simmered on low for about 6 hours and the roast simply fell apart.
I used a Boneless Pork Shoulder Picnic Roast from Walmart. Surprisingly enough, pork is very budget friendly right now, it's less than most beef including ground beef and right around the same price as chicken. I paid $2.38 per pound, prices may vary at your local Walmart.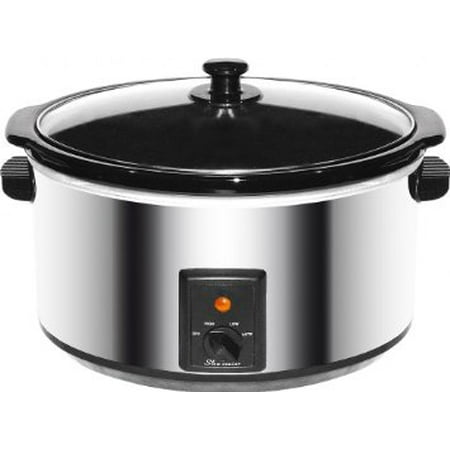 We have pulled together 4 more Easy Weeknight Meals for you that can be prepared ahead, made in the Slow Cooker or on the table in 30 minutes or less.
Add the Slow Cooker Pork Roast with Apples to these 4 meals and you have an Easy Weeknight Menu Plan!
For 2+ years worth of menu plans, visit our Menu Planning Page.
Slow Cooker Pork Roast with Apples
Use your Slow Cooker to serve a delicious and easy weeknight meal to your family. Recipe from PocketChangeGourmet.com
Ingredients
Pork Roast - we used Boneless Shoulder Roast
3 tablespoons oil
Salt and Pepper
4 cups Apple Cider or juice
1 cup Beef Stock
3 large apples, cleaned and sliced
1 large onion, sliced thinly
1 bay leaf
Instructions
In a large skillet, heat oil and brown roast
Remove roast and saute onions
In the slow cooker, add apple cider, apples, beef stock and bay leaf
Place roast into slow cooker and add onions
Cook on low for 6 hours or high for 3-4 hours
Linking to…Gooseberry Patch