Pancakes…not just for Breakfast anymore! At least a couple times a month we serve breakfast for dinner, and often serve a big brunch on Sunday mornings. With National Pancake Day next week, we thought it was a perfect time to share some delicious recipes for Pancakes!
Today we are sharing our recipe for Old Fashioned Homemade Pancakes, they are light, fluffy and can be paired with just about any type of fruit, syrup or even fruit syrup like our Blueberry Syrup. It reminds me of the pancakes that my Mom made for us often, while growing up.
Serve a delicious Fruit Salad along side of these Homemade Pancakes for a meal your family is sure to love!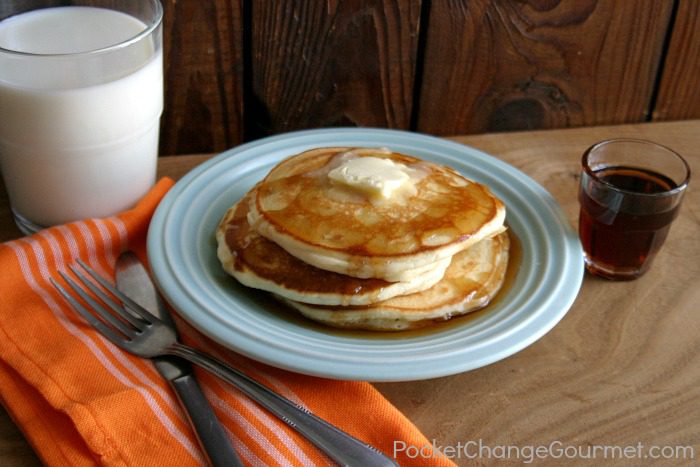 During the busy school year, we often make up several batches of the Homemade Pancakes, and store the dry ingredients in sealed bags.
Simply mix the dry ingredients and place in resealable bags, mark on the bag with a Sharpie the wet ingredients that need to be added. Then grab a bag of mix, add the wet ingredients and whip up some delicious Old Fashioned Homemade Pancakes for breakfast…or even dinner!
After making Pancakes last weekend, Doug quickly decided that we needed to share the recipe. You see my chicken scratch on a piece of paper? It's much easier to have it on the blog then on this little piece of paper.
These are so easy, the kids could even make you breakfast in bed!

Old Fashioned Homemade Pancakes Recipe
Old Fashioned Pancakes...just like your Mom used to make. Recipe from PocketChangeGourmet.com
Ingredients
Dry Ingredients
1 cup flour
1 tablespoon sugar
3 teaspoons baking powder
½ teaspoon salt
Wet Ingredients
1 egg
¾ cup milk {a little less or a little more is fine depending on the consistency you like}
2 tablespoons cooking oil
Instructions
In a large measuring cup, whisk together dry ingredients
Add wet ingredients and mix well
Heat griddle and spray with non-stick cooking spray
Pour batter onto hot griddle
Cook until golden brown, about 3 minutes, flip and cook other side
Note: batter makes 1½ cups - use ¼ cup for each pancake, it will make 6 large pancakes
You may also like…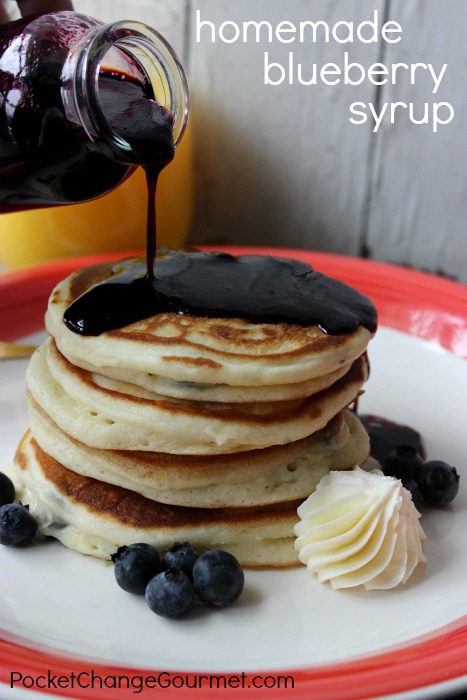 Pancake recipe adapted from My Wooden Spoon