Who else is tired of the cold? For those of us who don't live in sunny southern California, this is the coldest winter spell we've had in a while. Just ask Chicagoans who braved a Midwestern snowstorm that brought in temperatures colder than parts of Antarctica. No, we're not joking. If the weather hasn't thawed out in your neck of the woods, we have something that can help to warm you up. It's time to get out your skewers and cook up some healthy grilled shrimp recipes (more specifically, we're hoping you'll start with our grilled shrimp recipe).
Let's Get Started With Our Best Grilled Shrimp Recipe Yet
If you love shrimp, this quick and easy recipe for grilled shrimp with butter and herbs is perfect to bring your grill back out!
Shrimp is one of those ingredients that seems difficult to work with, but once you use it in a recipe, you quickly realize it isn't hard at all. In fact, like most seafood, this grilled shrimp recipe cooks up quickly. Plus, it's also not as expensive as you might think, and the butter, herbs, and garlic were a perfect combination to go with it.
Before we get to this grilled shrimp recipe, we are going to walk you through our grilling process. Remember that if you want to get some juicy, flavorful shrimp, you have to start by grilling them when the shells are still on. You don't want your dish to dry out! Not only does this preserve the flavor of the shrimps but it also protects them from getting scorched by the fire.
Sure, leaving the shells on the shrimp does add in a little more work at the end. But all in all, it is more than worth it to get that perfect, flavorful bite. When it comes to shrimp skewers, you want them hot and cooked quickly over a direct source of heat (aka your blazing barbecue). If you would like, you can put them straight on the grill. Just be sure to use large shrimp or jumbo shrimp when you do this, as you do not want them falling through the grill grates. Make sure that they are deveined.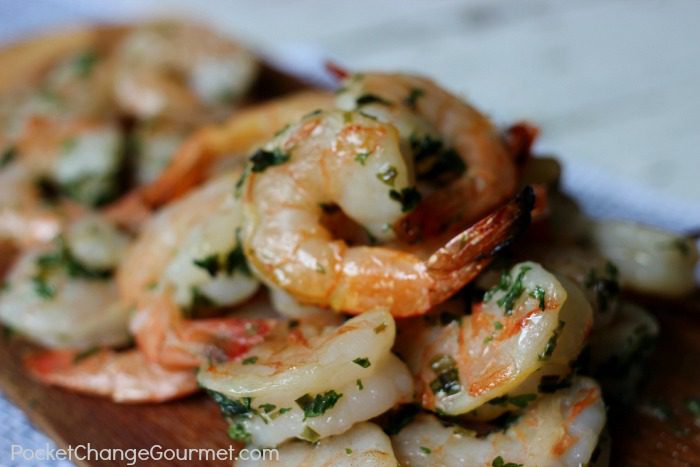 This time, we used a cedar grilling plank. The two most important things to remember when grilling with the cedar planks are to 1) to soak them for at least 1 hour in water prior to putting them on the grill and 2) do not reuse the cedar plank.
Grilling doesn't need to be difficult. Here are some of our best grilling tips:
Best Grilling Tips
Leave space around each food item on the grill to allow for even cooking and smoke penetration.

Place cooked foods on a clean plate, not one that has previously held raw meat, fish or poultry. Bacteria from raw food can contaminate the cooked food and cause food poisoning.

Apply sauces containing honey, brown sugar or molasses during the last 10 minutes to prevent the sauce from burning.

Turn meat just once on the grill. For steaks, turn them when the juices start to bubble on the uncooked side (the clearer the juice, the more well done the meat).
Here is the Step-By-Step Process for Our Best Grilled Shrimp Recipe
First, prep the grill and make sure it is on high heat. You want these shrimp to grill quickly while retaining all of the flavor possible. We want to go for savory, juicy bites.
This recipe calls for twelve ounces of uncooked shrimp. You can peel it when you are done grilling if you would like. Add the shrimp prawns into a pan or put them directly onto the gas grill and prepare for that extra pinch of hunger to kick in. If you choose to grill the shrimp, place them on a cedar plank (if you have one). Remember, you could also put the prawns on a skewer and make shrimp kabobs. The choice is entirely up to you. Part of the fun of cooking is improvising a little. You don't have to follow this healthy grilled shrimp recipe like a textbook. Consider it more of a general guideline.
Pour butter that has been melted in the microwave (one stick's worth) over the shrimp and watch out for the sizzle. You can also use a drizzle of extra-virgin olive oil if you would like to. Next, it's time for the herbs. Put one-fourth of a cup of dried parsley and one-fourth a cup of dried chives into a mixing bowl on the side. Add in two tablespoons of garlic, fresh cilantro, and stir it all up in the mixing bowl. This is going to be scrumptious. Feel free to add some fresh lime juice in there too and turn it into a marinade. Our mouths are watering already.
If you are cooking the shrimp directly on the grill, feel free to baste the shrimp with a grill brush and the marinade sauce. Cook or grill the shrimp for four to five minutes per side. We are going for a nice golden look. When they start to change color to a deeper pink and show grill marks, flip the shrimp over to the other side. If they start to look a little dry, add some extra olive oil to your shrimp kabobs as needed.
If you are expecting a lot of guests, try doubling the recipe. After all, these delicious bites tend to go fast. Isn't this one of the most simple yet satisfying appetizers? We swear this is one of the very best grilled shrimp recipes we have ever tried. This just goes to show that keeping it simple really is the best method.
Print
Grilled Shrimp with Butter and Herbs
Tasty, quick and easy, this butter shrimp is perfect on the grill. Recipe on PocketChangeGourmet.com
Total Time:

15 minutes

Yield:

21

-

30

Shrimp

1

x
1

bag (12 oz) uncooked Shrimp, peeled, cleaned

1/2 cup

(

1

stick) Butter

1/4 cup

Dried Parsley

1/4 cup

Dried Chives

2 tablespoons

Garlic, crushed (we used Gourmet Gardens)
Instructions
Heat grill to high heat
In a small pan, add butter and melt on grill or in the microwave
Add herbs and garlic, stir well
Add clean Shrimp to pan, and pour butter mixture over – reserving some for basting – coat well
Place Shrimp on Cedar Plank or directly onto grill
Cook 4-5 minutes, turn and continue cooking another 4-5 minutes or until pink
Prep Time:

5 minutes

Cook Time:

10 minutes
See also: 
Pocket Change Gourmet Easy Corn Casserole Recipe
Old Fashioned Homemade Pancakes
Classic Seven Layer Salad Recipe
Mark is a self-taught cook specializing in Asian cuisine. Mark's passion for food began at a young age when his parents finally allowed him to attempt cooking. Since then, he's found himself experimenting in the kitchen, watching cooking shows, and reading food blogs. Mark lives in Toronto, Canada, where he works as a restaurant chef.