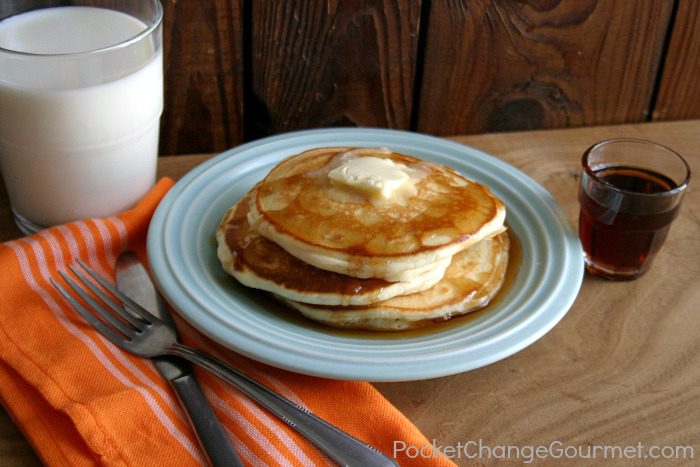 Have you ever wanted to know how to make the perfect short stack? You're in luck, because today we are sharing our recipe for old fashioned homemade pancakes. Anybody can add water to a box of instant pancake mix. But we believe you are better than that. For those of you who want to learn how to make some good old fashioned pancakes, we have just the thing. Who says these delicious treats have to be reserved only for breakfast? These pancakes are not too thick or too thin. They're soft, fluffy, moist, and delicious, and can be paired with just about any type of fruit, syrup or even fruit syrup, like our blueberry syrup. You could even serve a delicious fruit salad alongside of these homemade pancakes for a meal your family is sure to love!
If you're anything like us, you're the kind of person who goes to a mom and pop restaurant in the wee hours of the night for a breakfast special. Is there anything more fun than having pancakes and hot chocolate at midnight? With this recipe, you'll be able to whip up these delicious treats at home in no time. Save yourself a trip to the dinner and a little bit of cash along the way. For those of you who have kids, this is a meal that even the pickiest of eaters will know and love. Who doesn't love some fluffy pancakes?
Quality Any-Time-of-the-Day Food You'll Know and Love
There comes a time when eating out becomes more of a luxury than an everyday activity. After college, you realize the need to save. Staying in doesn't have to be boring. Cooking is what you make it. This old fashioned pancakes recipe makes it fun. When it comes to comfort food, there's nothing quite like flapjacks topped with butter and thick maple syrup to do the trick. Whether you decide to make some buttermilk or old fashioned pancakes, or add in your own flavors for a little pzazz, this recipe has got you covered. Cooking doesn't have to be complicated.
Do you see my chicken scratch on this piece of paper? It's a much better idea to have this recipe on the blog than on this little piece of paper.
A Step by Step Walk Through on How to Make Some Good Old-Fashioned Pancakes
Are you new to cooking? Don't sweat it. We are here to walk you through the process. Here's the good news. This recipe is simple and pain-free. Pull out a skillet and a mixing bowl and let's get started.
First, add one (or more) cups of all-purpose flour into the bowl along with one tablespoon of sugar, three teaspoons of baking powder, and one half a teaspoon of salt.  Whisk the dry ingredients together in a large mixing bowl.
Next, make sure to heat the griddle and add a non-stick spray to your frying pan.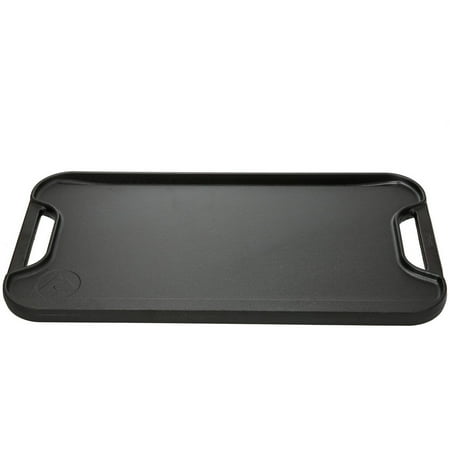 Ozark Trail Large Cast Iron Griddle at Walmart.com
For your wet ingredients, crack one egg and add into the mix along with three-fourths a cup of milk, and about a half a stick of melted butter. Feel free to use egg whites instead of a whole egg if you would like, and add a little more butter at your discretion. Make sure to stir it into the flour mix until you have a nice thick batter. You don't want the pancake batter to be too thick or too runny; the egg whites should bring about the right consistency for the mixture. We are going for just the right creamy consistency. Do you want your pancakes to be a little sweeter? Sprinkle some chocolate chips into the mix.
Now, you are ready to pour the batter into the hot frying pan. Cook each pancake until it is golden brown (this takes about three minutes), then flip it and cook the other side. Poke any air bubbles that come in the batter while you are cooking the pancakes.
Each pancake should take about six minutes to cook if it is a standard size. It is important to note that this batter makes about one and a half cups. Use one-fourth of a cup for each pancake; you will have six large buttermilk pancakes in total.
It's time for the fun part – aka the toppings. Once you've pulled the pancakes off of the hot frying pan, add some butter on top and drizzle on pure maple syrup for that perfect, sweet finish. Add however much maple syrup you want – we won't judge. Feel free to garnish it with powdered sugar, too (our personal favorite) and chocolate chips.
As you can see, these are so easy that the kids could even make you breakfast in bed!

Quick Tip: Make the Homemade Pancake Mix in Advance for Easy Prep
During the busy school year or just a busy week, we often make several batches of homemade pancake mix in advance and store the dry ingredients in sealed bags. Simply mix the dry ingredients and place them in resealable bags, and write the wet ingredients that need to be added later on the bag with a Sharpie. When you're ready, grab a bag of mixture, add the wet ingredients, and whip up some delicious old fashioned homemade pancakes for breakfast…or even dinner!

Old Fashioned Homemade Pancakes Recipe
Old Fashioned Pancakes...just like your Mom used to make. Recipe from PocketChangeGourmet.com
Ingredients
Dry Ingredients
1 cup flour
1 tablespoon sugar
3 teaspoons baking powder
½ teaspoon salt
Wet Ingredients
1 egg
¾ cup milk {a little less or a little more is fine depending on the consistency you like}
2 tablespoons cooking oil
Instructions
In a large measuring cup, whisk together dry ingredients
Add wet ingredients and mix well
Heat griddle and spray with non-stick cooking spray
Pour batter onto hot griddle
Cook until golden brown, about 3 minutes, flip and cook the other side
Note: batter makes 1½ cups - use ¼ cup for each pancake, it will make 6 large pancakes
You may also like…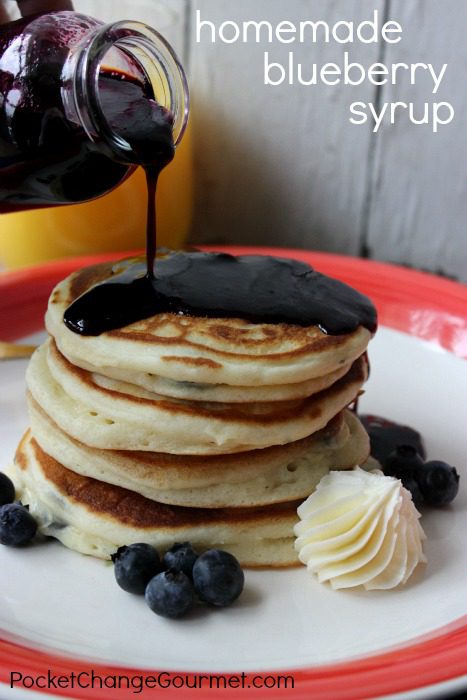 Pancake recipe adapted from My Wooden Spoon