This long time family favorite recipe has only 5 ingredients and is heated in the microwave for 5 minutes. This dip is gobbled up every time I make it, so the boys have named it fittingly – The Best Chili Cheese Dip.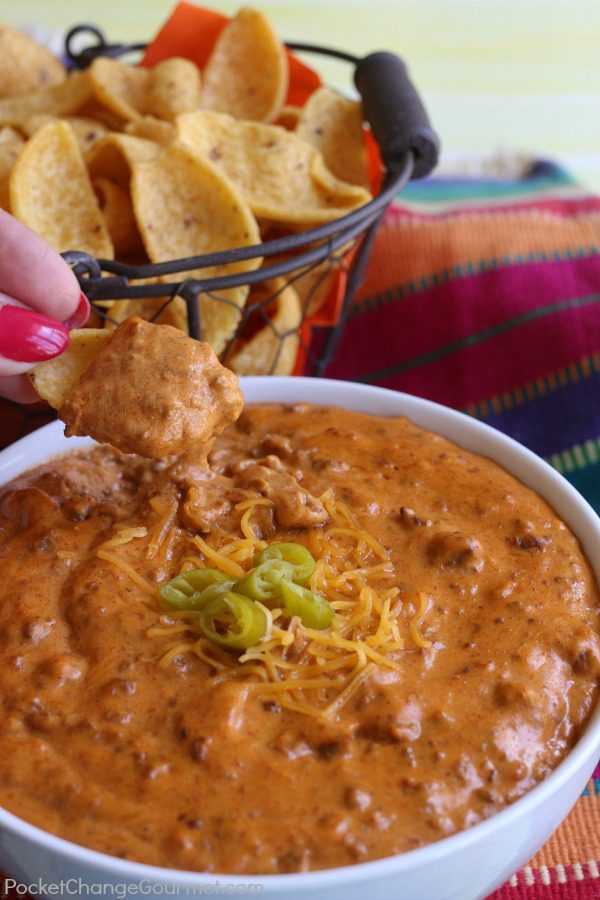 We have all been enjoying this Cheesy Chili Dip for many years. I originally fixed it during a Pampered Chef party I was hosting, and it quickly became a favorite. You can bake it in the oven, but even better…it can be cooked in the microwave in 5 minutes or less!
Mexican food is always a hit in our house, and most of the time, we have it at least once a week. Typically Mexican recipes are inexpensive to fix and there are many that I make that the boys and Doug enjoy, so it's a win-win! This dip has simple ingredients too – cream cheese, chili, garlic, taco seasoning and shredded cheese.
This best Chili Cheese Dip is perfect just as a snack, but also goes great with tacos, quesadillas, and goes great with our Slow Cooker Enchiladas. Mix up a batch and keep it on warm in the Slow Cooker to serve at parties.
You get the idea – this dip is perfect any time – any where. That's why it's been named The Best Chili Cheese Dip. We don't take our cheese dip lightly here!
Pair this Chili Cheese Dip with one of these amazing Mexican favorites…
The Best Chili Cheese Dip
The perfect dip for Mexican night, Movie Night or anytime.
Author:
PocketChangeGourmet.com
Ingredients
1 pkg (8 oz)} cream cheese, softened
2 cans (15 oz) chili without beans
2 teaspoons Taco Seasoning (Homemade Recipe)
8 oz. Monterey Jack cheese, shredded
1 garlic clove, pressed
1 small tomato, chopped -optional
1 hot pepper, thinly sliced -optional
Instructions
Soften cream cheese and stir until smooth
Add chili, taco seasoning, cheese and garlic
Stir until well combined
Place in oven safe or microwave safe dish
To microwave - cook for 5 minutes
To bake in oven - preheat to 350 degrees and bake for 20-25 minutes or until bubbling
Garnish with tomatoes and hot peppers (if desired) and serve with chips