Simple Meals. Raising a family with three boys is anything but simple, even meal time can be an adventure. So keeping it simple is definitely something we have learned to do over the years. One of our simple meals are tacos and they are always a hit at dinner time in our house, whether we serve them plain or fancy. And the build your own Taco Bar has become a favorite this Summer, especially with our busy schedules.
Our family likes both crunchy and soft taco shells so we always serve both, but this time we added the Old El Paso Bold Stand N' Stuff Nacho Cheese Flavored Shells. The boys loved how easy it was to stuff the shells all the way to the top. Or you could serve the fixin's in taco bowls, here we show you how to make Taco Bowls, which are another fun way to kick Taco Night up a notch.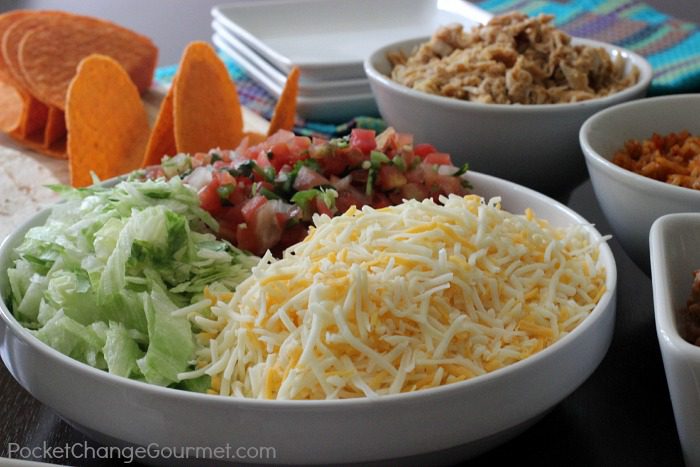 For some reason, when the kids have a chance to build their own, they seem to eat better…does that happen in your house too? We usually serve pretty typical taco toppings for our taco bar, lettuce, shredded cheese, sour cream. We also like to include refried beans and spanish rice to the bar and several sauces to cover everyone's individual tastes.
To keep the cooking to a minimum we also grabbed a Rotisserie Chicken from the deli at Walmart, then once we got home I separeated the breasts from the cooked chicken and using two forks shredded the meat and added some of our taco seasoning. I made the taco meat for the taco bar a little extra special by adding some salsa and of course, our Homemade Taco Seasoning. The added salsa gave the meat more flavor and was actually kind of creamy and moist which really made our tacos outstanding.
As the meat is simmering away on the stove now is the time to get everything ready for the taco bar. This is where the kids can help but leave all the chopping and slicing to the adults and older children.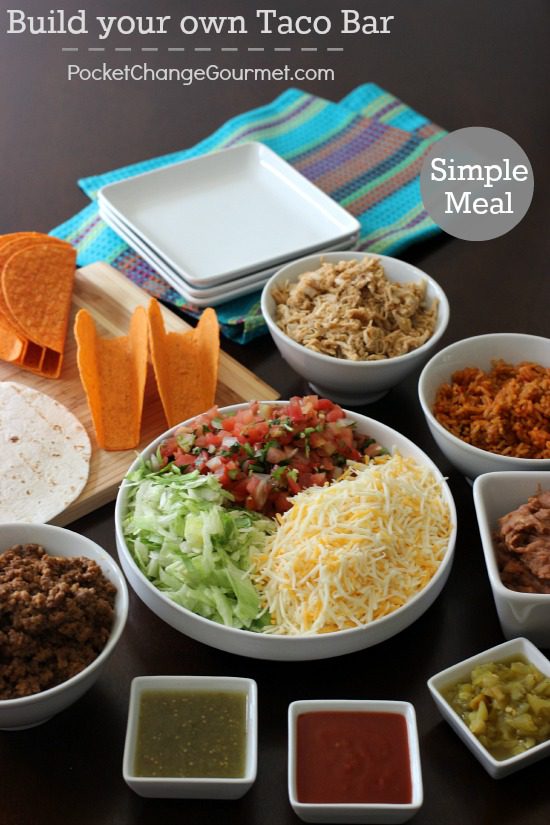 So there you have it, a Simple Meal for that the whole family will love. What are your families favorite taco bar ingredients. Join in the conversation below.
Best Ever Taco Meat Recipe
Taco Meat...kicked up a notch with salsa and homemade taco seasoning. Recipe from PocketChangeGourmet.com
Ingredients
1 pound ground beef, cooked and drained
1 cup salsa {Homemade or Store Bought}
Homemade Taco Seasoning - I used the full amount from the recipe
¼ cup water
Taco Bar
Old El Paso Bold Stand N' Stuff Nacho Cheese Flavored Shells
Flour or Corn Tortillas
Best Ever Taco Meat
Tomatoes
Lettuce
Cheese - I use Mexican shredded
Onions
Taco Sauce
Sour Cream
Instructions
Cook and drain ground beef
Return to pan, add Salsa and Seasoning, stir until combined
Add water, stir and simmer for 5 minutes {you can add more water if needed}
Serve on Taco, Taco Salad or with Quesadillas