Working all day, whether you work at home or outside the home, it's often difficult to juggle schedules and get dinner on the table fast. One of the favorite meals that I cook for my boys is Chicken Quesadillas. In addition to cheese, there are endless ingredients that can be added, we even like adding pizza ingredients for a quick 15-minute meal!
How to Make This Recipe Like a Pro
Aside from my Fried Egg Sandwiches, this is the most requested food from my kids. And it's one of the easiest meals you can put on the table. I've tweaked it over the years and dare I say I even get compliments from my pickiest eater.
I'll even pass along one of my little tricks…when cooking the meat for the filling, whether chicken, turkey or beef. Substitute chicken or vegetable stock for the water when adding the spices to the meat and let it slowly simmer and reduce the liquid as low as you can. It is similar to the homemade taco seasoning method.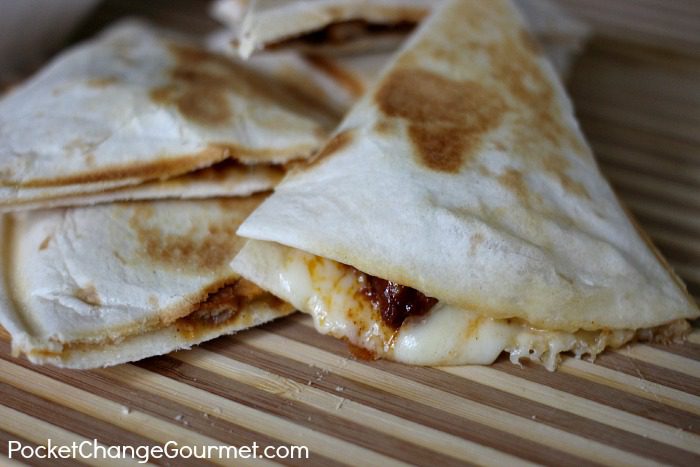 I have found using a Quesadilla maker saves lots of time, but if you don't have one, it's not difficult to make these on the stovetop as well. I even spotted a friend on Instagram recently grilling them.
Chicken Quesadillas Recipe
Easy Chicken Quesadillas
Chicken Quesadillas that even your pickiest eater will love. Recipe from PocketChangeGourmet.com
Ingredients
Soft Tortillas – 1 or 2 packages depending on the size of your family
Chicken – 2 to 3 skinless, boneless breast is best
⅔ cup Chicken or Vegetable Stock
Taco Seasoning – either homemade or store bought
Cheese – whatever you like, we usually use a Mexican blend or Monterey Jack
Serve with salsa, sour cream, shredded cheese, lettuce, tomatoes, or whatever you like on tacos
Instructions
Cut chicken breast into small pieces
Cook on the stovetop over medium heat until done
Add seasoning and ⅔ cup of chicken or vegetable stock, bring to a boil then reduce heat to low and simmer until reduced
Preheat Quesadilla maker
Assemble Quesadillas, add plenty of cheese and chicken
Cook until cheese is melted and tortillas are browned
Stovetop Method
Assemble quesadillas, place in a hot skillet and add a heavy skillet or lid to the top
Cook for 3-5 minutes or until golden brown, flip and continue cooking on the other side