Today we are celebrating Thanksgiving with three fellow bloggers for our Virtual Thanksgiving Dinner. We are sharing the main course, Oven Roasted Turkey Breast, Sweet Potato Casserole in the Crock Pot shared on Wholesome Mommy and to finish the meal, Cranberry Apple Spritzer shared on Hoosier Homemade. 
Turkey Breast is not only perfect if you are hosting a small Thanksgiving Dinner, but it's also great to pop in the oven on a Sunday afternoon to have for sandwiches throughout the week for lunch. A simple sprinkle of seasonings that you probably already have in your cupboard, and into the oven it goes.
Joining us as we enjoy our Virtual Thanksgiving Dinner…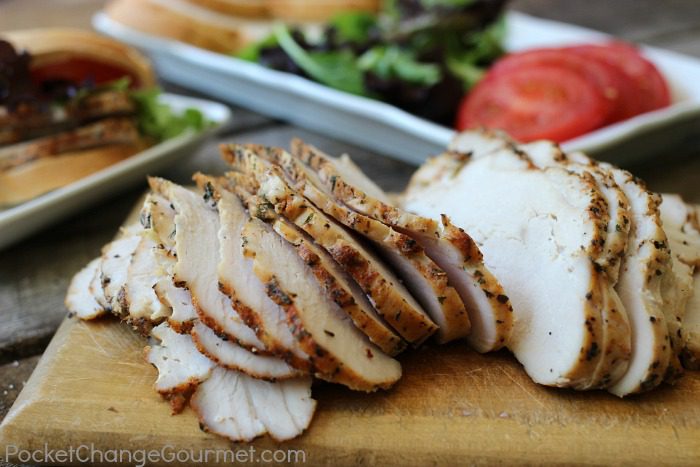 Print
Oven Roasted Turkey Breast
Perfect for dinner or slice and serve on sandwiches. This Oven Roasted Turkey Breast will be a hit with your family. Recipe from PocketChangeGourmet.com
Total Time:

1 hour 35 minutes
1

boneless turkey breast 2-3 pounds

1

–

2

tablespoons olive oil

1/2 teaspoon

garlic powder

1 teaspoon

minced dry onion

1 teaspoon

seasoned salt

1 teaspoon

smoked paprika

1/2 teaspoon

pepper

1/2 teaspoon

parsley flakes

1/2 teaspoon

basil
Instructions
Thaw turkey breast completely in the fridge
Preheat oven to 350 and set out roasting pan or heavy deep oven proof dish
Combine all seasonings in a small bowl and mix well
Coat turkey with olive oil and rub in the spice mixture
Place in baking pan on top of 3 or 4 aluminum foil balls
Cook at 350 degrees for 90 minutes until internal temperature is 165-170 degrees
Remove from oven and cover with foil, allow to rest 20-30 minutes before slicing
Prep Time:

5 minutes

Cook Time:

1 hour 30 minutes
Linking to…Gooseberry Patch
In addition to being a skilled and passionate chef, Caroline is an awesome mother of two. In her spare time, Caroline pursues her passion for cooking by experimenting with new dishes and developing some of her very own. Her expertise and research are then condensed into comprehensive, easy-to-read guides and resources for readers who are looking for budget-friendly recipes for the whole family.