Why should we have to wait to enjoy Turkey on Thanksgiving? This slow cooker boneless turkey breast takes all the work out of cooking a turkey and lets you enjoy it year-round just by using your Slow Cooker. So, you'll have some spare time to set the table or prepare yourself for the dinner party without spending so much time in the kitchen. That's why we love our slow cooker! Not to mention that this recipe gives you the best from the turkey breast and all your loved ones will love it!
TIPS
One of the little tricks I learned last year was to cook an Oven Roasted Boneless Turkey Breast and have it for sandwiches. Now that process is even easier by using your slow cooker. I love my slow cooker, but honestly, I really need to use it more. It's awesome to toss dinner in on a busy day, but have you thought about using it for the holidays? You know Thanksgiving and Christmas are only a couple of months away. Why not plan to add this Boneless Turkey Breast to your menu and cook it in the Slow Cooker, it will free up time and space in your oven.
Also, using a slow cooker when wanting to cook less expensive cuts of meat is a game-changer. So, as a result of the long, low-temperature cooking, a slow cooker brings out the flavor in foods. That's why everything prepared using this magical device turns out fantastic!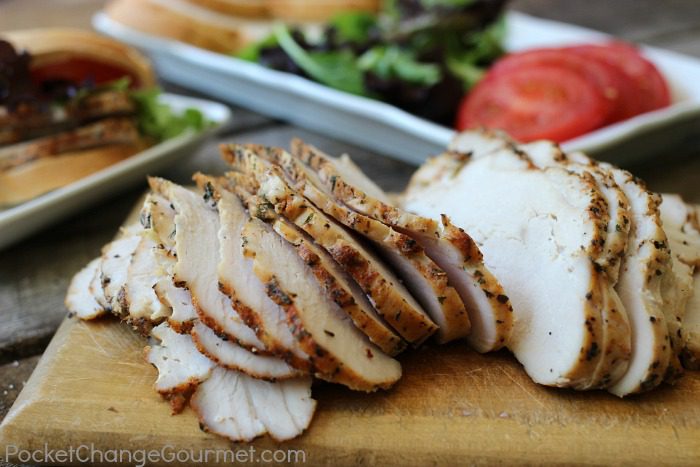 Therefore, we started with a boneless Turkey Breast, but you could of course use whatever you like.
In addition, to keep the turkey off the bottom of the Slow Cooker, to allow for the juices to flow and to cook evenly you can either use 3 balls of foil or use a large onion, just clean the onion and roughly slice it into chunks. Then, use a little oil and a sprinkle of seasonings you probably already have in your cupboard, and into the Slow Cooker, it goes.
Finally, let it cook on low for 3-4 hours for a 2-3 pound turkey breast. Slow and low is best.
RECIPE
Then it's time to enjoy! You can use it for sandwiches, to serve as a family dinner, or add all the Thanksgiving trimmings for a fantastic meal to remember. This is surely a versatile dish that anyone will enjoy!
Final Thoughts
Finally, it's time for you to share all your thoughts, advice, and ideas for improvement on this Slow Cooker Boneless Turkey Breast recipe. So, tell me everything in the comment section below! Was it as hard as you might think in the beginning? Did you impress your loved ones with the recipe? Were your kids satisfied with this mouth-watering dish? 
Last but not least, do not forget that I'm always here for you! So, if you have any further questions or curiosities about the ingredients I used or my methods, ask them! I love knowing I could give a hand!
In addition to being a skilled and passionate chef, Caroline is an awesome mother of two. In her spare time, Caroline pursues her passion for cooking by experimenting with new dishes and developing some of her very own. Her expertise and research are then condensed into comprehensive, easy-to-read guides and resources for readers who are looking for budget-friendly recipes for the whole family.