Why should we have to wait to enjoy Turkey on Thanksgiving? This Slow Cooker Turkey Breast takes all the work out of cooking a turkey and lets you enjoy it year round just by using your Slow Cooker. 
One of the little tricks I learned last year was to cook an Oven Roasted Turkey Breast and have it for sandwiches. Now that process is even easier by using your Slow Cooker. I love my Slow Cooker, but honestly, I really need to use it more. It's awesome to toss dinner in on a busy day, but have you thought about using it for the holidays?  You know Thanksgiving and Christmas are only a couple months away. Why not plan to add this Turkey Breast to your menu and cook it in the Slow Cooker, it will free up time and space in your oven.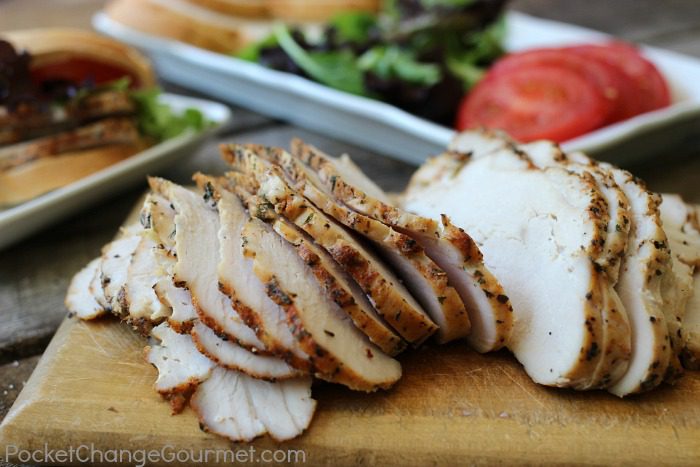 We started with a boneless Turkey Breast, but you could of course use whatever you like. To keep the turkey off the bottom of the Slow Cooker, to allow for the juices to flow and to cook evenly you can either use 3 balls of foil, or use a large onion, just clean the onion and roughly slice it into chunks. Then a little oil and a sprinkle of seasonings you probably already have in your cupboard, and into the Slow Cooker it goes. Let it cook on low for 3-4 hours for a 2-3 pound turkey breast. Slow and low is best.
Then it's time to enjoy! You can use it for sandwiches, to serve as a family dinner, or add all the Thanksgiving trimmings for a fantastic meal to remember.
Slow Cooker Turkey Breast
An easy way to cook turkey for the holidays or anytime. Recipe on PocketChangeGourmet.com
Ingredients
1 boneless turkey breast 2-3 pounds
1-2 tablespoons olive oil
½ teaspoon garlic powder
1 teaspoon minced dry onion
1 teaspoon seasoned salt
1 teaspoon smoked paprika
½ teaspoon pepper
½ teaspoon parsley flakes
½ teaspoon basil
Instructions
Thaw turkey breast completely in the fridge
Prepare Slow Cooker by adding 3 balls of foil or a large onion to the bottom
Combine all seasonings in a small bowl and mix well
Coat turkey with olive oil and rub in the spice mixture
Place in Slow Cooker on top of foil balls or onion
Cook 3-4 hours or until internal temperature is 165-170 degrees
Remove from Slow Cooker and cover with foil, allow to rest 20-30 minutes before slicing
Notes
You can also cook a larger turkey, just adjust your cooking time to 7-8 hours and test the internal temperature to make sure it's done.