This recipe is a perfect choice for those times when you are hungry and crave some meat, however, your mood for cooking is down. That's a suitable moment for the Ham and Egg Casserole. Believe me, all your loved ones will adore it and your effort will be minimum!
Not to mention that this Ham and Egg Casserole can be made with leftover ham and stored in the freezer for another time too. It is an easy and quick recipe to make for breakfast or dinner.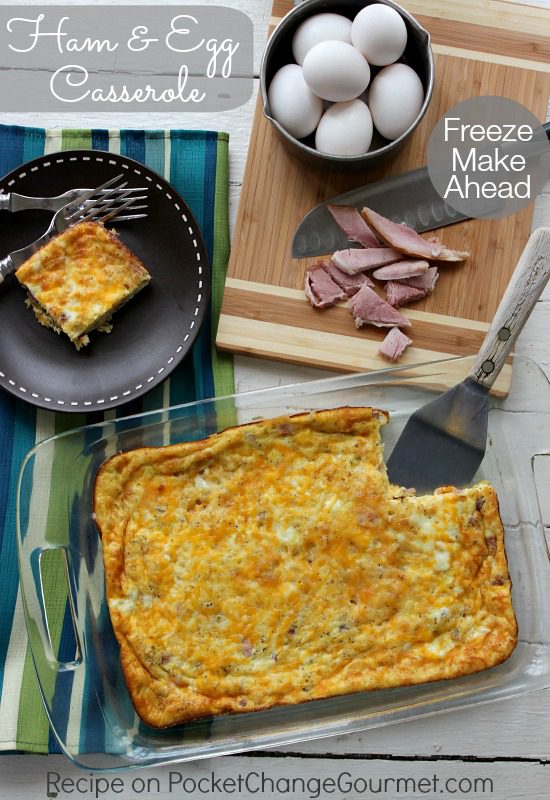 Easy Ham and Egg Casserole Recipe
A casserole dish is a unique type of cooking pot, usually made of ceramics or cast iron. All of the fantastic flavors of Western omelets or Denver omelets are used to make this brunch casserole. The recipe for the Ham, Egg, and Cheese Casserole only needs a short amount of time to prepare. The best thing is that you can use leftover ham in this recipe. This simple breakfast recipe is my go-to on the weekends, whether hosting guests for brunch or even on special occasions. It has been tried and loved by both children and adults. The coolest part is that you can make it and enjoy it with your friends and family.
The heart was warmed by the pleasure of this delicious breakfast. The next morning's reheated breakfast was excellent Ham and Egg Casserole. You'll want to make this your go-to breakfast every week once you've cut into the delectable layers and melted cheese. There are few things better than sitting down to a great, hearty casserole on a chilly day or when you need a little extra comfort. For busy families looking for a cheap and easy meal, this traditional dish is a great option.
The night before, prepare this simple breakfast dish. Place the casserole in the refrigerator overnight, and then bake it in the morning. It's ideal for family get-togethers and festive celebrations. Serve the breakfast bake with juice and sweet or cinnamon bread for a filling breakfast. Alternately, include warm fruit syrup, berries, or fresh fruit slices. Ketchup or salsa on the side complements the elements of the Western omelets perfectly. Given that you only need to take around five minutes in the kitchen to put it together, it would be ideal during the holidays. Let it bake after that.
Basics In Ham and Egg Casserole Without Bread
Serving a big brunch on Sunday morning or for the holidays, and serving breakfast for dinner are two of my absolute favorite meals ever. As always, saving on our groceries and time in the kitchen is important too. Although this casserole does call for a dozen eggs, you can still serve your whole family for well under $5, especially if you use leftover ham.
So, let's see how we rock this easy and budget-friendly recipe!
The first step is to cut the ham into bite-size pieces. For that, you will need about 1 cup chopped ham. In a pinch, 1/2 pound of sliced deli ham can be used.
Next, combine the ham with 2 cups shredded cheese, 1/2 cup Parmesan cheese, 1 Tablespoon flour, and seasonings in a large bowl.
After that, spray a 13×9 baking dish lightly with cooking spray. Then, spread the ham mixture evenly. Also, melt 1/4 cup butter and drizzle over the mixture.
Whisk 6 eggs, 2 cups milk or cream, 1/2 teaspoon dried mustard, and 1/2 teaspoon pepper.
Finally, pour the egg mixture over the ham mixture into the baking dish.
Bake uncovered at 350 degrees for 30-35 minutes. You can also know that it is ready by inserting a knife into the center of the dish. If it comes out clean, you are good to go!
In addition, if you like, you can add another sprinkle of cheese to the top of it, and pop it back in the oven for a couple of minutes. The top will become melted and bubbly.
Ham and Egg Casserole: Printable Recipe
**Under construction**Check back later for this link.**
Why You Will Love This Recipe?
It's made from ingredients you often have on hand.
Simple to make just cut, whisk, and then pour.
Simple and affordable ingredients are used.
For a quick breakfast, you can make it up to two days in advance.
Kids will also love it-no greens or onions.
Health Benefits
1. It is an excellent source of protein
The most important element of a diet is protein. Consume an egg and ham each day it assists you in achieving your ideal protein consumption.
2. Reduces risk of heart diseases
Egg cholesterol can reduce heart disease. Eggs boost high-density lipoprotein in the body. Lower HDL levels correlate with a lower risk of stroke and other illnesses.
3. Provides choline to the body
Choline is essential for nerve health, reproductive health, and brain development. The body cannot produce enough of these on its own. However, eggs are a great choline source. One or even two eggs can provide up to half of the daily required amount.
4. Improves eye health
Two potent antioxidants that accumulate in the retina are found in eggs: lutein and zeaxanthin. They regularly work to prevent the signs of eye aging. Macular degeneration and blindness risk are significantly decreased. The majority of these antioxidants are found in egg yolks.
5. Aids in weight loss
Eggs' high protein content can help you feel full. Egg consumption over time will therefore result in ingesting fewer calories overall, assisting in weight loss.
6. Promotes bone and teeth health
Phosphorous is essential for keeping teeth and bones in good shape. Moreover, one of the few foods that contain vitamin D is ham or eggs. This vitamin further improves the body's ability to absorb phosphorus and calcium.
7. Contains healthy fats
Healthy fats and several nutrients that are fat-soluble can be found in egg yolks. To ensure that all the nutrients are absorbed by the body, you can easily consume one yolk every day.
8. May Prevent High Blood Pressure:
The protein content of ham is high, and it also has antioxidants and contains high blood pressure-decreasing qualities.
How to Store?
Serve: It tastes delicious for breakfast when paired with vanilla yogurt, fresh fruit, and sweet pastries like blueberry breakfast cake, banana bread, or coffee cake muffin.
Store: Any leftover breakfast casserole should be stored in the refrigerator for two days in a sealed jar. The dish will "dry out" after that but will still be safe to consume for up to 4 days.
Freeze: Cut food into parts, wrap it tightly in plastic, and then move it to zip-top bags or containers in the fridge for one month.
Reheat: To make a quick supper, lunch, or snack, just reheats one serving in the microwave.
Nutrition Information
Per serving:
| | | | |
| --- | --- | --- | --- |
| Calories | 396 kcal | Carbohydrates | 12 g |
| Calcium | 318 mg | Fat | 26 g |
| Saturated Fat | 12 g | Cholesterol | 303 mg |
| Sugar | 4 g | Potassium | 339 mg |
| Vitamin A | 738IU | Protein | 26 g |
| Iron | 2 mg | Sodium | 1181mg |
Final Thoughts
All in all, you could probably notice how easy-to-make and still delicious this recipe is. A perfect choice for those times when you are hungry and crave some meat, however, your mood for cooking is down. That's a suitable moment for the Ham and Egg Casserole. Believe me, all your loved ones will adore it and your effort will be minimum!
Finally, it's your time to share your experience with this recipe and all your thoughts on it. So, tell me everything in the comments section: What do you think about Ham and Egg Casserole recipe? Did your kids enjoy this dish? Also, did you go for the main recipe or did you improvise? If so, what did you add and what was your final result?
Additionally, please, do not hesitate to ask any further questions on this topic in the comments too. I will make sure to answer you as soon as possible! Last but not least, if you are eager to find out more delicious Breakfast Casseroles recipes, I got you! Try these three winners of mine for adding a twist to your breakfast without all the fuss!
Anna Bolt is an avid reader and writer who enjoys working on projects in her spare time. She currently works in social media management in addition to cooking. She mostly enjoys working on articles about cooking, movies, music, and pop culture. In her spare time, Anna enjoys preparing fancy meals for the entire family.