As Christmas grows near, and our time becomes short, having make-ahead dishes to serve to family and guests is always a great idea! This Old Fashioned Orange Jello Salad was a staple at family parties when I was growing up! The recipe is from my niece, Jammie's, grandmother and was made many times by my sister during the Holidays! It pairs excellent with a mandarin ornage holiday salad.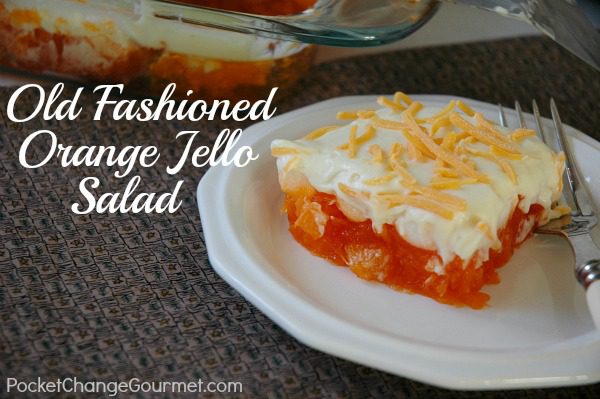 Even though the Orange Jello Salad is made with very simple ingredients, the recipe is perfect to add to your Christmas Menu or any special occasion. I'm not sure if my sister, Gayle or her daughter still make this salad, but since Jammie has a family of her own now, I thought she might enjoy seeing this family recipe handed down.
The base for the Orange Jello Salad is a very typical fruit mixed with jello, recipe. But the topping and grated cheese sprinkled on top is what makes it extra special.
And before you think, like Doug did, that cheese and jello just don't go together…give it a try! I'm sure you will be pleasantly surprised! Doug sure was!
If you liked this one, be sure to give it a try to my mandarin orange salad recipe. I promise that it will surprise you (in a good way).
Old Fashioned Orange Jello Salad
A make-ahead Orange Jello Salad that is perfect for a special occasion. Recipe from PocketChangeGourmet.com. Original Family Recipe from Lois Kimmel
Ingredients
Orange Jello - 2 small boxes or 1 large
1 can (15 oz) apricots
1 can (15 oz) crushed pineapple
1 cup mini marshmallows
Topping
½ cup sugar
3 tablespoons flour
1 egg, slightly beaten
1 cup orange juice
2 tablespoons butter
1 cup real whipping cream
½ cup grated cheese
Instructions
Drain apricots and pineapple, reserving the juice
Cut apricots into small pieces
In a large bowl, combine the jello and 2 cups boiling water, stir to dissolve
Add 1 cup of reserved juice, stir and place bowl in fridge for about 30 minutes or until jello is consistency of egg whites
Fold in fruit and marshmallows
Rinse 13x9 glass pan in cold water and pour in jello mixture
Return to fridge until set, several hours or overnight
Topping
In a small saucepan, add the sugar, flour, beaten egg and orange juice
Whisk constantly until thick
Add butter and stir until melted
Remove from heat and let cool, about 30 minutes
Beat whipping cream until stiff peaks form, fold in pudding mixture and spread on jello
Top with grated cheese
Notes
Chilling time is included
Linking to… Weekend Wrap-up,  Gooseberry Patch