As Christmas grows near, and our time becomes short, having make-ahead dishes to serve to family and guests is always a great idea! This Old Fashioned Orange Jello Salad was a staple at family parties when I was growing up! The recipe is from my niece, Jammie's, and grandmother and was made many times by my sister during the Holidays! It pairs excellently with a mandarin orange holiday salad.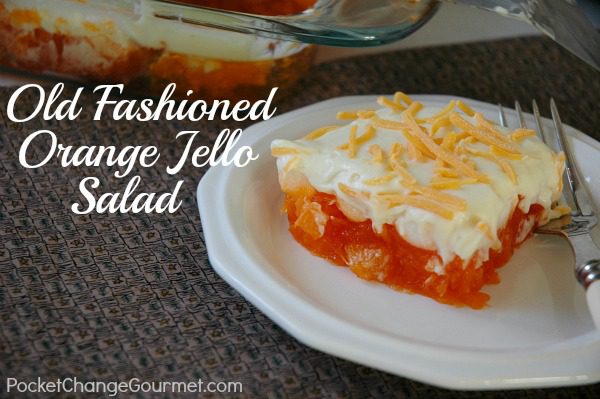 Easy Traditional Recipe
Even though the Orange Jello Salad is made with very simple ingredients, the recipe is perfect to add to your Christmas Menu or any special occasion. I'm not sure if my sister, Gayle, or her daughter still makes this salad, but since Jammie has a family of her own now, I thought she might enjoy seeing this family recipe handed down.
The base for the Orange Jello Salad is a very typical fruit mixed with jello, recipe. But the topping and grated cheese sprinkled on top are what makes it extra special.
And before you think, as Doug did, that cheese and jello just don't go together… give it a try! I'm sure you will be pleasantly surprised! Doug sure was!
Old Fashioned Orange Salad Jello
A cool, hydrating summer salad that may be served as a dessert or a side dish is Old Fashioned Orange Jello Salad. Simple ingredients are used in this time-honored orange fluff recipe, which comes together quickly. The summer is the ideal time to enjoy some of these traditional "salads," which essentially allow you to consume dessert with your meal rather than after. The inclusion of small marshmallows, which expand while the salad sets up in the refrigerator, gives the orange jello cottage cheese salad a fluffy and light texture.
What Makes Old Fashioned Orange Jello Salad Special?
It is the ideal dessert to liven up your BBQ because it's creamy, fluffy, and sweet. Everyone will enjoy it whether you serve it as a side dish or an after-dinner dessert. This easy-to-follow recipe for vintage Orange Jello Salad is excellent! Orange jello is flavored with citrus oranges, smashed pineapple, and a delicious Cool Whip and vanilla pudding icing. Orange jello, orange freshly squeezed juice, and citrus oranges all combine for the triple orange flavor. This dish gets even sweeter and more delicious when the tropical crushed pineapple pieces and juice are added. This dessert salad is rich without feeling heavy after a meal because of the zest of the juicy citrus oranges topped with sweet cream.
A top layer made of Cool Whip or Dream Whip and instant vanilla pudding significantly improves this orange jello salad. Each bite has extra flavor thanks to the hint of vanilla in the velvety, sweet flavors of whipped topping. This traditional Orange Peels Jello Salad is cool and refreshing on a hot summer day and has a depth of flavor that is comparable to our Orange Cake. Similar to our Watergate Salad and 7-Up Jello Salad, this recipe is fantastic to bring to a picnic or potluck.
Recipe Tips
When you initially combine everything, the salad can seem liquidy, but it will thicken as it rests in the refrigerator.
Make a jello fluffy salad using strawberry gelatin or your favorite flavor.
Planning is advised because the Jello salad needs to be chilled.
If preferred, add the small marshmallows last, right before chilling.
Why You'll Love This Recipe?
Simple and Quick: used basic ingredients and make this Jell-O salad which comes together quickly in one bowl. It only takes a quick stir to start everything going!
No Cooking: You do not need to bake the Jell-O or heat water when using a box of it. This "salad" is made sweet and delightful by using powder.
Cottage Cheese: There aren't many recipes that utilize this delicious dairy item well. Our orange fluff salad gains some nutrition, smoothness, and thickness from it.
Health Benefits
A protein called jello may improve stomach, skin, hair, and nail health. Moreover, it offers vital amino acids, which are the building blocks of proteins and have powerful health advantages. Oranges are an excellent source of vitamin C, which is one advantage of eating them for health. Depending on the variety, an orange may provide up to 92% of your recommended daily intake of vitamin C. By assisting the body in producing new connective tissue, a protein that is present in your skin, bones, and cells, vitamin C keeps your skin looking young. Hyaluronic acid production is increased by vitamin C, which assists the body in the creation of tissue.
Potential health benefits of jello include:
Hydrated Skin:
Jello's proteins and amino acids support the body in producing more collagen, which is essential for having good skin. Natural collagen levels decrease with age. This may cause the skin to become less elastic and develop wrinkles. Ingesting collagen increased skin moisture and decreased wrinkles.
Healthy Intestines:
The proteins in jello can strengthen the intestinal wall by attempting to develop the intestine's defensive mucus layer. Jello has been shown to help protect the walls of the intestine in early experiments on rats. Another amino acid that can help shield the intestinal wall from harm and stop digestive problems is glutamic acid, which is also present in jello.
Lower Blood Sugar:
In those with Type 2 diabetes, the amino acid glycine, which is present in jello, may help regulate blood sugar levels. Glycine therapy resulted in a decrease in blood sugar levels as well as a decrease in inflammation.
Stronger Joints and Bone:
Jello helps strengthen connective tissues in addition to increasing the skin's flexibility. Joint discomfort can be lessened by collagen boosters like jello. They also discovered that it could make joints stronger by making the cartilage denser.
Storing Tips
Serve:
A delicious complimentary side dish to serve for dinner with turkey and all the fixings is jello salad. Additionally, it goes well with both Christmas dinner and Easter meal.
Store:
This dessert will keep for up to 3 days in the refrigerator when covered. This makes it a great meal to prepare ahead of time!
Nutrition Information on Orange Jello Salad
Per serving:
| | | | |
| --- | --- | --- | --- |
| Calories | 124 kcal | Carbohydrates | 17 g |
| Protein | 6 g | Fat | 2 g |
| Saturated Fat | 2 g | Cholesterol | 9 mg |
| Sugar | 11 g | Sodium | 118 mg |
| Potassium | 87 mg | Fiber | 2 g |
| Iron | 2 mg | Calcium | 52 mg |
| Vitamin A | 87IU | Vitamin C | 3 mg |
Mark is a self-taught cook specializing in Asian cuisine. Mark's passion for food began at a young age when his parents finally allowed him to attempt cooking. Since then, he's found himself experimenting in the kitchen, watching cooking shows, and reading food blogs. Mark lives in Toronto, Canada, where he works as a restaurant chef.