A hamburger may be wheel-shaped, but reinventing the wheel is hard. However, that didn't stop us from trying out this oven-baked hamburger steak! So, if you are here to learn a healthier way to serve your meat lovers their burgers, this is the article for you! If you no longer want to buy them, then save them for later by learning how to freeze hamburgers, maybe this recipe is for you.
Moreover, if you go for this recipe for dinner, we have even a side dish that will add nutritious value to your meal. Therefore, stick around to learn the proper way to combine a healthy way of cooking meat with a delicious green side dish!
Simple Recipe
This inexpensive, simple meal recipe also referred to as "poor man's steak" features an easy hamburger steak with delectable gravy absolute comfort food. It is quite practical, adaptable, and reasonably priced. Ground beef, seasoning, and a binding agent like bread crumbs or cracker crumbs are the main ingredients in burger steak. In contrast to meatloaf, round patties of the beef mixture are formed, chilled, and then cooked in a skillet. While a traditional Salisbury steak recipe frequently calls for brown gravy produced with beef broth, this is typically served with creamy mushroom gravy that is made with milk.
This meal is easy, cozy, and comforting, like a big hug at the end of the day. It's the peak of traditional American family cuisine. This is a fantastic recipe for cooked hamburgers. The flavor is excellent delicious and well-seasoned without being excessive. Simple, fast, and largely hands-off, it allows you to multitask while they cook. This smothered hamburger steak recipe uses crumbs, ground beef, and other kitchen goods to give it a more meatloaf-like consistency.
This now-classic supper, which is commonly served with mushroom gravy or brown sauce, was first made in the United States. One of the simplest evening meals to cook, it takes less than 35 minutes from beginning to end. It's also a meal that may quickly become a family favorite and is very family-friendly. Just a little mixing and patting is needed. The taste is amazing despite the little ingredient list. A fantastic way to enjoy a tasty meal on a low budget, it is entirely easy and tastes wonderful over some garlic mashed potatoes.
Why We Love Oven-Baked Hamburger Steak?
A hamburger is a tried and true meal. We've had so many over the years, and keep on counting. Why do we love them so much, though? Well, they're simple, but also a crowd-pleaser. But, what happens when your loved ones crave burgers, but you know that they need their nutrients too? Also, they may even get bored (it's not the case when it comes to my family, but it may happen). Eventually, though the deliciousness of burgers (or any food for that matter) wears off after being used in so many meals.
So, we decided it was time to take the burger and spin it in a whole new light. To do that, we brainstormed a bit, looked through some cookbooks, and soon enough we had our answer. These oven-baked hamburger steaks still keep the crowd-pleasing simplicity that normal burgers have. Moreover, they can be sided a variety of vegetables, that will do for the plus of nutrients your kids need.
Additionally, by putting the burden of cooking onto the oven, these burgers become even simpler to make than normal ones that require a close eye to avoid burning. Therefore, all you have to do is brown the sides then let the oven do the rest! This saves a load of time and energy. Also, these burgers even cook in their own sauce! How's that convenient? No oil is needed anymore.
So, can you see why we love this Oven-Baked Hamburger Steaks recipe so much now?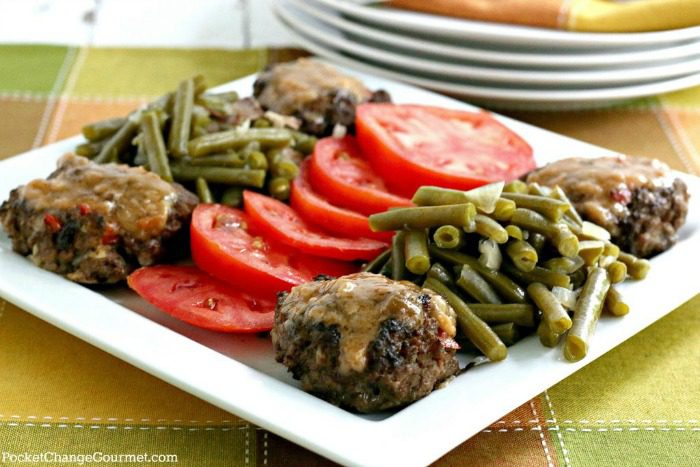 Side Dish For Hamburger Steak
After your burgers have spent their time in the oven, they'll be good to go! No more worrying about condiments and assembling them, or more importantly, worrying about kids leaving the veggies out. So, just pull out a plate and serve your burger. There you have it, a simple but effective dinner.
Want something on the side that has a similar classic, with-a-twist feeling? Try out these green beans with ham. They go in the slow cooker so they're just as easy to make, and if you want an extra twist you can use bacon instead of ham. On the other hand, when I combined these two dishes for a family dinner, I skipped the ham or bacon. I personally want to teach my children that they do not need meat in every dish I cook. Yeah, I know that the hamburger steaks do not support my vision, but it's a start.
Therefore, you just reinvented the wheel by skipping the buns and all those (super tasty but not so healthy) sauces and adding some veggies on the side of the oven-baked hamburger steaks. You have a burger steak and a healthy meal for all your meat lovers!
Why You'll Love This Recipe?
A quick meal like this hamburger steak recipe is ideal for hectic weeknights.
It is the ideal knockoff of the well-known Cracker Barrel Old Country Store dish.
You can enjoy the full-flavor dish in your kitchen.
Rich gravy is cooked slowly with tender beef patties.
This is proper comfort food.
Health Benefits
1. Protein-rich Foods
Protein is essential for almost every cell in your body, and steak is one of the greatest sources available. Because it is a macronutrient, your body requires a lot of it to function.
Our blood, hair, nails, skin, bones, cartilage, and overall health depend on protein. It serves as a crucial building component for developing muscle development and healing tissues. It is also required for the body to produce hormones, enzymes, and other substances.
2. Prevent Iron Deficiency
Steak is one of the best sources of protein because it is necessary for practically every cell in your body. It is a macronutrient, which means that your body needs a lot of it to function.
Protein is essential for the health of our bones, cartilage, skin, hair, nails, blood, and other tissues. It acts as a critical building block for growing muscles and repairing tissues. The body also needs it to make things like enzymes, hormones, and other chemicals.
3. Rich in Other Important Micronutrients
Steak is exceptionally rich in additional nutrients that our bodies require to function, such as carnosine and creatine, which support the health of our muscles and brains, in addition to protein and iron. In actuality, it has long been shown that those who don't eat meat are deficient in these nutrients. It's also a fantastic source of zinc, selenium, B vitamins, iron, and B12.
4. Improve Your Smile
As if we needed more evidence to persuade us that steak is a nutritious supper option… it appears that it can even shield our radiant smiles. Steak is excellent for keeping teeth healthy. Red meat eating is encouraged by health organizations like the American Dental Association because it is high in phosphorus, which is essential for maintaining healthy bones and teeth enamel.
5. Good for Mental Health
This one is extremely fascinating because it appears that red meat can be good for our mental health. A lot of studies have found a link between eating red meat and a decreased risk of mental health issues. Researchers found 80 women with anxiety diagnoses and 60 women with major depressive disorder. So, each woman's consumption of red meat was compared to the 65g to 100g per day suggested intake.
When compared to women who were consuming the per day quantity of red meat, women who consumed less than this amount had twice the risk of depression and serious depressive illness. Additionally, anxiety disorders were twice as common in those who consumed less red meat.
Recipe Variation
In addition to the parsley, consider using other herbs. Basil, oregano, rosemary, onions, and thyme are all excellent choices. In place of fresh garlic, garlic powder would also be a lovely addition.
Use ground beef and ham together, beef, pork, and veal in meatloaf, or even ground turkey.
Use breadcrumbs or other cracker crumbs in place of the Saltine cracker crumbs.
Add some sautéed mushroom to the gravy for added flavor, or add roasted bell pepper for a great flavor.
Storing Tips
Prep Ahead! The patties can be made up to 24 hours in advance. So, before beginning to cook, wrapped and leave them in the refrigerator.
How to Freeze: The patties can be frozen both before and after cooking. Steaks of a cooked hamburger should be carefully wrapped and kept frozen for up to 3 months. The cooked hamburger steak will remain fresh in the fridge for at least 2-3 days if it is properly packed.
How to Reheat: In a covered skillet over low heat, reheat the patties and gravy just until heated through.
Nutrition Information
Per serving:
| | | | |
| --- | --- | --- | --- |
| Calories | 423 kcal | Carbohydrates | 16 g |
| Protein | 26 g | Fat | 28 g |
| Saturated Fat | 12 g | Cholesterol | 135 mg |
| Sugar | 3 g | Sodium | 795 mg |
| Potassium | 1054 mg | Fiber | 2 g |
| Iron | 4 mg | Calcium | 125 mg |
| Vitamin A | 265IU | Vitamin C | 1 mg |
Enjoy Your Oven-Baked Hamburger Steak!
All in all, as you could see, reinventing the wheel doesn't have to be expensive or time-consuming. Sometimes the best ideas are right in front of us. We just have to look to find them. This time, you don't even have to search, as we did it for all our readers!
So, here is your recipe! Be creative and add whatever veggies your kids love for the side dish. Also, keep in mind to share your thoughts on this one. Not to mention that we expect further advice and all your stories with these amazing oven-baked hamburger steaks! Enjoy your meal!
Mark is a self-taught cook specializing in Asian cuisine. Mark's passion for food began at a young age when his parents finally allowed him to attempt cooking. Since then, he's found himself experimenting in the kitchen, watching cooking shows, and reading food blogs. Mark lives in Toronto, Canada, where he works as a restaurant chef.