A hamburger may be wheel-shaped, but reinventing the wheel is hard. However, that didn't stop us from trying out this oven-baked hamburger steak! So, if you are here to learn a healthier way to serve your meat lovers their burgers, this is the article for you! If you no longer want to buy them, then save them for later by learning how to freeze hamburgers, maybe this recipe is for you.
Moreover, if you go for this recipe for dinner, we have even a side dish that will add nutritious value to your meal.
Therefore, stick around to learn the proper way to combine a healthy way of cooking meat with a delicious green side dish!
Why We Love Oven-Baked Hamburger Steaks?
Hamburger is a tried and true meal. We've had so many over the years, and keep on counting. Why do we love them so much, though? Well, they're simple, but also a crowd-pleaser. But, what happens when your loved ones crave burgers, but you know that they need their nutrients too? Also, they may even get bored (it's not the case when it comes to my family, but it may happen). Eventually, though the deliciousness of burgers (or any food for that matter) wears off after being used in so many meals.
So, we decided it was time to take the burger and spin it in a whole new light. To do that, we brainstormed a bit, looked through some recipe books, and soon enough we had our answer. These oven-baked hamburger steaks still keep the crowd-pleasing simpleness that normal burgers have. Moreover, they can be sided a variety of vegetables, that will do for the plus of nutrients your kids need.
Additionally, by putting the burden of cooking onto the oven, these burgers become even simpler to make than normal ones that require a close eye to avoid burning. Therefore, all you have to do is brown the sides then let the oven do the rest! This saves a load of time and energy. Also, these burgers even cook in their own sauce! How's that convenient? No oil is needed anymore.
So, can you see why we love this Oven-Baked Hamburger Steaks recipe so much now?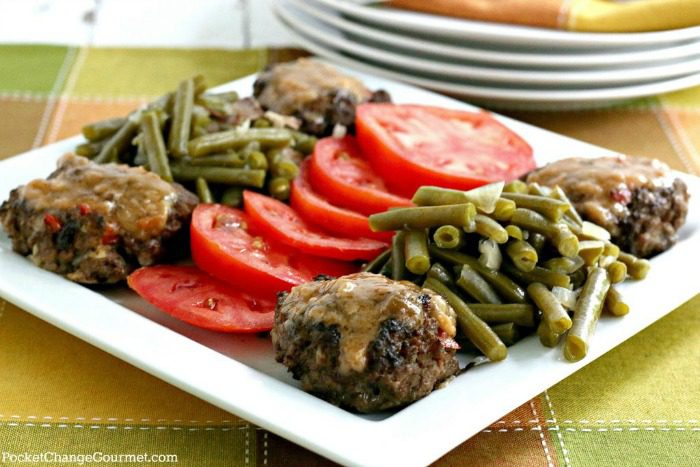 Side Dish For Hamburger Steaks
After your burgers have spent their time in the oven, they'll be good to go! No more worrying about condiments and assembling them, or more importantly, worrying about kids leaving the veggies out. So, just pull out a plate and serve your burger. There you have it, a simple but effective dinner.
Want something on the side that has a similar classic, with-a-twist feeling? Try out these green beans with ham. They go in the slow cooker so they're just as easy to make, and if you want an extra twist you can use bacon instead of the ham. On the other hand, when I combined these two dishes for a family dinner, I skipped the ham or bacon. I personally want to teach my children that they do not need meat in every dish I cook. Yeah, I know that the hamburger steaks do not support my vision, but it's a start.
Therefore, by skipping the buns and all those (super tasty but not so healthy) sauces, and adding some veggies on the side of the oven-baked hamburger steaks, you just reinvented the wheel. You have a burger steak and a healthy meal for all your meat lovers!
Enjoy Your Oven-Baked Hamburger Steak!
All in all, as you could see, reinventing the wheel doesn't have to be expensive or time-consuming. Sometimes the best ideas are right in front of us. We just have to look to find them. This time, you don't even have to search, as we did it for all our readers!
So, here is your recipe! Be creative and add whatever veggies your kids love for the side dish. Also, keep in mind to share your thoughts on this one. Not to mention that we expect further advice and all your stories with these amazing oven-baked hamburger steaks! Enjoy your meal!
Oven Baked Hamburger Steaks
A new take on the classic burger.
Author:
PocketChangeGourmet.com
Ingredients
2 pounds. ground beef
1 Tablespoon red peppers, chopped
1 medium onion, minced
½ cup fine bread crumbs
¼ cup milk
Gravy:
Remaining fat from cooking patties
3 tablespoon. flour, all-purpose
2 cups water
1 Tablespoon ketchup
Instructions
Mix hamburger ingredients.
Form into patties.
Brown on both sides.
Put in large baking dish - we used a cookie sheets with sides
Mix gravy ingredients.
Pour gravy over patties.
Bake at 350 degrees for 30 minutes.