By the time New Year's rolls around, you're a bit exhausted, right? You've cooked, cleaned, and shopped 'til you dropped. You've spent time with friends and family and every night you've moved an elf to a new, unique place in your house. You're exhausted and ready to relax. If you are planning a New Year's Eve gathering of friends and the last thing on your mind is cooking them a big dinner. Creating some easy holiday appetizers that can be prepped early and put together quickly is exactly what you need.
We have four, easy-to-make appetizers and a couple of entertaining tips lined up for you in today's post. All of these can be prepped hours before the party and many even assembled early in the day. We'll even make use of your Slow Cooker so you won't be standing in front of the stove or oven all day.
I hope you enjoy these recipes and they make entertaining easier for you this holiday season.
This fruit and cheese tree appetizer can be prepped ahead of time by washing the fruit and cutting cubes of cheese (or save yourself even more time by buying the bags of cheese already in cubes). This can be quickly assembled just before your guests arrive.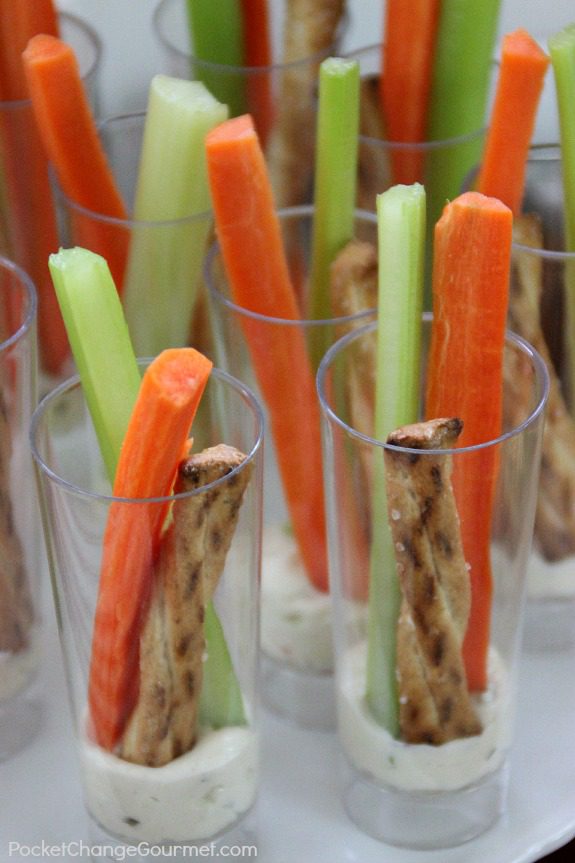 Another great appetizer to prep ahead of time is an easy vegetable dip. The vegetables and dip can be prepared the night before and the dip can be ladled into the cups hours before guests arrive. Just pop in the veggies and pretzels into the cups as you serve them and you'll have another great appetizer ready to go without much stress.
Your Slow Cooker makes this next appetizer stress free as well. Teriyaki chicken can be thrown into the pot in the morning and just before guests arrive, thicken up the sauce and ladle into individual serving dishes. You can keep the rest warm in the Slow Cooker until it is needed for serving.
Spiced nuts can be made days ahead of time and stored until needed. These could be warmed up in a toaster oven before serving if you'd like them to be warm or just serve room temperature for a great grab-and-go appetizer.
If entertaining during the holidays sounds stressful and daunting, check out these tips for easy entertaining. With careful planning and simple ideas, you can host a wonderful party that your guests are sure to enjoy.
We found all the serving dishes at Walmart in the holiday section. There is a 96 piece set for less than $6, it comes with plates, bowls, forks and spoons. And the mini cordial glasses are perfect for appetizers or dessert. The colored silverware are so festive!
Anna Bolt is an avid reader and writer who enjoys working on projects in her spare time. She currently works in social media management in addition to cooking. She mostly enjoys working on articles about cooking, movies, music, and pop culture. In her spare time, Anna enjoys preparing fancy meals for the entire family.