This Easy Vegetable Dip is a little different than one you might have tried, it has dried Guacamole Mix in it, which gives it a little kick. It's not spicy at all, but the additional flavors combine for a delicious dip.
This vegetable dip recipe is one that I have been making for years.  It's goes perfectly with vegetables, of course, but also makes a great dip for pretzels and bread. And with just 4 ingredients, it goes together quickly.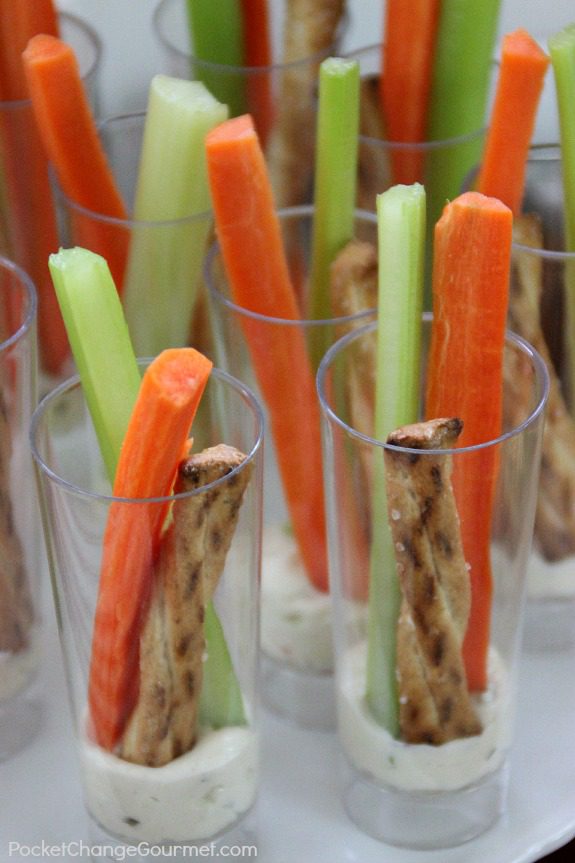 When we were putting together our Holiday Appetizer Bar, I knew I wanted to turn this vegetable dip into a fun to eat appetizer. So when I spotted the mini cordial glasses, I knew they would make a great addition. The glasses are plastic, although I think they look nice, and they come 10 in a package for less than $3 at Walmart.
After mixing up the easy vegetable dip, I added it to a decorator piping bag to make filling the glasses easier. Then we added a stick of celery, carrot and a pretzel.
This easy vegetable dip is not only perfect for the holidays, it's great any time. It's great at any party, it's easy to transport if you are going to a party, but also great to have at home to snack on.

Easy Vegetable Dip
Delicious dip with a little surprise burst of flavor.
Author:
PocketChangeGourmet.com
Recipe type:
Appetizer/Snack
Ingredients
1 cup mayonnaise - you can use reduced fat or mayo with Olive Oil also
1 cup sour cream - any kind is fine
1 package Knorr vegetable mix, dry
½ package (about 2 tablespoons) Guacamole mix, dry
Instructions
In a medium bowl, add mayo and sour cream
Gently crush the vegetable mix using your hands, add to bowl
Add Guacamole mix, and combine well
Serve with veggies, pretzels, crackers, bread, etc.
Store in airtight container in fridge