Now that you have an idea of what you will make for the main dish at Christmas, you need some ideas for sides and salads. These Christmas Side Dishes and Salads are all great selections. Many of these are favorites at tables across the world, during the most wonderful time of the year.

These Christmas Side Dish Recipes and Salads are sure to be a shine on your Holiday Table! From Traditional Fluffy Mashed Potatoes- to – Mandarin Orange Salad and everything in between! Cook up a special Christmas dinner without breaking the bank!
Is there anything more delicious at the dinner table at Christmas than mashed potatoes. These Traditional Fluffy Mashed Potatoes are by far the best recipe around.
Many families love the taste of sweet potatoes around Christmas time. This Candied Sweet Potato Casserole is a must make for a side this year.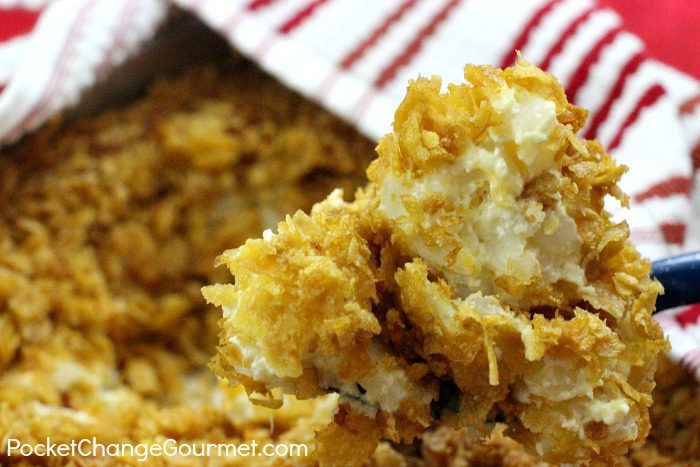 Hashbrowns are a very affordable ingredient to have at the kitchen table this year for Christmas dinner. Check out this Cheesy Hashbrown Potato Casserole and watch your guests sigh in complete awe.
Are you a huge fan of corn any time of the year? This Easy Corn Casserole is ideal for a side dish during your Christmas meal this year.
Now is the time to get a little festive and you can with this Festive Holiday Salad. Even the non-salad-eaters will go bonkers for this simple, yet delicious recipe.
Let's talk about something unique and yummy as a side for Christmas dinner. These Garlic Rosemary Roasted Potatoes will hit the spot for all of your guests!
We've all had a dish similar to this around our holiday table. This Old Fashioned Jello Salad is so nostalgic for me and I look forward to making it every year.
Your guests won't even be able to tell that they're eating brussel sprouts thanks to this yummy recipe. Brussels Sprout Gratin from Taste and Tell are awesome and very Christmas side dish worthy!
Want something super cute and delicious for the holidays around your table? These Duchess Potatoes from Tea Biscuit are just what the chef ordered.
Mandarin Orange Salad is always a favorite around the Christmas season. It happens to be a very festive and delicious salad that your guests will love.
I've seen several salads over the years, but this Broccoli Grape Salad Recipe is a favorite. I know your family will enjoy it as well this holiday season.
I have always been a huge fan of Green Bean Casserole and will continue to be for many years to come. Make room on your table this Christmas for this awesome side dish.
Mark is a self-taught cook specializing in Asian cuisine. Mark's passion for food began at a young age when his parents finally allowed him to attempt cooking. Since then, he's found himself experimenting in the kitchen, watching cooking shows, and reading food blogs. Mark lives in Toronto, Canada, where he works as a restaurant chef.