Festive Holiday Drinks are a part of Christmas and New Year's Eve that everyone should enjoy. Whether you like to sit back and enjoy an adult drink or a non-alcoholic drink around Christmas time, there are plenty of options. There's bound to be a new favorite Festive Holiday Drink for you in this awesome round up of Festive Holiday Drinks for Christmas and New Year's Eve! We hope you enjoy! 
Festive Holiday Drinks for Adults
There is just something about sitting around after a lovely Christmas dinner and dessert and having a Festive Holiday Drink for Adults. The Christmas season is the perfect time to put together a lovely adult cocktail and sit back and enjoy! The holidays bring out the best in everyone, okay almost everyone, and for everyone else there is a Christmas cocktail just waiting for them.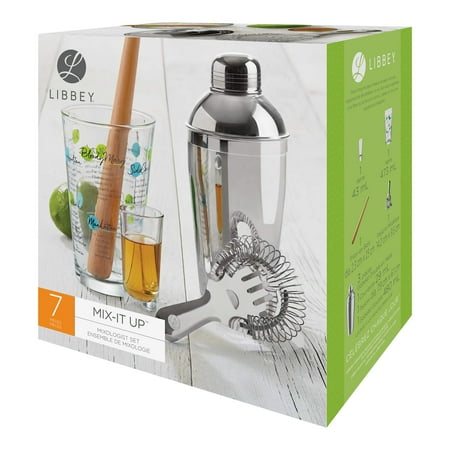 Get Affordable Bartender Tools from Walmart.com
Are you looking for a delicious drink for this holiday season? This Blackberry Mojitos  drink recipe is sure to help you ring in the Christmas season.
Are you ready for a drink that will compliment any holiday meal? These 2 Ingredient Pomegranate Mimosas from Happy Food Healthy Life are seriously worth trying. And look how pretty they are!
Yes, I have always loved Sangria during the Christmas season. And this Christmas Sangria is simply amazing and very easy to make, your guests will love them.
Are you looking for something a little different this holiday season? I'm loving this Cranberry Ginger Fizz Cocktail  from Creative Culinary is a must make this holiday season.
Try this Cinnamon Candy Apple Cocktail  from Boulder Locavore out on your guests this year. They will fall in love with the taste!
O man, if you're looking for something seriously yummy for this holiday season, you'll want to check out the White Chocolate Peppermint Martini from A Family Feast. 
Classic Sangria from Hoosier Homemade
If you're looking for something simple and love Sangrias, this is your go-to adult drink this holiday season.
Non Alcoholic Holiday Drinks
Not everyone wants to have an adult drink and some people can't have a Festive Adult Drink, which is why it's important to offer non-alcoholic holiday drinks for your guests. Check out the selection of Non-Alcoholic Holiday Drinks below!
This drink is a must make for your holiday party. It's full of peppermint and you can't go wrong when making it.
Holiday Surprise Punch and Festive Drinks
Looking for a non-alcholic drink that your guests will love? This is it!
Mmmmm! This is a drink that anyone in your family or gathering will love. Easy to make and even yummier to drink.
Cranberry Apple Spritzer from Hoosier Homemade
A favorite drink around the Hoosier Homemade crowd. Apple and cranberry are always great holiday drink options.
Frozen Peppermint Hot Chocolate 
Hot chocolate is a famous drink for the winter months. This Frozen Peppermint Hot Chocolate is a must make this Christmas season as well.
Sparkling Mint Cranberry Mocktail from Food Fun Family
Yes, this is an awesome drink to make this holiday season. Again, cranberries make a delicious addition to any holiday drink, but the mint is the icing on the cake.
Peppermint Eggnog Punch from Your Home Based Mom
Eggnog is a popular treat for many around the holidays. Don't miss out on this great Peppermint Eggnog Punch.
White Hot Chocolate from Hoosier Homemade
White Hot Chocolate is creamy, delicious, and a must make during the holiday season.
Grinch Hot Vanilla Milk from Two Sisters Crafting
This is a great drink to make for kids of all ages around the holiday season. Who doesn't like a non-alcoholic drink with the name "Grinch" in it?
In addition to being a skilled and passionate chef, Caroline is an awesome mother of two. In her spare time, Caroline pursues her passion for cooking by experimenting with new dishes and developing some of her very own. Her expertise and research are then condensed into comprehensive, easy-to-read guides and resources for readers who are looking for budget-friendly recipes for the whole family.