We continue our Holiday Menu today with one of Doug's favorites, Cheesy Hashbrown Potato Casserole. There hasn't been a Christmas table that I can remember when we didn't serve Hashbrown Casserole – it's tradition. This casserole goes together in a snap and can be made the day ahead.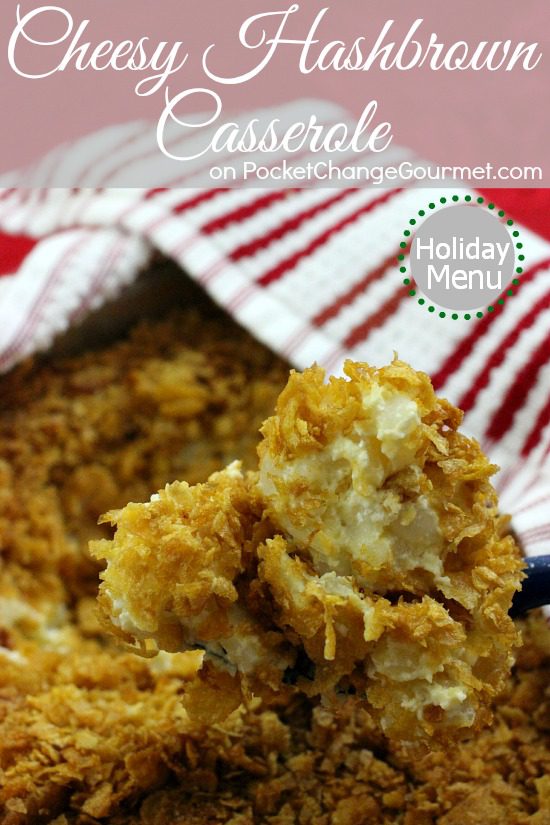 Not sure about you, but in our home different dishes are served on specific holidays. On Thanksgiving we serve turkey, mashed potatoes, sweet potatoes, etc., but on Christmas it's all about the Ham and Hashbrown Potato Casserole.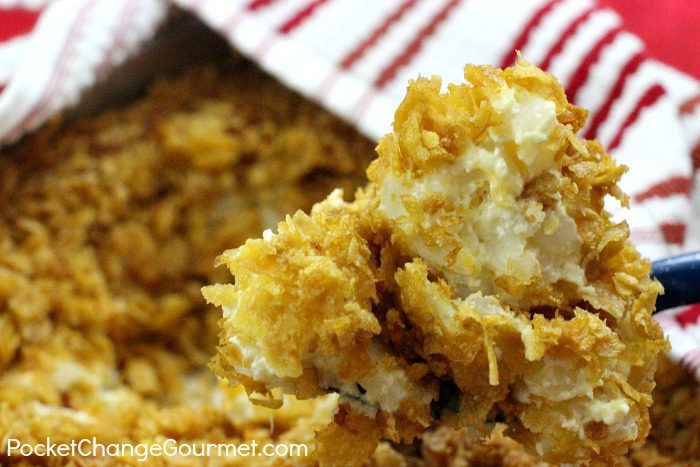 In an effort to be a little healthier, this time I changed the recipe a bit. The original recipe that I had been making for years, called for 2 cups of sour cream, so instead I substituted half of it with mayonnaise. You couldn't tell the difference and it was actually a lot better.
Holiday Side Dishes
Cheesy Hashbrown Potato Casserole
A family favorite dish to serve for the holidays. Recipe from PocketChangeGourmet.com
Ingredients
1 {32 oz} pkg. frozen hash browns {we use cubed}
½ cup cheddar cheese, grated
1 can cream of chicken soup
1 cup container sour cream
1 cup Hellmann's Mayonnaise
3 cups corn flakes {crushed or whole}
¼ cup butter, melted
Instructions
Preheat oven to 325 degrees and spray 13x9 baking dish with non-stick cooking spray, lightly
Mix all ingredients, except corn flakes and butter, together in a large bowl
Melt butter and mix with corn flakes
Sprinkle corn flake mixture on top of casserole
Bake for 1 to 1½ hours
Nutrition Information
Serving size:
8-12 servings