We are tackling our Kitchen and getting it organized. Last week we shared lots of ideas for you to get your Pantry Organized. Today we are working on the Spices. Our spice cupboard was well…a disaster…organized chaos is maybe a better term.
But now, the Spices are Organized – easy to find which saves us time and money. If your spices could use some help, here are our tips on how to organize spices.
After looking around at many different ideas, including purchasing spice bottles, we decided to save some money and create our own with small Mason Jars and Chalkboard Labels.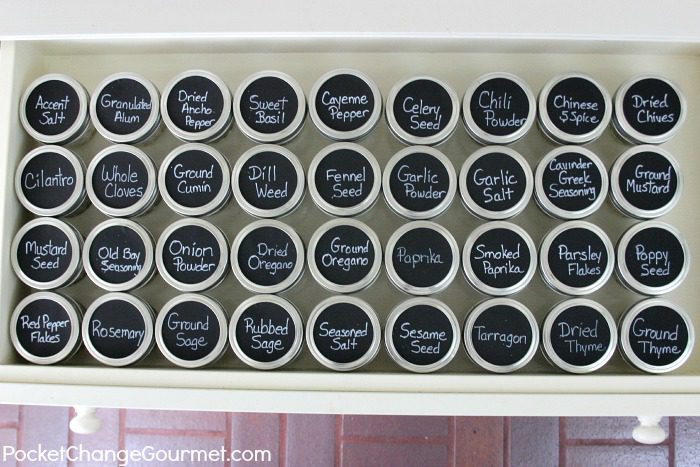 The organization makes my heart sing! Really! I can't tell you how great this is!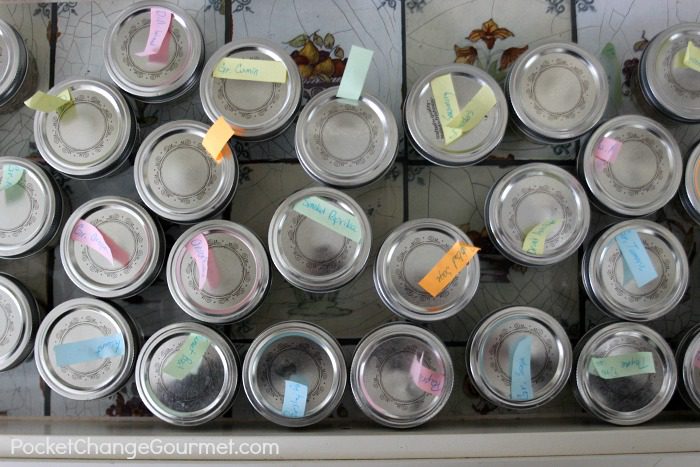 A couple months back, Doug and our youngest son removed all the spices from the cupboard (sorry I don't have a before picture), then added them to the jars, and then added each spice name on a little piece of paper and tucked it under the lid. We used the spices from this cupboard (which is actually a drawer) to see how we would like it. And it worked out perfectly, so then it was time to get even more organized – add Chalkboard Labels and alphabetize them.
You can learn how to make the Chalkboard Labels over on Hoosier Homemade! They are easy and a fun project – plus they don't cost very much!
We wanted all the spices to be visible instead of stacking them in a cupboard. So we decided to clean out a drawer for them.
Now we not only have organized spices, but the sprinkles and candy I use for cupcakes are organized too!
Stop back every Tuesday, and tackle a different part of the kitchen. We have Spices, Refrigerator, Pots and Pans, Menu Planning Products and Recipes planned for you. Today we have 10 Inspiring Organized Spice Systems for you!
Love these jars from IKEA filled with Spices. More from Homemade Happy and her amazing Kitchen!
How cool is this Vintage Coca Cola Crate with Spices from Discover Create Live?
And here's another unique Spice System from Mod Vintage Life.
I Heart Organizing shows you how to create a magnetic door to hold Spice Containers.
I love how The Cozy Kitchen added Chalkboard Paint to her lids also. These little jars from The Container Store are perfect!
These Magnetic Spice Jars from One Luck Pickle had a splash of color to your kitchen too!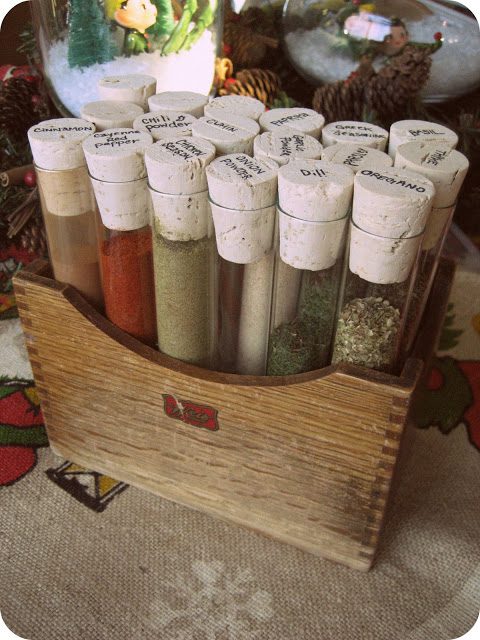 If you don't have a lot of spices, this Test Tube Spice System looks like a lot of fun! I might just need to find some for sprinkles.
How about a Framed Magnetic Chalkboard Spice Rack? Addicted 2 Decorating shows you how to make one.
The Better Mom organized her spices in half pint canning jars. I love the scrapbook paper she added to the top.
And if you are looking to purchase a Spice System. This SpiceStor looks pretty cool for keeping your spices organized in your pantry!
Looking to make your own spice blends? It's super easy and a great way to save money too.
 Eliot Martin is a book lover and a public relations graduate. He currently lives in the Phoenix area, where he spends most of his time playing video games or reading a good book. He enjoys going to comic cons and spending time with his friends and family, and when he is not writing for his own cooking blog, he keeps our readers hooked with his articles.