Nothing compares to a good old hot dog on the grill during the Summer! Well how about a Grilled Bacon Wrapped Hot Dog topped with Baked Beans, Tomatoes, Mayonnaise, Honey Mustard and Green Onions for garnish?   
We have served many, many Hot Dogs over the years. There were the Mexican Dogs, BLT Dogs, Pizza Dogs, Tex-Mex Dogs, the ever so popular Chili Cheese Dogs, Taco Dogs and of course the Chicago Style Hot Dog. But my friends, I'm here to tell you, this Bacon Wrapped Hot Dog…it's my favorite.
Starting with a good quality Hot Dog is key. There are many on the market now – All Beef, Kosher, and even Gluten Free to name a few. Then there are buns, we like a nice soft bun, either from the bakery that are a little larger like Brat Buns or these Potato Buns.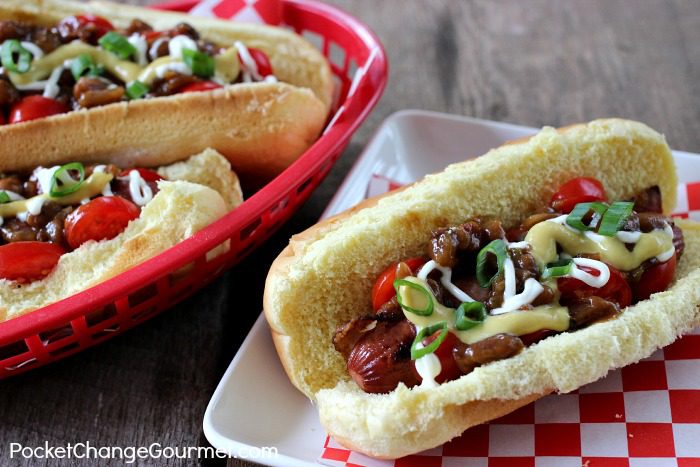 After the hot dogs and buns, then comes the toppings. What's the next best thing to hot dogs and hamburgers? Well bacon, of course. So we wrapped each of the hot dogs with a slice of bacon, securing them with a toothpick on each end. Be sure to remove them though before serving.
Then for these Ultimate Cowboy Hot Dogs, we added a couple spoonfuls of our Smokehouse Grilled Barbecue Beans, Cherry Tomatoes sliced thinly and a squirt of mayonnaise and honey mustard. Then topped them off with a few thinly sliced green onions.
Add these Grilled Bacon Wrapped Hot Dogs to your Memorial Day Cook-Out Menu or serve them up at your Fourth of July Celebration and you are sure to be the Grill Master of the neighborhood!
One of our favorites things to serve at our Cook-Outs are Hot Dog Bars, there is no such thing as a plain hot dog anymore!
Print
Grilled Bacon Wrapped Hot Dogs
Be the Grill Master with these over the top Hot Dogs. Recipe on PocketChangeGourmet.com
Hot Dogs
Bacon
Buns
Toppings – Baked Beans, Tomatoes, Green Onions, whatever you like
Condiments – Mayonnaise, Honey Mustard, whatever you like
Toothpicks
Instructions
Wrap 1 slice of bacon around each hot dog and secure with a toothpick
Heat grill to medium-high heat and cook dogs over direct heat until plump and bacon is cooked, about 6-9 minutes
Serve with toppings of your choice
In addition to being a skilled and passionate chef, Caroline is an awesome mother of two. In her spare time, Caroline pursues her passion for cooking by experimenting with new dishes and developing some of her very own. Her expertise and research are then condensed into comprehensive, easy-to-read guides and resources for readers who are looking for budget-friendly recipes for the whole family.