We're all getting tired of the cold, so let's heat things up with some grilling action! We all love Shrimp so this quick and easy recipe for Grilled Shrimp with Butter and Herbs is perfect to bring your grill back out! 
Shrimp is one of those ingredients that seem really difficult to work with, but once you use them in a recipe, you quickly realize they aren't hard at all, and they are also not as expensive as you might think. The butter, herbs and garlic were a perfect combination to add. Like most seafood, these Grilled Shrimp cooked up quickly.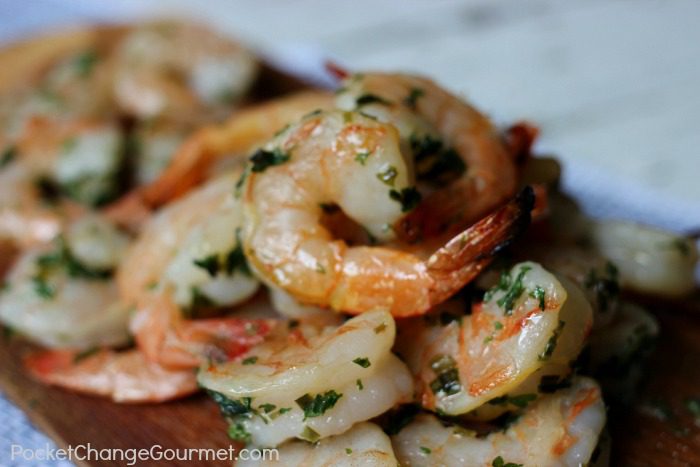 This time we used a cedar grilling plank. The two most important things to remember when grilling with the cedar planks is 1) to soak them for at least 1 hour in water prior to putting them on the grill and 2) do not reuse the cedar plank.
Grilling doesn't need to be difficult. Here are some of  our best grilling tips…
Best Grilling Tips
Leave space around each food item on the grill to allow for even cooking and smoke penetration.
Place cooked foods on a clean plate—not one that has previously held raw meat, fish or poultry. Bacteria from raw food can contaminate the cooked food and cause food poisoning.
Apply sauces containing honey, brown sugar or molasses during the last 10 minutes to prevent the sauce from burning.
Turn meat just once on the grill. For steaks, turn them when the juices start to bubble on the uncooked side (the clearer the juice, the more well done the meat).
Grilled Shrimp with Butter and Herbs
Tasty, quick and easy, this butter shrimp is perfect on the grill. Recipe on PocketChangeGourmet.com
Ingredients
1 bag (12 oz) uncooked Shrimp, peeled, cleaned
½ cup (1 stick) Butter
¼ cup Dried Parsley
¼ cup Dried Chives
2 tablespoons Garlic, crushed (we used Gourmet Gardens)
Instructions
Heat grill to high heat
In a small pan, add butter and melt on grill or in the microwave
Add herbs and garlic, stir well
Add clean Shrimp to pan, and pour butter mixture over - reserving some for basting - coat well
Place Shrimp on Cedar Plank or directly onto grill
Cook 4-5 minutes, turn and continue cooking another 4-5 minutes or until pink