Prior to last Summer, I had never canned before. I watched my Mom process and can many different fruits and vegetables, but had never tackled it myself. With many of our vegetables finally coming on in the garden after unusual weather this year, we decided it was time to try our hand at canning again.
Last year we made Apple Pie Filling and found out that canning is not really as difficult as it seems. I think for many cooks, at least for us, we were nervous about the outcome of the canned food – would it be okay to eat – would it seal good enough – how long before the food goes bad.
There are several great things about this Pickled Corn Relish – 1) if you don't want to can it, you can keep it in the refrigerator, 2) the recipe makes a large batch, 3) the ingredients can easily be found year round in the produce section and of course 4) the taste.
This Pickled Corn Relish is perfect as a side dish or add to the top of burgers, hot dogs or even chicken. When I first tasted it, the flavor was a bit sour for me but after it sat over night, it was fine. Doug loved it from the beginning, straight from the pot.
The original recipe is from The Repo Woman, we followed most of the recipe although she prepares her corn relish for the refrigerator. But we decided to can ours instead.
The recipe goes really quickly, especially after all the chopping is done. We used canned corn, but I think you could certainly use frozen or fresh. You also need – onions, red and green peppers, tomatoes, cucumbers, sugar, salt, mustard seed, celery seed and apple cider vinegar.
Add all the vegetables to a large pot on the stove, then whisk together the seasonings, sugar and cider and add to the vegetables.
While the corn relish is cooking, prepare your jars and lids. We found everything we needed at Walmart. These jars are half pint size, which is perfect for this relish, and also great for giving as gifts.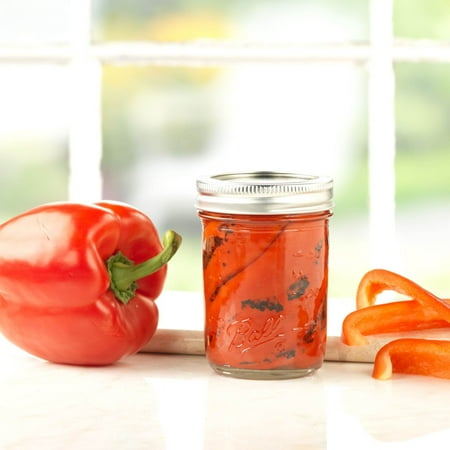 Buy at Walmart.com
New to canning? We have information in our Apple Pie Filling post, and Jenn from Frugal Upstate teaches you how to can using a hot water bath.
Preparing the Jars
Lay a towel in the bottom of a deep stock pot, place jars inside the pot and cover with water. Bring to a boil, then carefully remove jars using tongs, let drain on towel.
Be sure to wipe off the jar rims very well. You don't want any food or residue on them at all.
Lids
Add lids to a small bowl, and pour boiling water over them. Use tongs or Magnetic Lid Lifter from the Ball Canning Utensil Kit available at Walmart.
Add the rings and tighten slightly.
Processing
After the jars are ready, it's time to carefully add them back into the water. Bring to a rapid bowl, and continue boiling for about 6-8 minutes, depending on the size of your jars.
Remove using a Jar Lifter and place on a towel. Let set overnight.
Print
Pickled Corn Relish
Corn relish to serve as side dish or on top of burgers, hot dogs or chicken. Great for canning or refrigerator. Recipe from PocketChangeGourmet.com
Total Time:

20 mins

Yield:

8

-

10

half pint jars

1

x
5

cans whole corn, juice included (don't drain)

2

pounds tomatoes – peeled, seeded and chopped coarsely (soak in hot water to remove peel if necessary)

1 1/4

–

1/2

cups green bell pepper, finely chopped

3/4 cup

red bell pepper, finely chopped

1 cup

cucumber, finely chopped

1 cup

onions, finely chopped

2 cups

apple cider vinegar

1 cup

sugar

1 tablespoon

salt

1 teaspoon

mustard seed

1 teaspoon

celery seed
Instructions
Chop all vegetables and add to a large pot along with cans of corn
In a medium bowl, whisk the sugar, cider vinegar, salt, mustard and celery seed. Add to pot.
Stir and bring to a boil
Reduce and simmer for 1 hour
Prepare jars for canning or refrigerator
Add relish to sterile jars
And continue canning process
Check out these other recipes from fellow Walmart Moms
 Linking to…Gooseberry Patch
 Eliot Martin is a book lover and a public relations graduate. He currently lives in the Phoenix area, where he spends most of his time playing video games or reading a good book. He enjoys going to comic cons and spending time with his friends and family, and when he is not writing for his own cooking blog, he keeps our readers hooked with his articles.