Tender and creamy, sweet potatoes and cauliflower mixed with seasonings, rolled in Panko bread crumbs and fried. These Sweet Potato Cauliflower Fritters might just surprise you!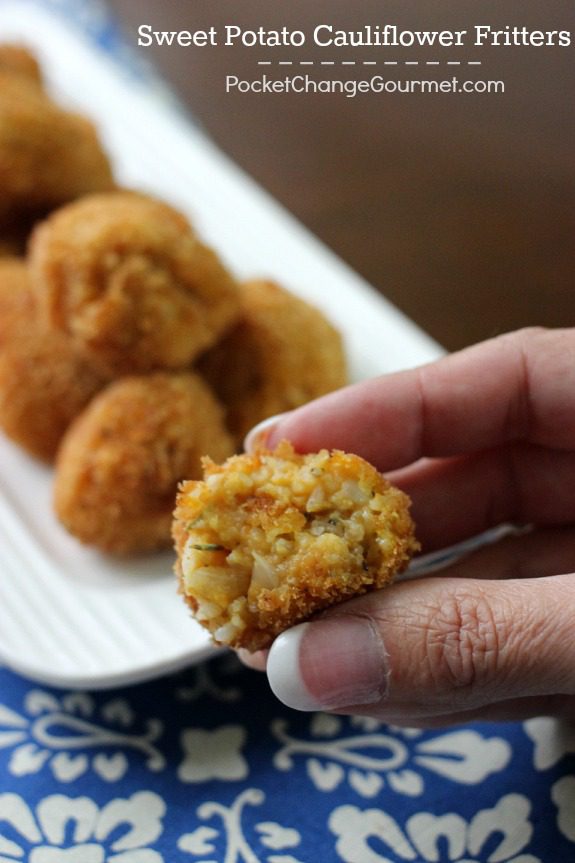 I am a fan of Sweet Potatoes, I love them. I think they are one of those vegetables that you either love or hate. And every year during the holidays, the Sweet Potato Casserole is the first dish I dive into. So when I spotted the recipe for these Sweet Potato Cauliflower Fritters, I knew I just had to give them a try. I think these would also be perfect to use up leftover Sweet Potatoes and Cauliflower, similar to our Deep Fried Stuffing.
Although the original recipe looked great, it called for fresh sweet potatoes. And while I'm sure the recipe is great with them, I actually prefer canned sweet potatoes myself. I suppose part of that is because that is all that my Mom used to make, so it's what I grew up with. And she always used Princella Sweet Potatoes.
They are equally nutritious as fresh because the vitamins and minerals are locked into the can. Sweet potatoes are an excellent source of vitamin A (in the form of beta-carotene). They are also a very good source of vitamin C, manganese, copper, pantothenic acid, and vitamin B6. Additionally, they are a good source of potassium, dietary fiber, niacin, vitamin B1, vitamin B2, and phosphorus. There are no preservatives because the canning process is the magic that preserves the yams.
Making the Fritters were really easy, almost the whole process is done in the Food Processor, making it quick too. First the onions and garlic are chopped in the processor and added to a large bowl. While the Cauliflower cooks on the stove a few minutes, the Sweet Potatoes are drained and mashed in the processor. After the Cauliflower is done, they get mashed in the processor. All of the ingredients are mixed with seasonings, and an egg and flour to hold them together. Then into the fridge to chill for a couple hours.
I used a large cookie dough scoop to form the balls, then rolled them in Panko bread crumbs. Before frying, I reshaped them again into balls. The key to frying them perfectly is to keep your oil as close to 350 degrees as possible, we turn our heat to medium-low.

Sweet Potato Cauliflower Fritters
A mixture of sweet potatoes, cauliflower and seasonings rolled in bread crumbs and fried. These Sweet Potato Cauliflower Fritters might just surprise you!
Author:
PocketChangeGourmet.com
Ingredients
1 can (40 ounce) Princella or Sugary Sam Sweet Potatoes
1 small head (2 pounds) fresh cauliflower
1 medium onion, peeled and chopped roughly
2 cloves garlic, peeled
2 teaspoons ground sage
2 teaspoons rosemary
¼ teaspoon cayenne pepper
1½ teaspoons salt
½ teaspoon pepper
1 egg
¾ cup flour, all-purpose
1½ cups Panko bread crumbs
Vegetable Oil for frying
Instructions
Peel and chop onion and garlic, add to Food Processor and chop finely. Add to large bowl.
Clean Cauliflower and cut florets into small pieces, cook in medium saucepan covered with water for about 10 minutes or until fork tender
Drain Sweet Potatoes, add to Food Processor in 3 batches and mash. Add to large bowl.
Drain Cauliflower, add to Food Processor in 3 batches and mash. Add to large bowl.
Add seasonings, egg and flour, mix until well combined
Cover with plastic wrap and place in fridge for at least 2 hours (can leave up to 2 days)
Add about 1 inch of vegetable oil to large skillet and heat to 350 degrees
Scoop sweet potato mixture with a cookie dough scoop or large spoon, roll into balls and then roll in Panko
Fry fritters about 5 or 6 at a time, leaving enough room in the pan to move them around
Fry for 3-4 minutes or until golden brown, remove and place on paper towel to drain
Serve immediately or cool and store in fridge
Reheat in oven at 350 degrees for 15 - 20 minutes