Valentine's Day is right around the corner. Will you celebrate with a dinner out or eat at home? We enjoy going out, but some of the most memorable meals are those prepared and eaten in the comfort of our home. You can make the 14th your special day by starting with a Valentine`s Day Breakfast and ending up with a delicious dinner for two. What do you say about a Cornish Hens recipe?
Serving a Romantic Dinner for 2 can be easier than you think. All you need is a little planning and a great recipe, like these Cornish Hens with Mushroom Sauce with Couscous on the side.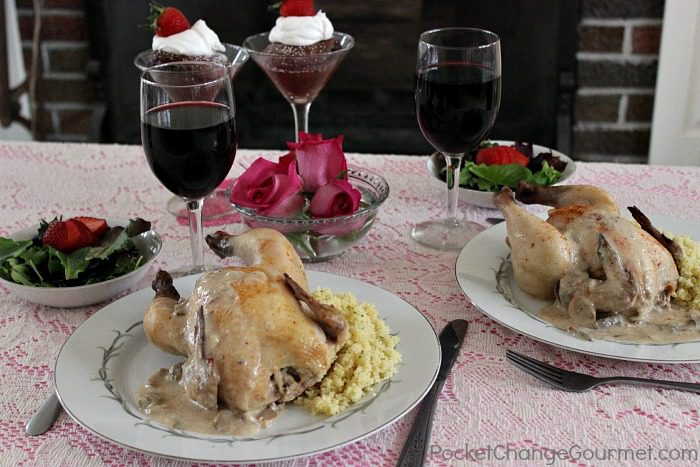 Cornish Hens are, in my opinion, an old fashioned meal. I remember my Mom serving them years ago, and although we loved them, it's not a meal that I have ever duplicated until now.
To create this extra special dinner for 2, we are serving a juicy Cornish Hen for each of you along with the mushroom gravy that cooks right with the birds. Pair them with some Couscous, and a Salad to make this a special dinner. Finish the night off with some delicious Chocolate Cupcakes.
If you liked this one you can also check out other more manly recipes for Valentine`s Day that is for sure guaranteed to make a long-lasting impression.
We have a long and thorough list of Valentine`s Day Recipesthat are going to win your partners heart.
Cornish Hens with Mushroom Sauce
A special dinner that is easy to make but is impressive. Recipe on PocketChangeGourmet.com
Ingredients
2 Cornish Hens, cleaned and rinsed
1 Oven Bag {Reynold's large size}
1 tablespoon flour
1 can condensed cream of mushroom soup
1 small can sliced mushrooms, drained
2 tablespoons Dijon mustard
1 tablespoon honey
⅛ teaspoon paprika
⅛ teaspoon garlic powder
Instructions
Preheat oven to 350 degrees
Shake flour in oven bag and place in a 13x9 baking dish
Add soup, mushrooms, mustard, honey and spices to oven bag. Squeeze bag to blend in flour.
Sprinkle Cornish Hens with additional paprika and arrange on top of an even layer of mushroom mixture
Close bag with nylon tie and cut six ½ inch slits in top of bag. Tuck ends of bag into pan.
Bake for 1 hour and 15 minutes or until a meat thermometer reads 170 degrees.
Serve with Couscous, Salad and Chocolate Cupcakes for a Romantic Dinner for 2