No matter how vast your experience in the kitchen is, at least one time you asked yourself, for sure: "How I can tell if corned beef is done?". I am sure of this fact because the comment section is actually filled with this question. Also, my friends will be equally satisfied. Well, guys, this is the expected moment! Today, we learn how to tell if our corned beef is done, especially when using the slow cooker.
Whether you want to call us old-fashioned or not, we do love sharing classic meals with you, our readers. We especially like some cornered beef recipes! As we had demonstrated in our previous article on classic slow cornered beef and cabbage, beef consomme, or slow cooker beef and noodles. It really stands to reason that a recipe that has stood the test of time would meet your expectations. So, this Classic Slow Cooker Corned Beef and Cabbage is easy and virtually foolproof. And with St. Patrick's Day in just a few weeks, this will be perfect for your celebration!
Now, we already know that many of us find how to tell if corned beef is done a rather difficult task. But that's why we are here. Believe me or not, I personally struggled a lot during my first cooking years with finding the right temperature. Also, the amount of time when cooking corned beef. In this way, many of my meals were undone, or tougher than shoe leather. However, that is exactly why I'm here: to help you avoid my past mistakes with a simple and delicious Corned Beef with lettuce recipe.
What is Corned Beef?
Corned beef is a flavorful beef that is used in hearty, cozy dishes like corned beef and hash browns and foods as significant to Irish culture as corned beef and cabbage. It is a versatile meat that requires more time to prepare than other varieties of beef. It differs from standard beef or most other types of meat in that it could take longer to cook and its color might not change significantly once it is done. A beef brisket that has been salt-cured is corned beef. It varies from other varieties of meat in that it takes longer to cook and its color may not change greatly as it does.
How To Make Corned Beef?
Less tender beef cuts, like the brisket, are used to make corned beef. It requires a lengthy and juicy cooking process as a result. The color may still be pink after cooking. However, this does not mean it needs to cook any longer. Producers add nitrite during the curing process. By fixing the color, this element alters the color of the meat. Corned beef will stay juicy and tender when cooked slowly. If the beef isn't as tender as you'd like, wet the slices with a little water or stock before heating it slowly until it's warm. Corn is not a component of corned beef.
The term refers to the salt brine mixture used to preserve the beef cut. The term comes from the fact that the big salt crystals used to cure the meat resemble corn kernels in size. If the meat is tender, a fork should have no trouble slipping in and out of it. Even the fork can be used to separate the fibers of the meat. Additionally, if the fibers separate readily, the meat is tender. Corned beef will stay juicy and tender when cooked slowly. If the beef isn't as tender as you'd like, wet the slices with a little water or stock before heating it slowly until it's warm.
How To Properly Cook A St. Patrick's Day Meal?
Beef Brisket is the cut of meat that is traditionally used to make Corned Beef. However, while it is a very delicious cut, it can be a finicky piece of meat to cook. When done to perfection it can actually be pretty delicious. But, when not, it can be tougher than shoe leather (as they say). As I experienced both of these versions of the story, I am the suitable person to teach you how to tell if corned beef is done correctly.
However, today everything is much easier than in my first cooking days. Luckily, today, you can buy beef brisket that is prepackaged with seasonings and almost ready for cooking. Did I say almost?
Yes, you can throw the meat in a pot, and give it a boil. Then, simmer for a couple of hours, but what's the fun in that? I suppose this article attracted you because you want to find out how you properly cook corned beef and how you find out if it is done. So, let's learn how we can improve the prepackaged, seasoned beef brisket from your local store.
Even though it is much easier just to follow some basic instructions from the label. I'm pretty sure you have bigger expectations from your St. Patrick's Day. So, why don't you just add a few additional ingredients and cook it really slowly? It comes out like the tastiest, tenderest, and juiciest corned beef you'll serve this year.
Tips & Tricks in Doing Corned Beef In Your Slow Cooker
Let's start out with the cut of meat. You have a choice between a flat-cut and tip-cut brisket. Choose the flat cut, more often than not the tip cut will end up tougher.
Next, while some recipes instruct you to trim all the fat from the brisket, I prefer to trim the fat off. After it is finished cooking. That way when the fat renders during the cooking process the flavor will get infused into the meat.
Finally, don't cook it on the stove. Use a Slow Cooker. Beef brisket needs a long cooking time, at least four hours or longer.
The seasonings, if your brisket comes with a spice packet use it to do it. It makes sense that they would not put the wrong amount of seasonings in there. But you don't have to stop there and we don't. The addition of a hand full of ingredients can put your signature on this classic recipe.
Never cut the Corned Beef fresh from the Slow Cooker.
When the internal temperature of the brisket reaches 160 F remove it from the cooker. Then, allow it to rest for an hour. Use this time to finish off the meal with some cabbage and carrots. Just make sure to turn the temperature up to finish cooking.
And the final piece of advice is that improperly sliced Corned Beef will always be tough. So cut it across the grain and at an angle as well.
How do You Tell If Your Corned Beef Is Done?
Finally, you can give our recipe a look and decide for yourself if it's as hard as it may sound. Please, do not hesitate to ask any more questions in the comment section. Also, if you need further info, I am here! Keep in mind that your creativity is always rewarded in the kitchen. So, always follow your taste and instinct when seasoning and preparing a meal. This one is not an exception! What works for me may not always work for you too. And that is completely fine!
Also, if you don't have a slow cooker already, try this one from Walmart. This is not an amazing helper only for this type of food. You can always rely on a slow cooker, and the result for me was yummy every time!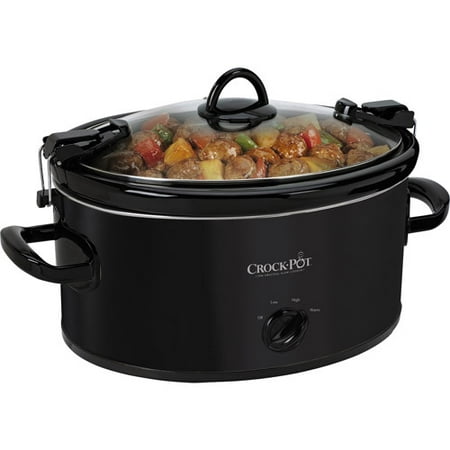 Get the Crock-Pot Cook & Carry Slow Cooker at Walmart.com
Why You'll Love This Recipe?
You feel happy as a result of them.
when eating with loved ones super excited excitement.
Beef is essentially a one-stop healthy meal in addition to being delicious.
It contains every critical amino acid that your body needs to regenerate and create new cells.
Easy to cook
Simple and delicious
Health Benefits
Corned beef isn't exactly the healthiest food. Despite being an excellent source of protein and minerals, it has a lot of saturated fats and a high sodium level (higher than other red meat alternatives). Corned beef is processed red meat, which is typically not a healthy choice.
Here is a list of the health advantages of eating corned beef. These consist of:
Corned beef's protein content promotes muscle building.
It regulates your metabolism.
It contains a lot of minerals, which support the health of your brain system and red blood cells.
It maintains a robust immune system.
It can result in hypertension and high blood pressure.
Boosts the chance of heart attacks.
It has unhealthy fats for your body.
Overall, eating corned beef is not a particularly healthy choice; it should only be considered a festive feast to be enjoyed seldom. Additionally, corned beef does not support a balanced diet because it lacks some essential vitamins.
Regular beef is a little more nourishing than other types of red meat, and poultry meat is significantly healthier overall. If you intend to eat it, be careful to do so in moderation.
Risk of Corned Beef
Due to its high saturated fat content, eating corned beef regularly might seriously harm your body.
It can cause artery blockages and raise the risk of heart attacks and strokes.
Corned beef is not recommended for pregnant women since it harms both the mother and the unborn child. Pregnancy can exacerbate hypertension in women who already have it, so beef may make it worse.
Moreover, it may result in digestive issues. Although it is advised that the baby consume iron at this time, you can also acquire it from healthy sources.
It is challenging for anyone to eat corned beef because of the elevated salt level regularly. It is advised to only serve on special occasions because eating frequently would be exceedingly unhealthy due to the high sodium level.
Because of this, eating corned beef may make you gain weight and feel bloated. A serving has roughly 285 calories, which is a lot. Although other beef still tends to make people fat, the effect is lessened because of the lower salt level.
Storage Tips
Store: Keep it sealed in the fridge for 7 days. Unopened products having a "use-by" date can be kept in the fridge up to that time.
Freeze: Corn beef keeps well in the fridge for 3–4 days after cooking. It will last for two to three months when frozen.
If properly wrapped and drained, uncooked corned beef brisket can be frozen. Although salt promotes rancidity and changes in flavor, it is still safe to ingest. Within a month or two, try to use it.
Nutrition Information
Per serving:
| | | | |
| --- | --- | --- | --- |
| Calories | 284 kcal | Cholesterol | 44 mg |
| Carbohydrates | 11 g | Sodium | 1040 mg |
| Protein | 13 g | Potassium | 522 mg |
| Fat | 18 g | Saturated Fat | 4 g |
| Fiber | 3 g | Vitamin A | 21U |
| Calcium | 21 mg | Vitamin C | 35 mg |
| Iron | 2 mg | Sugar | 2 g |
In addition to being a skilled and passionate chef, Caroline is an awesome mother of two. In her spare time, Caroline pursues her passion for cooking by experimenting with new dishes and developing some of her very own. Her expertise and research are then condensed into comprehensive, easy-to-read guides and resources for readers who are looking for budget-friendly recipes for the whole family.