Whether you want to call us old-fashioned or not, we do love sharing classic meals with you, our readers. It really stands to reason that a recipe that has stood the test of time would meet your expectations, and this Classic Slow Cooker Corned Beef and Cabbage is easy and virtually foolproof. And with St. Patrick's Day in just a few weeks, this will be perfect for your celebration!
Beef Brisket is the cut of meat that is traditionally used to make Corned Beef and while it is a very delicious cut, it can be a finicky piece of meat to cook. When done to perfection there's few better, when not, it can be tougher than shoe leather…as they say. Luckily you can buy beef brisket that is prepackaged with seasonings and almost ready for cooking.
Did I say almost? Yes you can throw the meat in a pot and give it a boil and then simmer for a couple of hours, but what's the fun in that. Adding a few additional ingredients and cooking it really slowly finishes off the tastiest, tenderest and juicy corned beef you'll serve this year.
Let's start out with the cut of meat. You have a choice between a flat cut and tip cut brisket. Choose the flat cut, more often than not the tip cut will end up tougher. Next, while some recipes instruct you to trim all the fat from the brisket, I prefer to trim the fat off after it is finished cooking.
That way when the fat renders during the cooking process the flavor will get infused into the meat. Finally, don't cook it on the stove use a Slow Cooker. Beef brisket needs a long cooking time, at least four hours or longer.
The seasonings, if your brisket comes with a spice packet use it we do, it makes sense that they would not put the wrong amount of seasonings in there. But you don't have to stop there and we don't. The addition of a hand full of ingredients can put your signature on this classic recipe.
Never cut the Corned Beef fresh from the Slow Cooker. When the internal temperature of the brisket reaches 160 F remove it from the cooker and allow it to rest an hour. Use this time to finish off the meal with some cabbage and carrots. Just make sure to turn the temperature up to finish the cooking.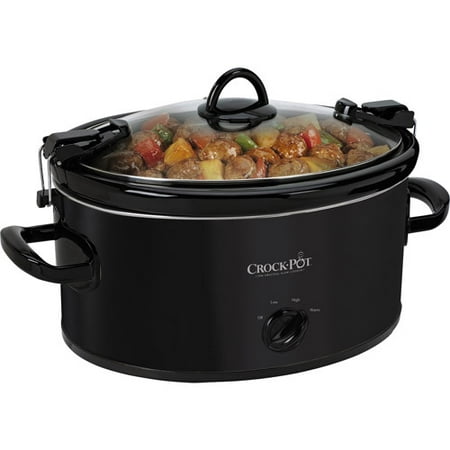 Get the Crock-Pot Cook & Carry Slow Cooker at Walmart.com
And the final piece of advice, an improperly sliced Corned Beef will always be tough. So cut it across the grain and at an angle as well.
Classic Slow Cooker Corned Beef and Cabbage
Traditional St. Patrick's Day Dinner. Recipe from PocketChangeGourmet.com
Ingredients
Corned Beef Brisket, flat cut
Seasoning packet that comes with the brisket
1 onion, quartered
1 bay leaf
3 cloves of garlic, smashed
1 head of cabbage, quartered
1 pound package of carrots, peeled and chopped
Instructions
Place brisket in slow cooker with skin side up {fat side up}
Add onion, bay leaf, garlic and seasoning packet
Add enough water to cover
Cook on low for 4-6 hours or until internal temperature is 160 degrees F
Remove and let rest for 1 hour
While brisket is resting, add cabbage and carrots to slow cooker, turn to high and cook until tender
Once cabbage and carrots are tender, add brisket back to slow cooker for 5 minutes, remove and slice across the grain and at an angle