While not having the most appetizing name in the world, blackened chicken is a delicacy in Cajun, Creole, and Latin American cuisine. It gets its name from the unique way in which it is cooked—by buttering the chicken and cooking it at a high temperature on a skillet.
Since its first adoption in Cajun restaurants, it has become a culinary mainstay in Peruvian and Creole cooking. By the mid 20th century, it had gained popularity all across South America as "pollo a la brasa".
This is no ordinary rotisserie chicken. A good blackened chicken is a truly unique dining experience that has no parallel elsewhere in the world. It is juicy, mouthwatering, and seared to the bone. And—believe it or not—we wouldn't have it any other way.
If you love rotisserie chicken recipe, you are going to love Cajun blackened chicken. So, why not give it a shot tonight? It is surprisingly simple to make, and has the affordability of classic Cajun fare. If this sounds right for you, read on to find out our favorite blackened chicken recipes for home cooking.
Louisiana Cooking 101
Blackened chicken arose following the expulsion of the Acadians (French-Canadian settlers) by the British in the 18th century. Following the evacuation order from the British, the Acadians settled in southern Louisiana where they became known as "Cajuns".
Due to the hot climate, their old culinary traditions were lost and eventually replaced with basic corn and rice-based fare that gradually went on to become more elaborate. Today, many classic southern U.S. dishes come from Cajun cooking traditions, such as crawfish boil, gumbo, cornbread, cochon de lait, boucherie, and chevette shrimp.
Over time, Cajun cuisine has gone on to become more complex, as it has incorporated more spices, seasonings, and cooking methods. Today, the barbecue cooking method reigns supreme and most restaurants in New Orleans, Louisiana serve traditional Cajun foods such as blackened chicken.
Personally, we love blackened chicken. It has become a regular monthly dish for our families, and even our fussy kids ask for seconds. And if you want in on a secret, we recommend adding Italian alfredo sauce over top of the chicken if you want a heavier, fusion-inspired dish. Just remember to keep a fan handy because blackened chicken has a tendency to smoke up the kitchen from time to time.
New Orleans Blackened Chicken Recipe
Think you have what it takes to whip up a traditional Cajun dish? Well, it isn't as difficult as it sounds. Here is a nice and easy blackened chicken recipe that only takes about half an hour in total to prepare. This is an excellent recipe for those just getting started with cooking traditional Cajun cuisine.
Ingredients
Here is everything you will need to make New Orleans-style blackened chicken:
Instructions
Start by heating the oven to 395 degrees Fahrenheit. Then, combine all the blackening ingredients in a large mixing bowl. Throw the chicken breasts in the blackening spices and ensure that each breast is coated throughout.
Once coated, heat a frying pan on maximum heat. Allow the pan to heat up completely. Add in the vegetable oil and fry the chicken breasts on both sides. Ideally, the chicken will sear very quickly and the herbs and spices will become aromatic instantly.
Take your time, frying 1 or 2 pieces at once. Once seared through, put the cooked chicken breasts on a baking sheet and bake for roughly 8-12 minutes. Once finished, remove from oven, lightly butter, and serve with rice and garden salad.
Simple Southwest Cajun Blackened Chicken
Are you looking for a crowd-pleasing chicken dish? Well, we have the recipe for you. This southwest Cajun chicken recipe is the real deal. It is affordable, easy to make (all in one pan!), and appeals to even the fussiest eaters in the house. And best of all, the clean-up process is easy as pie. Try this recipe out tonight.
Ingredients
Here's everything you will need for this southwest blackened chicken recipe:
Instructions
To begin, add the olive oil to a large frying pan on maximum heat. Coat the chicken breasts with the seasoning mix until evenly covered. Place the chicken breasts on the pan and sear until fully cooked, then set aside on tin foil.
Mix in the rice, broth, beans, diced tomatoes, chili powder, cumin, and paprika and let the pan come to a boil. Once boiling, lower the heat to a simmer and let sit while covered for 20 minutes or until the liquid congeals.
Toss the chicken into the pan and cover again until the chicken begins to blacken. Remove chicken once it reaches your desired level of doneness and serve with rice and beans. Sprinkle parsley on top for garnish.
Peruvian Pollo a la Brasa Recipe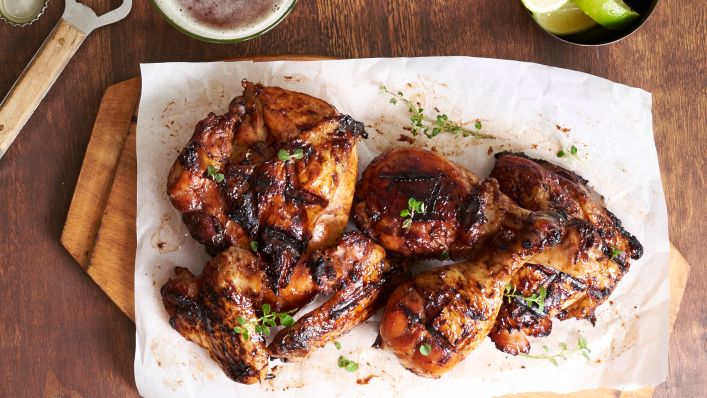 Once you have graduated from the traditional Cajun-Louisiana cooking style, you can try the Peruvian method. In recent years, Peruvian cuisine has become famous for its amazing blackened chicken. It certainly has the leg up on its Cajun counterpart in terms of overall intensity. If you want an extra "kick" in your dish, we recommend giving this recipe a try.
Ingredients
Here is everything you will need to make pollo a la brasa:
Instructions
Begin by placing the soy sauce, garlic, cumin, Aji Panca, paprika, ground pepper, lime juice, and vegetable oil in a blending and mixing completely. Place the now-blended marinade in a ziplock bag with the quartered chicken. Make sure the make it sealed, and let it sit in the fridge overnight.
In the morning, turn the bag over to ensure that all sides of the chicken are fully marinated. Once ready to cook, heat up the grill on high. Remove the chicken from the bag and discard the marinade. Using paper towels, dry the chicken. Coat the grill with non-stick cooking spray or vegetable oil.
Grill the chicken with the skin facing down. Ensure that the grill lid is lowered. Cook for 30-40 minutes, turning once at the halfway point. Before removing from the heat, make sure that the chicken juices run clear. Once ready, place chicken on dinner plates and garnish with lime wedges. Serve immediately with rice and garden veggies.
Easy-to-Make Spicy Blackened Chicken
Pressed for time? No need to feel the heat anymore with this spicy blackened chicken recipe, best pair with a spicy chicken tortilla soup. With this recipe, there is no need for overnight marinade or extensive preparation. Just fire up the oven and get roasting!
This recipe is perfect for families, as it requires far less maintenance than other recipes and has a nice, neutral flavor palette which is perfect for fussy children. We think this is the ideal choice for picky eaters or busy families. But best of all, even though this recipe is comparatively easy there it is no less authentic to the traditional Cajun-Peruvian experience.
Ingredients
Here is everything you will need to pull off this simple blackened chicken recipe:
Instructions
Start by preheating the oven to 425 degrees Fahrenheit. In a saucepan, combine the spices, garlic powder, onion powder, salt and cayenne pepper (this last ingredient is optional depending on your spice tolerance). Coat the chicken breasts with avocado oil on all sides and toss the seasoning mix evenly on top. Ensure that the seasoning sticks firmly on the meat.
Place a non-stick iron skillet on the stove and heat to maximum. Allow sufficient time to pass for the skillet to start smoking. Then, place the seasoned chicken breasts on the skillet. Sear each side of the chicken for roughly 40-60 seconds, or until blackened.
Once seared, remove the breasts from the skillet and place on a baking sheet. Bake the breasts for approximately 10-15 minutes or until the juices run clear. Once finished, place the chicken breasts on a plate and cover with foil while they cool for 5-10 minutes. After they have cooled, slice into strips and serve over fresh lemon-infused rice and beans.
Featured Image: CC0 Public Domain via Canva, with text, banner, and logo added.
In addition to being a skilled and passionate chef, Caroline is an awesome mother of two. In her spare time, Caroline pursues her passion for cooking by experimenting with new dishes and developing some of her very own. Her expertise and research are then condensed into comprehensive, easy-to-read guides and resources for readers who are looking for budget-friendly recipes for the whole family.