Are you ready for your next family favorite recipe? This Bacon Cheeseburger Casserole is sure to become your most requested recipe! But shhh…don't tell them it's a super easy and quick dinner. And if that's not enough to sell you on trying it, it's a perfect Make-Ahead Meal and can also be frozen!
A layer of the ground beef mixture on the bottom, topped with bacon, cheese and tatertot potatoes – need I say more?
We all love a good Bacon Cheeseburger, now you can have all those great flavors in an easy to put together casserole!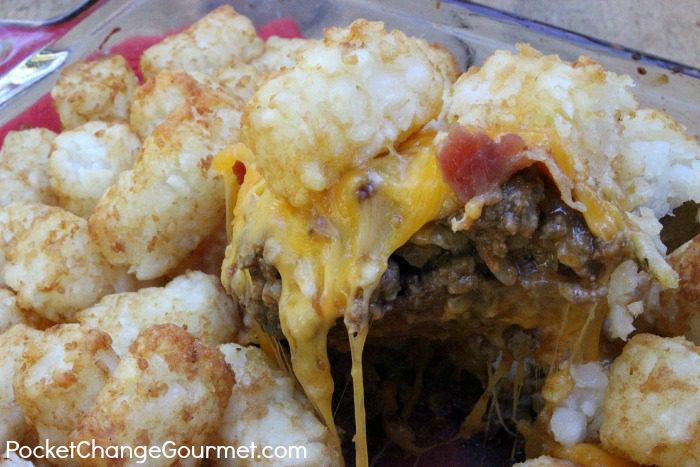 There are several cooking choices too, you can…
Fix and put together the casserole right before dinner, it should take about 30-40 minutes from start to finish

Cook the ground beef mixture ahead, freeze, then put together the casserole the night you are going to serve it
Or assemble everything, wrap it tightly and freeze. Then thaw in the fridge the day you want to serve and pop it in the oven.
Any of these options are a great time savers.
Bacon Cheeseburger Casserole
Enjoy all the delicious flavors of a bacon cheeseburger with the ease of a casserole. Recipe from PocketChangeGourmet.com
Ingredients
2 pounds ground beef
1 large onion, chopped finely
⅔ cup ketchup
2 tablespoons yellow mustard
2 cups shredded cheddar cheese, mild or sharp
8 slices bacon, cooked and crumbled
1 (32 oz) bag frozen potatoes - tatertots
Instructions
Preheat oven to 400 degrees and coat a 13x9 baking dish with cooking spray
Over medium-high cook the bacon or cook in oven on a baking rack for about 15 minutes
In a large skillet, cook the ground beef and onion until completely browned and the onions are soft
Stir in ketchup and mustard and spread mixture into baking dish
Sprinkle with crumbled bacon, then cheese
Top with tatertots
Bake for about 20-25 minutes or until potatoes are golden brown and mixture in heated through
Notes
Recipe can also be cut in half and baked in a square 9 inch pan