There's nothing quite like a big bowl of chilled fresh fruit salad on a hot Summer day! And this Honey Lime Fruit Salad is the best I have had in a very long time. Filled with lots of variety of fresh fruit – watermelon, cantaloupe, pineapple, kiwi, strawberries, blueberries, black raspberries, grapes and peaches with a fresh lime and honey dressing and sprinkled with almonds, it's sure to be a hit at your house too!
The nice thing about fruit salad is it's super versatile. You can add as many fruits that you like, prepare a big bowl and take it to a potluck, pack some in a jar for a picnic, enjoy it as a side dish, or add it to vanilla yogurt for a delicious start to your day.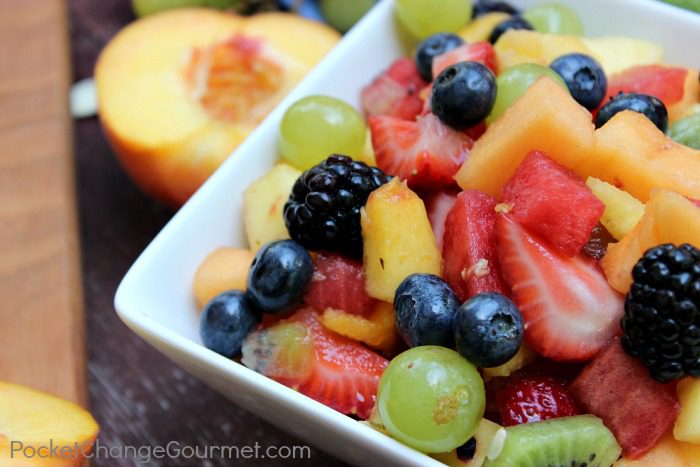 Have you noticed the fresh produce at Walmart lately? Well if you haven't, you definitely should take a look. They have been working hard and making great strives to improve their produce department. They even have a 100% guarantee, so for any reason you are not happy with the produce you purchase, you can get a refund.
They have also been working very hard with their associates and training them to spot the bad produce. To improve quality and freshness, Walmart has hired produce experts to work directly with farmers in the key growing regions where the company has produce-buying offices. Building long-term partnerships with farmers while having Walmart associates in the regions, and in the fields everyday – where produce is grown has made it possible for Walmart to select farmers who grow the best fruits and vegetables.
Last week we shared Grilled Peach & Blueberry Cobbler, and we were pleasantly surprised at how delicious the peaches were. I even had to hide this fruit when I brought it home so there would still be some left for us to make this fruit salad.
Check out the fun video we made while making the Honey Lime Fruit Salad…
Serving the fruit salad in a pineapple adds some fun, just slice the pineapple in half and scoop out the fruit.
Honey Lime Fruit Salad
Delicious and refreshing Fresh Fruit Salad with a touch of sweet honey and tang of limes. Recipe from PocketChangeGourmet.com
Ingredients
8 cups of fresh fruit - we used watermelon, cantaloupe, pineapple, kiwi, strawberries, blueberries, black raspberries, grapes and peaches
½ cup fresh lime juice + zest of 2 limes
½ cup honey
Almonds, optional
Instructions
Clean and cut fruit, place in a large bowl
Zest limes into bowl
Juice limes and combine with honey, pour over fruit
Chill for at least 1 hour before serving
Sprinkle with almonds if desired
Have questions about Walmart's Fresh Produce? Call their Fresh Produce Hotline: 888-658-6325
Linking to…Gooseberry Patch