They say that March comes in like a lion and goes out like a lamb, I don't know about anyone else but it sure felt like March is going out like a lion over here. The April Menu Plan is sure to make your dinner time less stressful.

Have you heard? After many requests from our readers, we have added a Shopping List to our Weekly Dinner Menu Plan! You can sign up NOW to receive a FREE Sample Shopping List and Menu!
OR to grab next week's menu and shopping list, head on over and grab it for $1.99!
We have many readers asking for all of the Monthly Menu Plans and the Printable pages to be in one location. So, we put them all together on a special page for everyone. Grab over 5 years worth of Budget Friendly Recipes and Menu Planning Tips too!
1 – Fiesta Skillet Dinner, Salad and Bread
2 –Slow Cooker Chili and Cornbread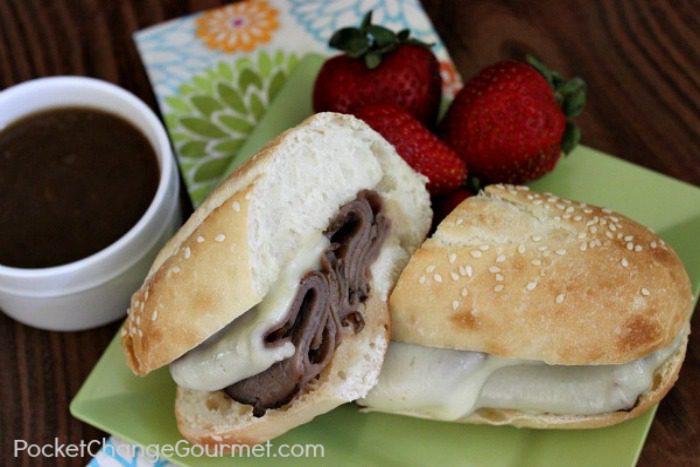 3 – Easy French Dip Sandwiches, veggies and dip
4 – Cheesy Bacon Pull Apart Breakfast Biscuits
5 – Spicy Chicken Tortilla Soup
6 – Homemade Chicken Nuggets and Fries
7 – Shrimp Scampi with Linguine and Salad
8 – Mix and Match Burger Bar and Pasta Salad
9 – Slow Cooker Rotisserie Chicken, Mac & Cheese, Applesauce
10 – Tuna Macaroni Casserole and Salad
11 – Make Ahead Sloppy Joes and Oven Fries
12 – Cheesy Chicken Enchiladas
13 – Fast and Easy Meatloaf, Mashed Potatoes and Vegetable
14 – Pineapple and Shrimp Foil Packets, Salad

15 – Slow Cooker Teriyaki Wings and Rice
16 – Happy Easter! Grab a recipe for brunch, dinner or dessert!
17 – Cheesy Pasta and Ham
18 – Easy Homemade Pancakes and Fresh Fruit Smoothies
19 – Taco Bar
20 –Grilled Chicken Philly Sandwiches and Potato Salad
21 – Pepperoni Pizza Ring

22 – Quick & Easy Cheeseburger Pies and Oven Fries
23 – Pulled Pork Sandwiches with Root Beer Barbecue Sauce, Marinated Tomato Salad
24 – BBQ Meatballs, Mac & Cheese
27 – Honey Hoisin Chicken and Rice
28 – Ultimate Burgers, Baked Beans and Salad
29 – Appetizer Night – Taco Cups, Chili Cheese Dip and Seven Layer Southwestern Salad
30 – Grilled Bacon Wrapped Hot Dog, Veggies and Dip
Desserts for the Month