They say that March comes in like a lion and goes out like a lamb, I don't know about anyone else but it sure felt like March is going out like a lion over here. The April Menu Plan is sure to make your dinner time less stressful.

Have you heard? After many requests from our readers, we have added a Shopping List to our Weekly Dinner Menu Plan! You can sign up NOW to receive a FREE Sample Shopping List and Menu!
OR to grab next week's menu and shopping list, head on over and grab it for $1.99!
We have many readers asking for all of the Monthly Menu Plans and the Printable pages to be in one location. So, we put them all together on a special page for everyone. Grab over 5 years worth of Budget Friendly Recipes and Menu Planning Tips too!
1 – Fiesta Skillet Dinner, Salad and Bread
2 –Slow Cooker Chili and Cornbread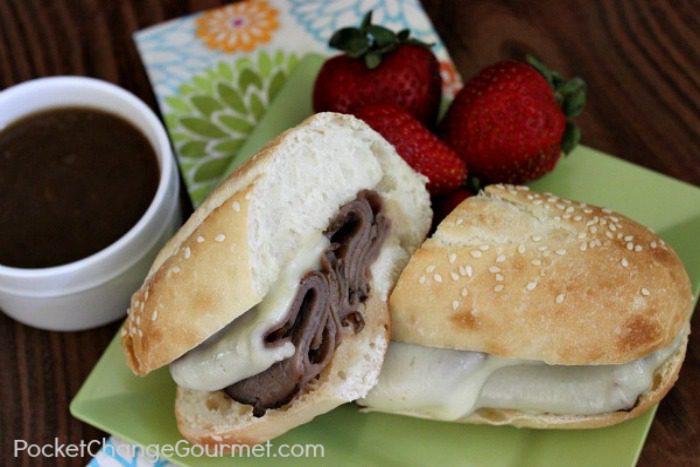 3 – Easy French Dip Sandwiches, veggies and dip
4 – Cheesy Bacon Pull Apart Breakfast Biscuits
5 – Spicy Chicken Tortilla Soup
6 – Homemade Chicken Nuggets and Fries
7 – Shrimp Scampi with Linguine and Salad
8 – Mix and Match Burger Bar and Pasta Salad
9 – Slow Cooker Rotisserie Chicken, Mac & Cheese, Applesauce
10 – Tuna Macaroni Casserole and Salad
11 – Make Ahead Sloppy Joes and Oven Fries
12 – Cheesy Chicken Enchiladas
13 – Fast and Easy Meatloaf, Mashed Potatoes and Vegetable
14 – Pineapple and Shrimp Foil Packets, Salad

15 – Slow Cooker Teriyaki Wings and Rice
16 – Happy Easter! Grab a recipe for brunch, dinner or dessert!
17 – Cheesy Pasta and Ham
18 – Easy Homemade Pancakes and Fresh Fruit Smoothies
19 – Taco Bar
20 –Grilled Chicken Philly Sandwiches and Potato Salad
21 – Pepperoni Pizza Ring

22 – Quick & Easy Cheeseburger Pies and Oven Fries
23 – Pulled Pork Sandwiches with Root Beer Barbecue Sauce, Marinated Tomato Salad
24 – BBQ Meatballs, Mac & Cheese
27 – Honey Hoisin Chicken and Rice
28 – Ultimate Burgers, Baked Beans and Salad
29 – Appetizer Night – Taco Cups, Chili Cheese Dip and Seven Layer Southwestern Salad
30 – Grilled Bacon Wrapped Hot Dog, Veggies and Dip
Desserts for the Month
 Eliot Martin is a book lover and a public relations graduate. He currently lives in the Phoenix area, where he spends most of his time playing video games or reading a good book. He enjoys going to comic cons and spending time with his friends and family, and when he is not writing for his own cooking blog, he keeps our readers hooked with his articles.