Have you ever got a hankering for something spicy, but weren't sure what to make? Hold on because your taste buds are in for a wild ride.  Our Hot Corn Dip recipe has got a bit of a kick to it, but it's something you will want to make again and again.

You can easily serve this Hot Corn Dip with tortilla chips, but we've been known to also serve it with various crackers or even vegetables. Whatever you have on hand is ideal for this awesome dip.
In our opinion, when you need a dip of some sort, spicy is the way to go. This dip is great because you can make it no-so-spicy or even spicier, depending on your preferences. We love spicy around here, so we go all out on adding the spicier ingredients.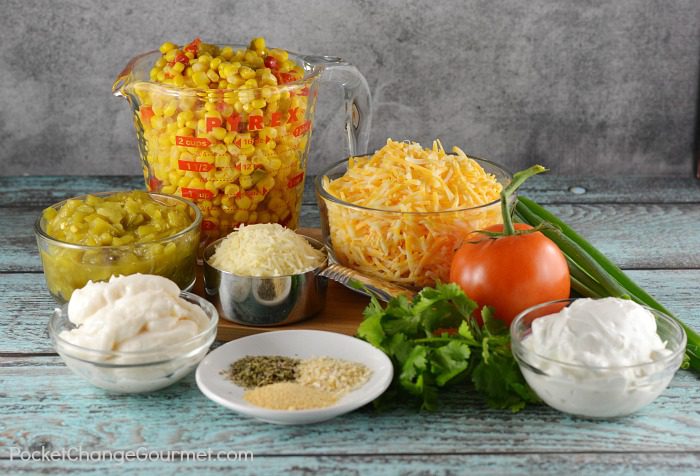 With basic ingredients like corn, chilies, and cheese, you won't believe the transformation that takes place. Who knew corn could be such a great ingredient in a dip.
This recipe is very versatile and you should never be afraid to mix it up.  If you have frozen corn, go with about 2-3 cups, just make sure it's thawed. You can also try variating the recipe by mixing white and golden canned corn instead.  Want a bit of a kick? Use mild or hot chilies instead! For this part of the recipe, you are just mixing all of the ingredients together, minus the cheese.
The cheese in this recipe literally tops the dish. Colby Jack cheese is a favorite around here and there's no doubt that it belongs in this dish. The cheese adds just the right amount of flavor to help make the dish completely perfect. If you're not a fan of Colby Jack cheese, then go with a Cheddar flavor. Both are awesome in this recipe. For this step, make sure you layer on the cheese.
Print
2

cans Fiesta Corn (

15.25 oz

each), drained

1

can diced green chilies (

4.5 oz

can), drained

2 cups

colby jack cheese, shredded (divided)

2/3 cup

Parmesan cheese, shredded

1/2 cup

mayonnaise

1/2 cup

sour cream

2 tablespoons

fresh cilantro, chopped (plus more for garnish)

1/2 teaspoon

dried oregano

1/2 teaspoon

garlic powder

1/2 teaspoon

minced onion, dried
salt and pepper to taste

1

tomato, diced

2

green onions, sliced thin
Tortilla chips
Instructions
Preheat oven to 375. Grease a casserole or baking dish. Set aside
Combine corn, chilies, 1-1/2 cup colby jack cheese, Parmesan cheese, mayonnaise, sour cream, cilantro, oregano, garlic powder and onion
Stir to mix well
Add salt and pepper to taste
Pour into prepared dish and smooth out
Sprinkle with reserved cheese
Bake uncovered for 20-25 minutes or until bubbly on the edges
Garnish with tomato, cilantro and green onions
Serve immediately with chips
Author:

Prep Time:

10 mins

Cook Time:

25 mins

Category:

Appetizer
 Eliot Martin is a book lover and a public relations graduate. He currently lives in the Phoenix area, where he spends most of his time playing video games or reading a good book. He enjoys going to comic cons and spending time with his friends and family, and when he is not writing for his own cooking blog, he keeps our readers hooked with his articles.