The weather is getting colder, time to put a big pot of soup on the stove, whip up a batch of cornbread and serve up a delicious belly warming dinner. This Hearty Minestrone Soup will be just the recipe you need to do that!
Full of vegetables – onions, carrots, celery, green pepper, tomatoes and zucchini – comforting Italian spices and finished off the pasta, this easy to make soup is meatless, making it really good for you and also budget friendly.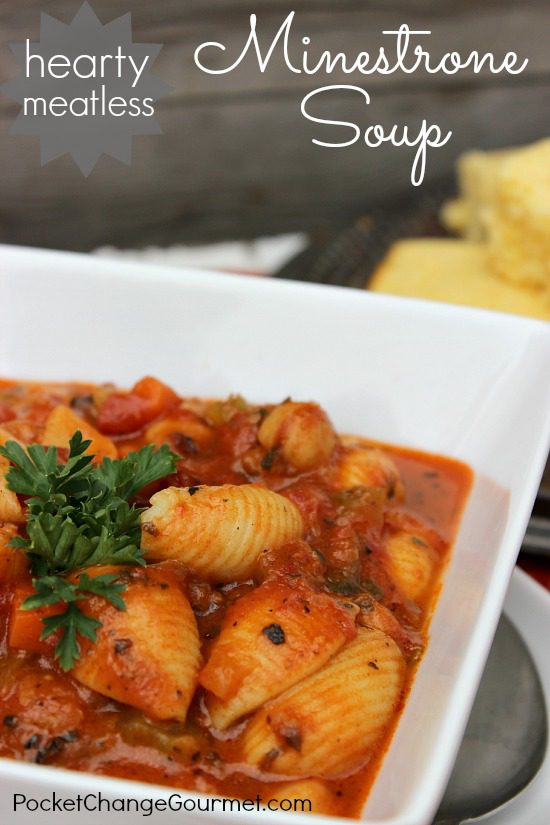 When we first spotted this Minestrone Soup recipe in a Taste of Home magazine, Doug wanted to add sausage to it. And although you could certainly add sausage or ground beef, you really don't need it. It's perfect for Meatless Monday!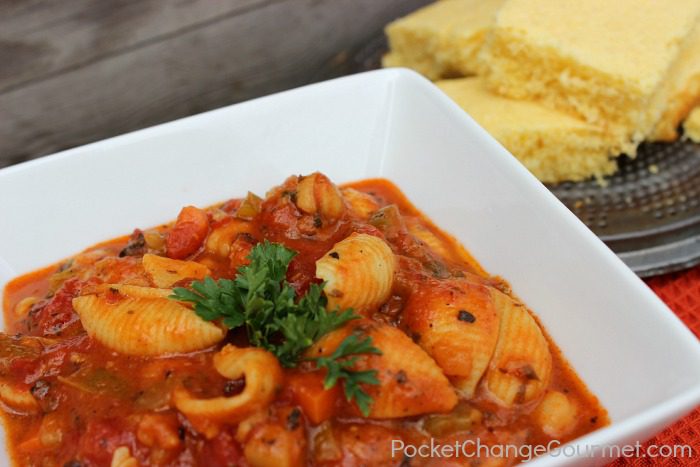 This soup is very filling. Doug and I both enjoyed it, although our non-veggie loving boys wouldn't touch it. We added Cornbread on the side and had a great meal.
Hearty Minestrone Soup
Hearty soup to warm you up on a cold day. Recipe on PocketChangeGourmet.com
Ingredients
3 tablespoons olive or canola oil
1 large onion, chopped
2 celery ribs, chopped
2 medium carrots, chopped
1 medium zucchini, peeled and chopped
1 medium green pepper, cleaned and chopped
4 garlic cloves, minced
3½ cups water
2 cans (14½ oz) diced tomatoes (we used fire roasted)
1 can (15 oz) garbanzo beans
1 can (6 oz) tomato paste
1 can (8 oz) tomato sauce
3 tablespoons parsley flakes
2 teaspoons dried oregano
2 teaspoons dried basil
1 teaspoon salt
½ teaspoon pepper
1 cup pasta shells
Instructions
Cut all vegetables
In a large pot on the stove, heat oil and cook onions about 2-3 minutes until tender
Add the celery, carrots, zucchini, green pepper, and garlic; cook 3 minutes
Stir in the water, tomatoes, beans, tomato paste, sauce and seasonings.
Bring to a boil. Reduce heat; cover and simmer for 15 minutes
Stir in pasta and cook 12-15 minutes or until tender
Garnish with parsley, basil, or cheese if desired. Serve with Cornbread
 Recipe adapted from Taste of Home Magazine