Surprise your family and change up the flavor of your traditional grilled chicken. These Grilled Steakhouse Chicken Sandwiches have a secret ingredient that might just surprise you too! 
Now that the kids are back in school and the weather is beginning to change, our family tends to change what we eat for dinner. Although the weather is still great for grilling, we are getting tired of the same old recipes. We all love grilled chicken breast and I have served it many different ways, but after spotting the A.1. Marinade recently, we decided to combine two great flavors – Steak and Chicken – together into a delicious sandwich.
These Grilled Steakhouse Chicken Sandwiches went together in a snap. Slice the chicken breast into strips, place in a dish and pour the A.1.Marinade over, and chill for at least 30 minutes. It's best to bring the chicken up to room temperature before grilling. Grill over direct high heat for 7 minutes, turn often and baste with additional A.1. Marinade.
To bring in the classic steak flavor, we decided to add sauteed mushrooms and french fried onions to the sandwich. And because every good sandwich has cheese, we chose Provolone Cheese Slices to pull all the flavors together.
Whether you want to change up your traditional Dinner Ideas or maybe you are heading to a Football Tailgating Party, these sandwiches are perfect.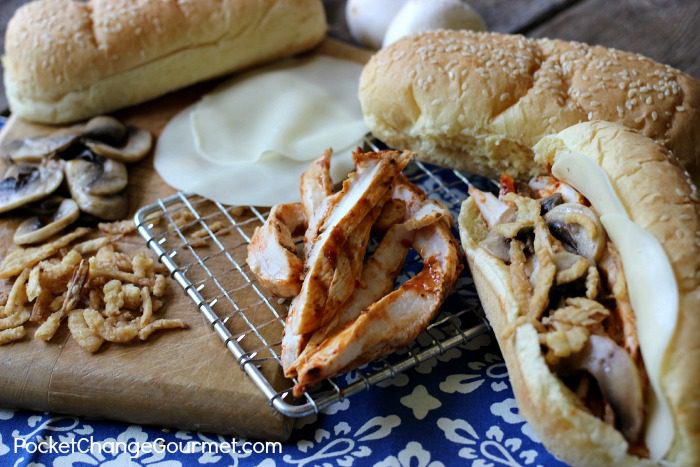 Grilled Steakhouse Chicken Sandwiches
Author:
PocketChangeGourmet.com
Ingredients
3 boneless, skinless chicken breast
1 cup steakhouse marinade
½ cup french fried onions
½ cup fresh mushrooms, cleaned and sliced
1 tablespoon butter
16 slices Provolone cheese
8 submarine rolls
Instructions
Slice chicken breast into strips
Place in pan and pour marinade over and chill for at least 30 minutes
Remove chicken from marinade, Discard marinade.
Cook over direct high heat on grill for 7 minutes, turn often and base with additional sauce
Remove from grill when done, cover with foil and let rest 5 minutes
Saute mushrooms in melted butter on stove top
Assemble sandwiches with cheese, mushrooms and onions