Welcome back to our Delicious Dishes Recipe Party!
We had another fun party last week with all the amazing and DELICIOUS recipes you shared with us.
We can't wait to see what you all have been cooking up in the kitchen this week.
If you missed our party last week, why not check out all the amazing recipes that were shared.
I know you'll find something great to make for your family this week.
Delicious Dishes is a weekly link party where bloggers can share their
most delicious recipes all while checking out the amazing recipes that other bloggers are sharing.
Each week we will be featuring our favorite recipes from the week before
and pinning them to our Delicious Dishes Pinterest board.
We hope you'll have fun with our party…we know we will!
And remember…each recipe you share here will be  seen on each of the blogs listed below… 
The recipes that received the MOST CLICKS last week were…
#1 Antipasto Skewers from Two Twenty One
#2 Slightly Sweet Homemade Diner Rolls from Merry About Town
#3 Fresh Berry Pinwheels from Happy and Blessed Home
These are the Recipes that your Hosts LOVED
Liz LOVED Raspberry Lemonade Macarons from Thinking Outside the Sandbox
Cynthia LOVED Cantaloupe Prosciutto Mozzarella Salad from Ann's Entitled Life
Lois LOVED Summer Thyme Blueberry Lemonade from The Domestic Lifestylist
Rose LOVED Strawberry Blueberry Jicama Salad from The Whole Serving
Laura LOVED Watermelon Sorbet from Cookie Dough and Oven Mitt
Brett LOVED Berry Cookie Pies from Mommy Hates Cooking
We pin all your amazing recipes!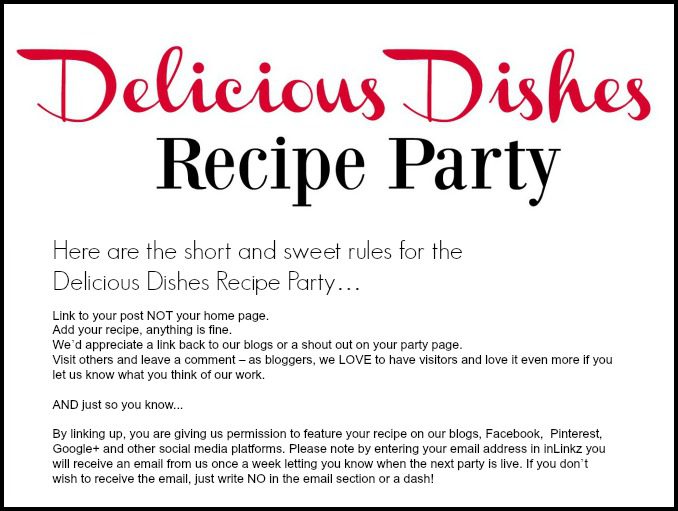 Don't forget we ROTATE all submissions so everyone's recipe always has the chance to be on top! 
Mark is a self-taught cook specializing in Asian cuisine. Mark's passion for food began at a young age when his parents finally allowed him to attempt cooking. Since then, he's found himself experimenting in the kitchen, watching cooking shows, and reading food blogs. Mark lives in Toronto, Canada, where he works as a restaurant chef.