Did you know that today is National Blueberry Pancake Day? It sure is, so we whipped up a batch of our favorite Old Fashioned Homemade Pancakes, added Blueberries, my favorite and made a delicious Blueberry Syrup to pour over top!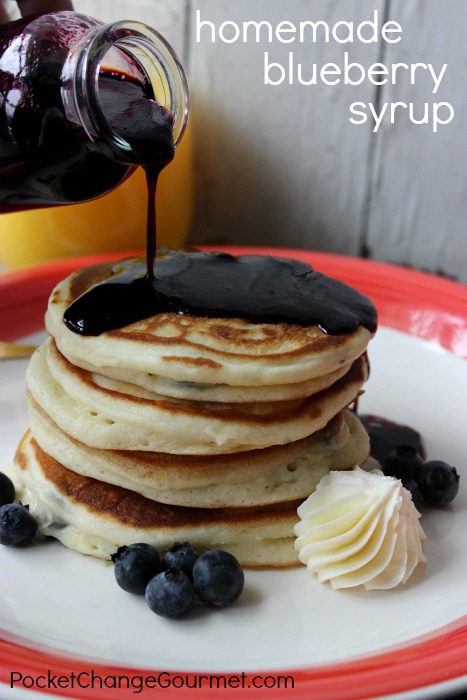 This delicious Blueberry Syrup starts with fresh blueberries and sugar, but the addition of Meyer Lemon Juice makes it taste unlike any store bought syrup. Food & Wine calls it the Perfect Blueberry Syrup…and I definitely agree!
The Blueberry Pancakes are light and fluffy and the fresh blueberries pop when you eat them.  According to Driscoll's, when choosing blueberries, look for Berries that are dry, plump, round and free of dents and bruises. Blueberries should have a soft, hazy white coating, which is called "bloom." Bloom is a completely natural part of the berries' defense mechanism and helps protect them from the harsh rays of the sun. Avoid blueberries that are shriveled or lack bloom.
Did you know that with just 80 calories per cup and virtually no fat, blueberries offer many noteworthy nutritional benefits? And they are delicious too!
Homemade Blueberry Syrup
The burst of blueberry flavor and hint of lemons is perfect in this syrup. Great on Pancakes or Ice Cream. Recipe from PocketChangeGourmet.com
Ingredients
2½ cups blueberries, fresh or frozen
2 cups water
1 cup sugar
Juice of 1 Meyer Lemon - about 1½ tablespoons
1 inch slice of lemon peel (use a vegetable peeler)
Instructions
In a saucepan, combine the blueberries with ½ cup of the water
Smash the berries with a potato masher and bring to a simmer
Simmer over low heat for 15 minutes
Strain the juice into a heatproof measuring cup, pressing hard on the solids, discard the solids.
Rinse out the saucepan, add the sugar, lemon peel and the remaining 1½ cups of water, bring to a boil, stirring to dissolve the sugar.
Boil the syrup over moderate heat until it eaches 225° on a candy thermometer, about 20 minutes
Add the blueberry juice and lemon juice and boil over high heat for 1 minute.
Let the syrup cool, then discard the lemon zest.
Pour the syrup into clean glass bottles or jars.
Seal and refrigerate for up to 6 months.
Use on Homemade Pancakes or Ice Cream
 For more recipes, visit Driscoll's Berries
Disclosure: We were provided blueberries from Driscoll's for this post. As always, the opinions are our own.
Linking to…Gooseberry Patch