Halloween is quickly approaching, are you hosting a Halloween Party? Or maybe just make a fun dinner for the family before trick-or-treating. We are big fans of Halloween, and while my teens love all the scary movies and such, me – not so much.
I much rather create a Halloween dinner that everyone will eat instead of something gross and scary that no one will touch and it just goes to waste. This Spider Taco Ring is sure to be a hit with the kiddos and adults!
So fun! And really easy too! We used the same recipe that everyone loves for Taco Ring, and added the spider legs made from breadsticks, lettuce in the center and black olives for the eyes.
"Spidey" was so fun to create, I'll have to admit though, this one was not my idea, all the credit for this creative idea goes to Doug.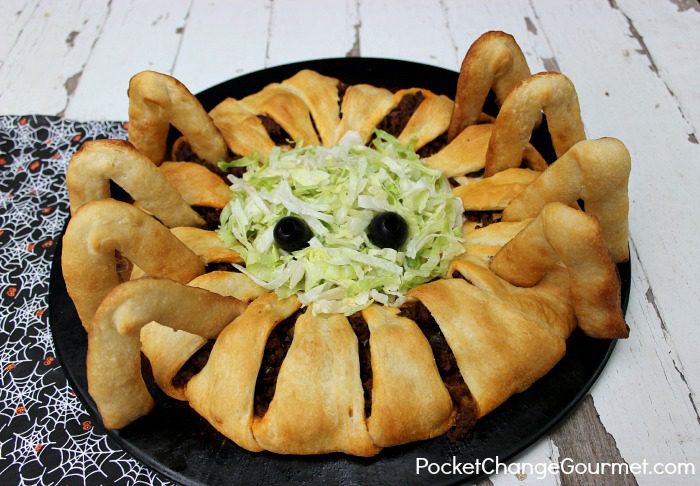 Going to a Halloween Party? I think this would be an easy Halloween party food and be a hit there as well. I would leave the legs off for traveling and just assemble after you arrive.

Halloween Food for Kids: Spider Taco Ring
Fun dinner for Halloween.
Author:
PocketChangeGourmet.com
Serves:
5-6 servings depending on size
Ingredients
1 pound ground beef, cooked and drained
1 small onion (about ½ cup) chopped finely
½ cup green pepper, chopped finely
1 package taco seasoning or 2 tablespoons homemade
¾ cup water
2 tubes refrigerated crescent rolls
1 tube refrigerated bread sticks (you will only need 4)
2 tablespoons butter, melted
Shredded lettuce
2 large pitted black olives
Instructions
Preheat oven to 350 degrees.
Brown ground beef with onion and green pepper until cooked through and the vegetables are tender, drain well.
Return to pan, add taco seasoning and water. Simmer until liquid is gone, about 15 minutes
On a round pan or cookie sheet, lay out the crescent rolls in a circle with the small point facing out
Add ground beef mixture around the ring, flip the rolls into the center
Bake at 350 degrees for about 20-30 minutes or until golden brown
Spider Legs
Spray cookie sheet with cooking spray
Divide each bread stick in half, then form a "V" and place on cookie sheet
Brush with melted butter, bake for about 10-15 minutes or until golden brown
Assemble
Add lettuce to the center of the taco ring, then add olives for eyes
Add legs
Serve salsa and cheese on the side, if desired