A hearty salad is perfect for those warm Summer evenings. This Raspberry Chicken Salad goes together in less than 5 minutes with a store bought salad mix, Grilled Chicken, fresh raspberries, toasted almonds for a little crunch and a Light Raspberry Vinaigrette Dressing that adds a ton of flavor.
After our long Winter last year, we have been concentrating on eating better and getting some type of exercise every day this Summer. We often like to grill a whole package of chicken breasts and have them for salads. Our middle son has been eating a salad almost every day for his lunch. During a recent business trip, he sent me a photo of the package of chicken that he had grilled for himself while we were gone. He quickly got the grilling job when we got home.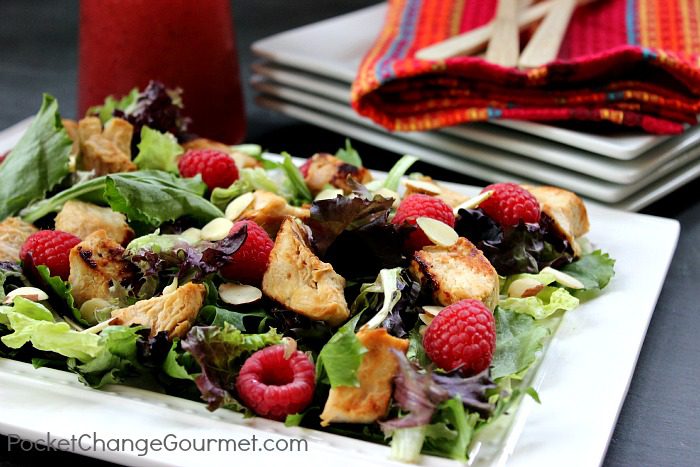 To make this Chicken Salad super quick and easy, we started with a spring salad mix, and add pieces of grilled chicken, fresh raspberries and almonds. The store bought dressing is Light Raspberry Vinaigrette.
You can also use leftover Chicken or a deli cooked Chicken as well.
Raspberry Chicken Salad
Healthy, delicious salad in less than 5 minutes. Recipe on PocketChangeGourmet.com
Ingredients
1 package Salad Mix (we used Spring Mix)
2 Grilled Chicken Breasts or store bought deli chicken
1 pint fresh raspberries
Toasted Almonds
Light Raspberry Vinaigrette Dressing, store bought
Instructions
Slightly heat leftover chicken on the stove or in the microwave
Meanwhile, add salad mix to large plate, top with chicken, raspberries and almonds
Serve dressing on top or on the side