Honey is both nature's candy and workhorse in equal part. This is because the sweet, gooey syrup lends itself to so many dishes.
It can complete, complement, or alter the flavors found in countless foods, and bring out the best flavors in other foods.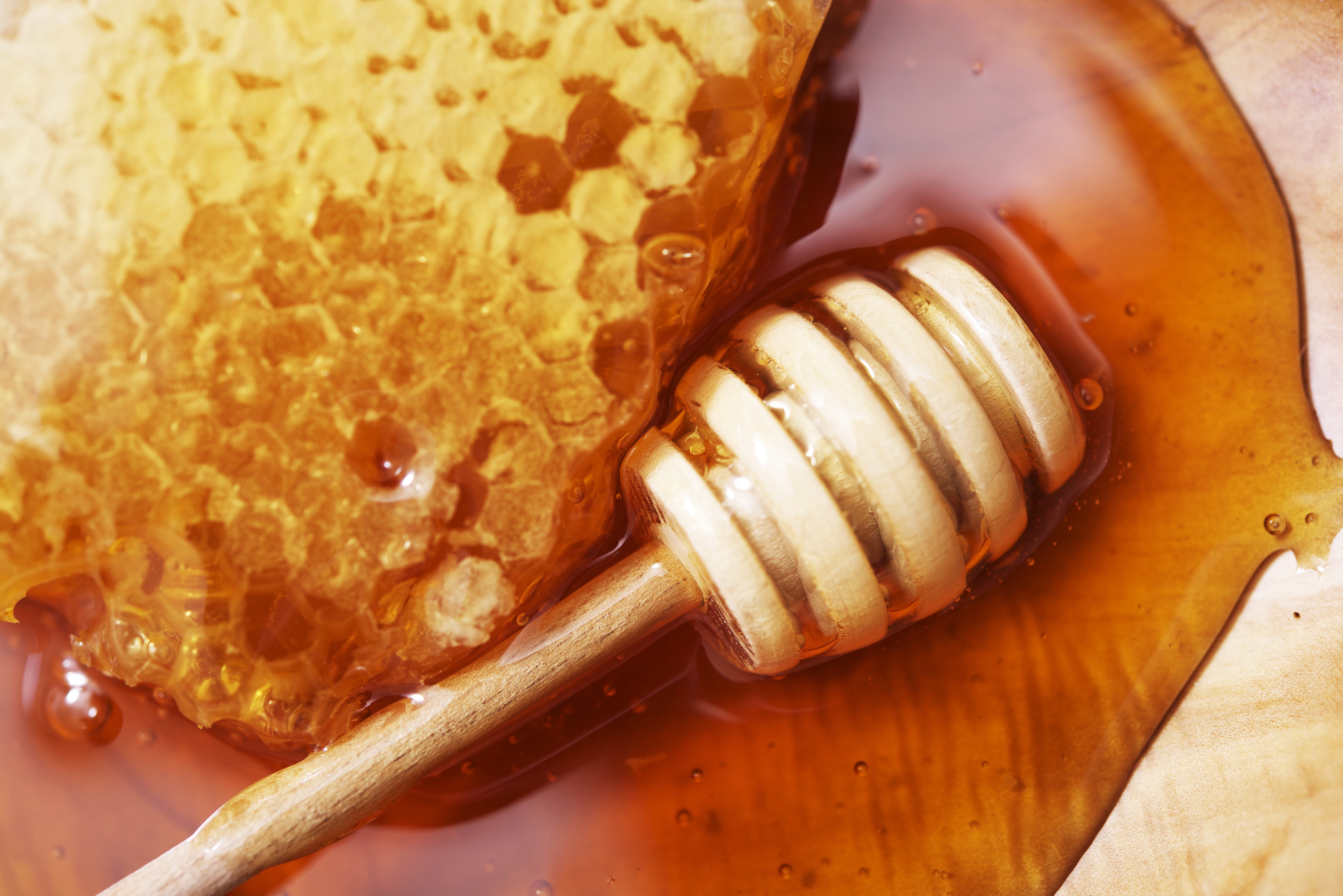 Despite this, not many kitchens cook with honey on a regular basis.
And this is not by choice since the biggest barrier to cooking with honey is ignorance—it is a simple fact that there are far too few cooks who understand how to properly use honey.
And it's a darn shame too because nothing hits the spot like a sweet and savory meal brought to life with the magic of a little honey.
Lucky for you, though, we put together this cheat sheet to using honey in the kitchen.
We designed this guide with the multi-faceted cook in mind, so we have provided tips, suggestions, and recipes for cooking with honey at every meal of the day.
And, more importantly, for every budget and flavor palette.
This means no more excuses—after today, there will be no reason to skip out on the healthy, hearty and delicious benefits of honey.
So, if you're guilty of chickening out when it comes to adding honey to your meals, fear no longer. Because we're about to discover the ins and outs of using honey to whip up original, all-star meals.
Honey 101
Honey is a gooey, sweet food that is derived from work done by bees and other insects.
Essentially, bees create honey from the natural sugars secreted by certain plants and flowers before they store them in honeycombs.
Much of the honey consumed by humans is produced by a species of bee known as the honey bee.
These bees are true powerhouses, as they work around the clock all year in bee colonies to produce millions of pounds of honey.
And if you think that's not a lot, consider this: two million flowers need to be tapped to produce just one pound of honey.
Honey gets its unique sweetness from the high levels of fructose (natural sugars) found within the honeycomb.
This has made it a natural sweetener for baking and cooking for centuries, if not millennia. In fact, cave paintings in Spain depict humans foraging for honey that dates back to 6,000 B.C.E.
The History of Honey as Food
The early civilizations of Egypt, Sumer, and Babylon all wrote about the benefits of harvesting and eating honey.
For these civilizations, honey would serve as the main sweetener for all cuisine of the time, and as such, it was highly sought after.
In the Holy Bible, the land of the Israelites was even referred to as "the land of milk and honey" in reference to the luxury and prosperity associated with the use of honey.
Intermittently, it was also used as a currency and item for barter in many societies of the time. Clearly, honey is the bee's' knees.
In modern times, honey has once again gained currency as a baking staple and sweetening agent.
And these culinary practices have remained to the present day, as honey is still sold worldwide as the number one alternative to refined sugar. Pretty great, huh?
Our Favorite Honey Recipes
Now let's get to the good part. We've talked the talk, now it's time to walk the walk and talk about making real, delicious food.
Read on to find out what our top recipes are for breakfast, lunch, and dinner. Each of which, of course, feature honey!
Breakfast: Honey Cinnamon Oatmeal
For the most important meal of the day, it's important that we make something that we not only enjoy but that also will not take up too much of our day.
Mornings are critical for maximizing productivity and getting a good start to the workday, after all.
With this in mind, we choose the perfect quick and easy recipe that we have loved for years.
It's plain old honey cinnamon oatmeal, and it is simply delicious. And guilt free too, as this recipe is low on fat and sodium while packing in loads of complex carbs, protein, and fiber.
It is no secret, then, that we have relied on this for our go-to breakfast for years on end.
Here's the list of everything you will need to prepare this dish:
½ cup quick rolled oats

¾ cup goat's milk, skimmed cow's milk, or vanilla soymilk

1 tbsp natural honey

A few dashes of cinnamon
The instructions for this dish are almost embarrassingly simple. All you have to do is stir all the ingredients into a bowl suitable for a microwave and zap it for a minute or two.
If it comes out piping hot, let it sit for a few minutes before serving (not as easy as it sounds!).
Lunch: Honey Glazed Buffalo Wings
We're salivating just at the thought of these babies. These are your classic sports bar buffalo wings but with a honey-infused edge to them.
Plus, they are neither too hot or too sweet, which makes them a palatable, no-fuss solution to even the pickiest of eaters.
We recommend pairing this recipe with a cold glass of beer, too.
Here is what you will need to whip up this dish:
2 lbs. chicken wings

2 tbsp extra-virgin olive oil

1 ½ tsp kosher or sea salt

½ tsp ground pepper

Chili-lemon honey drizzle to taste
While not as basic as a bowl of oatmeal, this dish is not all that difficult, either. Begin by heating the grill to 400 degrees Fahrenheit.
Then, mix the wings and oil in a large mixing bowl. Once you have that down, sprinkle in the sea salt and pepper and toss them until they are fully coated.
Grill the coated wings with the lid down for 30 minutes or until they are golden and crisp.
Once they look right, remove them from the heat and let them cool.
Drizzle your delectable buffalo wings in your desired choice of honey drizzle (we recommend chili-lemon!).
Dinner: Honey Mustard Salmon
When it comes to making gourmet meals, you cannot leave honey off the menu. For the right occasions, glazed salmon always makes for a great dinnertime choice.
But why not take the tenderness of salmon and complement it a little with the subtle sweetness of honey?
There is no going wrong with this one. Believe us, give it a shot and it will forever change how you think about salmon.
Try our favorite honey mustard salmon recipe—it's the perfect blend of sweet and savory.
Here's what you will need for this recipe:
Four salmon fillets (7 oz.)

½ cup mayonnaise

¼ cup Dijon mustard

¼ cup honey

1 ½ tbsp chives, chopped

Ground pepper and sea salt to taste
To start, preheat the oven to 375 degrees Fahrenheit. Mix the mayo, mustard, chives, and honey in a mixing bowl until completely combined.
Put half of the mix to the side and use the remaining to spoon over the fish on a baking sheet. Spread the mixture evenly on each fillet before topping them with salt and pepper.
Afterward, bake the fish for roughly seven minutes. Then, broil the fish for 5-8 minutes but be careful not to scorch the fillets.
Once out of the oven, garnish with the chives and the leftover sauce you put to the side. Serve warm and enjoy.
Dessert: Honey Baklava
Who could forget dessert? We certainly never do. Plus, it would be a shame to not mention honey where it really shines—in desserts!
And especially baklava, which is a rich Turkish pastry traditionally sweetened with honey.
Here's everything you will need to whip up some fresh baklava:
1 package of frozen phyllo dough, thawed

12 tbsp salted butter

4 cups pecans, chopped

1 tsp cinnamon

2 cups honey

½ cup brown sugar

1 ½ tbsp vanilla extract
Before starting, ensure that the phyllo dough has been fully thawed in the fridge. This usually takes about an entire day.
Once you've made sure, preheat the oven to 350 degrees Fahrenheit. While preheating, melt 4 tablespoons of butter in a pan. Put aside the pecans and cinnamon in a bowl.
Coat a baking pan with your melted butter, and make sure that your phyllo will cover the entirety of the pan; then, coat the top sheet of phyllo with the butter.
Flip the phyllo and place it face-down on the baking sheet. Press the phyllo into the pan and repeat until you have 6 sheets, with 3 sides fully buttered. Add on pecans to form a layer on the top of the phyllo.
Butter two more sheets and layer them on top before adding another layer of pecans and two more buttered phyllo sheets.
Continuing repeating until you are out of pecans. Then, top it off with the last 4 sheets of buttered phyllo with the face down.
Cut them into diagonal pieces and bake for 50 minutes or until they are dark brown.
While baking, mix the honey and other remaining ingredients with a half cup of water, bring to a boil, and then continue mixing at low heat.
Once the baklava is ready drizzle your honey over the top of the pastries. Voila, you have a delicious dessert to go with coffee or tea (and don't forget to add honey to those too!).
Mark is a self-taught cook specializing in Asian cuisine. Mark's passion for food began at a young age when his parents finally allowed him to attempt cooking. Since then, he's found himself experimenting in the kitchen, watching cooking shows, and reading food blogs. Mark lives in Toronto, Canada, where he works as a restaurant chef.